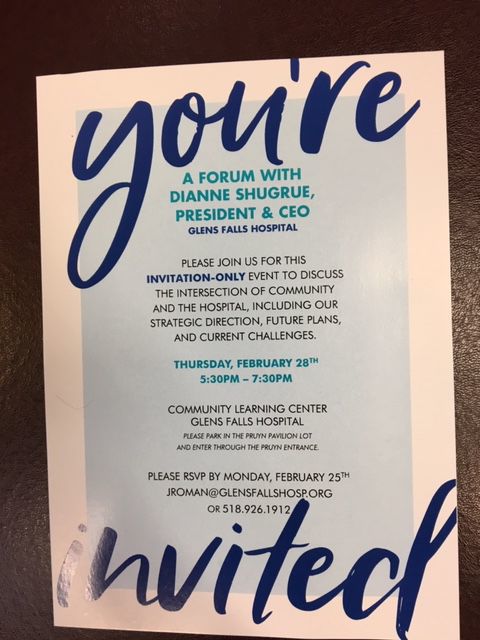 Over the past 10 years, it appears that Glens Falls Hospital has been profitable more often than not.
The glaring weakness in the hospital's financial health was the failure to bill for $38 million in services in 2017 due to a problem with a new billing system.
What's of further concern is that the hospital seems to have shed some 850 jobs between 2016 and 2018.
The hospital disputes this many jobs were lost, but they also did not provide an actual number of how many jobs were lost despite repeated requests.
Clearly, what is needed is for the hospital to address these issues in an open forum.
We were disappointed it did not take the Warren County supervisors up on an offer to meet with the Economic Growth and Development Committee to clarify the problems they are facing. And we've been even more disappointed that the hospital has stopped responding to our reporters' questions.
We believe our reporters are asking tough questions, but fair questions that the community needs answers to. We stand by our journalism.
Hospital officials were on the right track last month when they mailed out a glossy invitation to community leaders for a Feb. 28 forum with President and CEO Dianne Shugrue.
Over 60 turned out for a detailed PowerPoint presentation from the hospital that covered everything from how it was losing money on Medicare and Medicaid reimbursements to news there had been a significant downturn in procedures being performed and number of patients using the hospital.
What was not mentioned during that presentation of community leaders was the $38 million black eye in 2017.
What was not mentioned was the billing system failure and how that may have affected the hospital's decision-making going forward.
Those problems only came to light after a Post-Star reporter pieced together financial data from the hospital and an independent audit.
And that's what led to the supervisors' request – many of whom were at the initial hospital meeting – for further clarity. Many have said they felt misled by the hospital.
You have free articles remaining.
Unfortunately, that seems to be continuing.
William G. Powers Jr., chairman of the hospital's 17-person board of governors, released a statement on Wednesday defending how the hospital has communicated its problems and standing by the hospital's President and CEO Dianne Shugrue.
"In recent weeks, for example, our financial challenges have been making news. We proactively brought these to the attention of our community, first by reaching out to reporters and editors at The Post-Star and The Chronicle and then by holding a forum for community leaders on February 28. We set forth our challenges in detail – and explained exactly what we are doing to overcome them."
Except, the hospital didn't mention the $38 million loss in 2017 during the forum.
It never mentioned the billing system failure at all.
And neither did Powers in his statement.
When Shugrue and the hospital's leadership met with The Post-Star editorial board, the billing problem was only mentioned after one of the citizen representatives asked about the 2017 losses, and even then it was glossed over as a "one time hit" for a system conoversion.
That is the crux of the problem of where we stand now.
Let's be clear, there has never been any criticism of the services the hospital provides or the professionalism of its medical staff or the importance of the hospital as a community institution. But we continue to have concerns about how the management dealt with the billing problems that led to $38 million in losses in one year.
We believe many others in the community have concerns as well.
So let us suggest a solution.
We believe a series of open community forums given by the hospital in various communities around the region would go a long way toward providing the transparency and clarity that is needed.
We know that Glens Falls Hospital has a PowerPoint in place. It just needs to include the details of what happened with the billing.
As longtime residents of this community, we know how important the hospital is to the community. The hospital's leadership is reminded that local residents are giving and caring and will rally around any institution in need.
Glens Falls Hospital should give local communities the chance to understand what has happened by answering all their questions.
Post-Star editorials represent the opinion of The Post-Star's editorial board, which consists of Interim Publisher Brian Corcoran, Editor Ken Tingley, Projects Editor Will Doolittle and citizen representatives Jean Aurilio, Connie Bosse and Barbara Sealy.