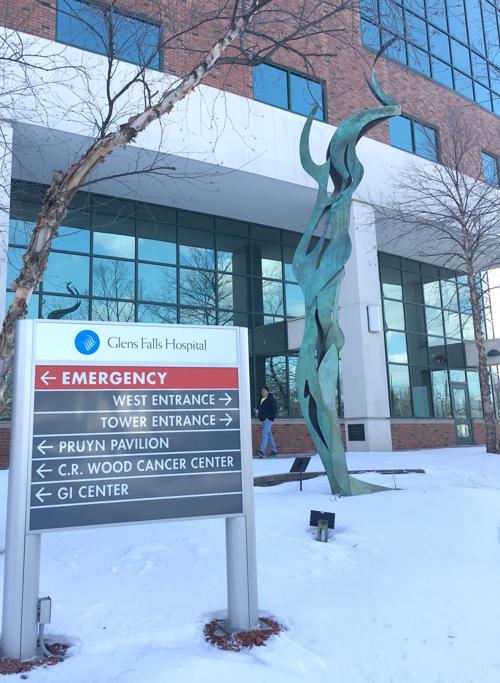 In April, three former patients of Glens Falls Hospital were sent a summons to appear in Glens Falls City Court for failing to pay their medical bills.
In May, five more received a summons from the court.
By June, the number had increased to 18.
Last week, 26 were asked to appear and begin paperwork if they wanted to mediate their billing dispute with the hospital.
GLENS FALLS — Glens Falls Hospital is taking dozens of former patients to civil court over bills that some patients say were issued in error.
The court clerk said this week there were so many cases from the hospital that it has created a new system to handle them. Those who answer the summons and complaint from the hospital will be scheduled five at a time on Wednesdays for mediation with the next available date Sept. 25.
Our reporting shows us that approximately 60 former patients have been asked to appear in Glens Falls City Court because they owe the hospital money. Most of the bills are under $2,000.
But some are saying the billing is wrong. Others say they are frustrated by the hospital's inability to provide them a bill or work with them on a payment plan, although hospital officials told our reporter they are willing to do that.
The newspaper's initial story on July 31 produced many comments from local readers that were not complimentary to the hospital. The hospital appears to be once again on the precipice of a public relations nightmare, although it has not pursued any new cases since the initial article was published.
While every business — and that's what a hospital is — has the absolute right to ensure it is paid for its services, the number of former patients being asked to appear in court is unusual, especially with many of them saying they do not owe anything.
Earlier this year in a meeting with the editorial board, Glens Falls Hospital CEO Dianne Shugrue acknowledged enormous losses — some $38 million — when a new billing system did not bill insurance companies in a timely manner.
The hospital has repeatedly refused to address why the losses were that high and why it took so long to address.
You have free articles remaining.
So has the hospital's board of governors — all 17 of them — which has oversight responsibility of the non-profit institution.
Despite pleas from our reporter to talk about the hospital's challenges and the billing center problems, the board of governors has either ignored messages or refused to talk on the record, with the exception of its chairman, William G. Powers Jr., who chose to oddly blame the newspaper for the hospital's problem in a Facebook post.
In an earlier editorial, we suggested that the hospital conduct a series of forums for residents around the region to explain the challenges it faces. It did this for community leaders earlier in the year, but never opened up the information for public consumption.
Now, we are wondering if the latest problem has its roots in the earlier billing problems.
In an effort to find out, we reached out to Shugrue on July 31 and asked her to meet with our editorial board and update the community on the financial condition of the hospital, while also hoping she could clear up what was going on with the court actions.
We received an "out of office" response that Shugrue would not be in the office again until Monday, Aug. 5. She responded by email to our editor on Wednesday: "Thank you for the offer to meet with the editorial board. However, at this time I respectfully decline your invitation."
The hospital has been unique in this regard. Our editorial board, which is made up of three Post-Star employees and three citizen representatives, often tries to meet with public officials to ensure we get the best possible information.
The general consensus from the readers commenting on our website has been that this is a public relations black eye for the hospital.
It is hard to argue otherwise.
Since the hospital has passed up an invitation to meet with us and provide context for the court cases, we hope they take us up on our earlier suggestion of taking their message directly to the public with some sort of community forum.
The hospital is a cornerstone of the community that people from around the region depend on. When it starts hauling its customers into court, it is reasonable to be concerned.
It's bad enough to be sick, worse to be struggling to pay your hospital bill and worse still to be called into court when you can't.
It is not the best look for an institution that calls itself a community hospital.
Post-Star editorials represent the opinion of The Post-Star's editorial board, which consists of Interim Publisher Brian Corcoran, Editor Ken Tingley, Projects Editor Will Doolittle and citizen representatives Connie Bosse, Barbara Sealy and Alan Whitcomb.