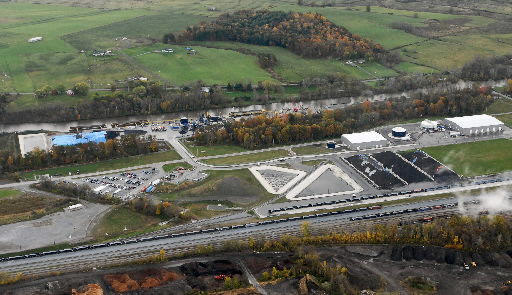 The one overriding principle that you have to remember is that they are breaking the law.
The details, the specifics when we start talking about Freedom of Information issues can be mind-numbing and hard to understand, but when government groups break the law, they need to be held accountable.
We've sued — and won — to get information in the past, but these days we can also sue to get our legal expenses. That's bad news for anyone that breaks the law.
But here's what you need to also remember. This newspaper does not get anything for forcing someone to obey state law. It's just part of our job. It is part of what we see as as our mission in serving the community and making our work valuable to our readers. It is why we are writing this editorial.
The latest problem involves the new Fort Edward Local Property Development Corp.
And if you are from Fort Edward, you should immediately be checking your wallet.
We are part of this story because we seem to be the only ones making a stink.
We don't believe in secrecy and we especially insist that government agencies follow Freedom of Information laws. That is not being done here.
That's our role as the watchdog for our local communities. The sad reality is that most citizens are not looking too closely at what local government does. They trust their leaders.
But every once in a while, a bunch of money disappears, or a bad deal is made and everyone wonders what happened.
The Fort Edward case has been confusing almost from the beginning, with the former GE dewatering plant property trading ownership — in name at least — and then partnering with a non-profit with promises of marketing the property and sharing in any revenues, but all the people involved seem to be the same.
Included in this muddle of confusion is a Fort Edward Town Board member — Neal Orsini — who is part of a complex deal that will supposedly allow this quasi-government entity to make the former GE property productive again.
Concerns have already been raised about whether this partnership is even appropriate.
There is also the matter of nearly $500,000 in unpaid taxes to Washington County.
That's why you folks in Washington County are feeling a little light.
So on April 16 when this organization held its first public meeting — we emphasize "public" because that makes it subject to state Freedom of Information laws — a Post-Star reporter expected to get a copy of the management agreement.
It was not provided at the April 16 meeting, but the reporter was assured it would be provided following the meeting.
It was not, despite multiple requests.
So The Post-Star filed a Freedom of Information request on May 2.
The Post-Star filed an appeal on June 10. Orsini responded that negotiations were still ongoing.
But the state Committee on Open Government said that, since the agreement was discussed at a public meeting on April 16, it should have been provided to the public, despite the ongoing negotiations.
The law was being broken.
On the advice of the State Committee on Open Government, The Post-Star filed a second appeal on June 13.
We've heard nothing but crickets.
The reporter reached out to Orsini on June 24, but she has not heard back.
The Fort Edward Development Corp. is breaking the law.
While some Fort Edward officials have not seen the agreement, some have — but they tell us they do not have a copy of it.
If you are a Fort Edward taxpayer, you should not only be confused, but worried.
Post-Star editorials represent the opinion of The Post-Star's editorial board, which consists of Interim Publisher Brian Corcoran, Editor Ken Tingley, Projects Editor Will Doolittle and citizen representatives Connie Bosse, Barbara Sealy and Alan Whitcomb.
Catch the latest in Opinion
Get opinion pieces, letters and editorials sent directly to your inbox weekly!