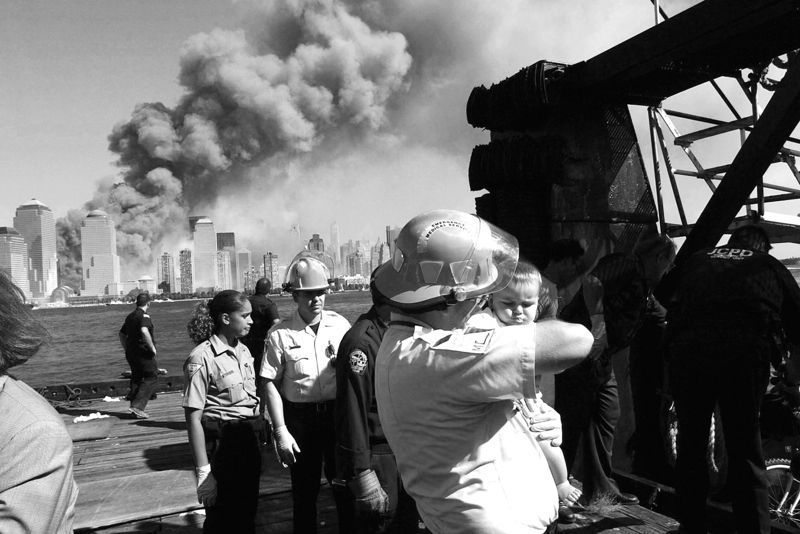 Jon Stewart has been an advocate and truth-teller for the Sept. 11 first responders who are suffering from cancer and respiratory ailments from inhaling toxic dust at Ground Zero.
He is outspoken now about the obstacle these heroes and their families face in being compensated for their sacrifices and covered for their medical expenses. That obstacle is Mitch McConnell.
McConnell, a Republican senator from Kentucky and the majority leader of the Senate, can block the full funding of the 9/11 victim compensation fund, and Stewart says that is exactly what McConnell is doing.
The first responders have the votes in the House, and it looks like they have them in the Senate, too. Several principled Republican senators have spoken out about the necessity of supporting men and women who sacrificed their health, and in many cases, their lives, in the immediate aftermath of the attack on the World Trade Center.
Here is what Republican Senator Cory Gardner of Colorado said: "This is a sea to shining sea moment, a sea to shining sea promise, a sea to shining sea obligation."
Thousands of firefighters, police officers, emergency medical crews and other first responders raced to the scene of the 9/11 attacks. Many arrived before both towers fell, and hundreds died when they did.
After the collapse, as the area for blocks around was immersed in toxic dust, these brave souls stayed on the scene, doing everything they could to help. They stayed for days — in some cases, weeks — searching for survivors, searching for bodies, beginning the cleanup.
The federal government told them they were safe — that the clouded air would not harm them — and New York City Mayor Rudy Giuliani said the same thing. That was false.
Much of the pulverized debris was concrete, which causes silicosis. The rest was a witches' brew of glass, cellulose, asbestos, lead and mercury, among other ingredients. The fires that burned for months in the rubble emitted smoke containing dioxins and other poisons.
A 2010 study of 5,000 Sept. 11 rescue workers by the chief medical officer for the New York City Fire Department found that every single one suffered from impaired lung functions. Those impairments began within the first year after the attack, and in about 1,000 cases were so severe the rescuers had become permanently disabled.
It took years of fighting by people like Stewart and New York politicians like Chuck Schumer and Kirsten Gillibrand to establish the fund and keep it solvent. The fund has two parts — one for health expenses, which Congress has now fully funded; and one for compensation, which is running out of money.
The compensation fund needs to be fully funded, too, and McConnell can guarantee that happens.
As Gardner said eloquently with his statement, Sept. 11 was not an attack on New York City or New York state, it was an attack on our country. It's a profoundly unpatriotic act to refuse to support the heroes who rushed into that hellish conflagration to save whoever they could.
McConnell and anyone else who stands in the way of a fully funded 9/11 victim compensation bill should be ashamed.
Local editorials represent the opinion of the Post-Star editorial board, which consists of Publisher Rob Forcey, Editor Ken Tingley, Projects Editor Will Doolittle, Controller/Operations Director Brian Corcoran and citizen representatives Connie Bosse, Barb Sealy and Jean Aurilio.