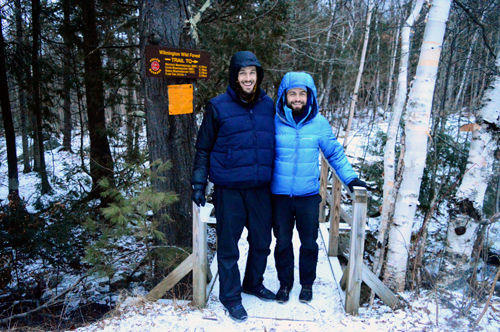 Queensbury moves forward with restrictions
Bravos to the Queensbury Town Board for considering further restrictions for septic and holding tanks in the town. The town has gone about this in a careful and methodical way, and is putting to use what it learned over the past year, after it first introduced inspections. The town held a public meeting recently at which there were no objections to the new rules. This is another step forward in protecting the environment.
Governor appointment was too secretive
Boos to Gov. Andrew Cuomo for the secretive way in which he went about hiring the new executive director of the Committee on Open Government. The job is an important position in protecting freedom of information laws in the state. The person who heads the agency must also be independent of the governor and other politicians. The way Cuomo announced the hiring – with half the 11 commissioners not even aware of the hiring – cast doubts on the new executive director, Shoshanah Bewlay, before she had even started.
Giving the new bail law a chance
Bravos to those professionals in the law enforcement community—lawyers, judges and prosecutors—who have spoken out that it is too early to judge whether the state's new bail reform measures will work. While there has been much concern initially, and we acknowledge some changes need to be made, several lawyers have pointed out their defendants have been showing up for their court dates. Others have said simply that, without comprehensive statistics, it is too early to know if the plan will work.
Moreau supervisor looks bad again
Boos to Moreau Town Supervisor Todd Kusnierz for making another personnel move that just smacks of political retribution. We booed the supervisor for failing to reappoint a member of the Planning Board who had worked to elect a member of the Town Board of the opposite party recently. Now, the supervisor has gone and replaced the town's longtime historian – who is the wife of the Planning Board member who was not reappointed. What's worse, he has appointed another person who does not even have a background in history. As bad as the last personnel move looked, this one looks worse.
One amazing climbing accomplishment
Bravos to Greenwich's Mike Jaworski and his friend Nick Glasser of New Jersey for climbing all 46 Adirondack peaks in just over nine days, and in the dead of winter. While there are many amazing athletic feats in our region every year, and many people become 46ers every year, this sprint in ridiculously difficult circumstances was above and beyond anything we have seen in some time.
Thomas owes Whitehead, public explanation
Boos to Frank Thomas, new chairman of the Warren County Board of Supervisors, for failing to re-appoint community advocate Travis Whitehead to Warren-Washington Industrial Development Agency without providing him with notice of the decision and a reason why. Whitehead has been an outspoken advocate for the public good in everything he is done. Thomas owes him and the public an explanation for the decision. The Board of Supervisors also failed to put the resolution of the appointments on the county website beforehand, as it usually does. The Personnel Committee also did not discuss it, as it usually does with other IDA appointments. Warren County appears to be going backward when it comes to transparency, and all citizens should be concerned about that secrecy.
Whitehead needed to be more civil
Boos to Travis Whitehead for uttering an off-color insult aimed at Frank Thomas after he found out he had not been re-appointed to the Warren-Washington Industrial Development Agency. Even though it was wrong to blindside Whitehead, he has had far too many of these angry outbursts in public meetings. He needs to work on his civility.
Elected officials are elected to take stands
Boos to members of the Warren County Board of Supervisors—Daniel Bruno, Michael Wild and Craig Leggett – who all abstained on the IDA appointment vote. Unless they had a specific conflict of interest with any of those appointed, the public deserved to know where every supervisor stood on every vote. We hope the three supervisors who abstained will make their reasons clear why they did so in the future.
'Greeter' at DMV makes things easier
Bravos to the "greeter" at the Warren County Department of Motor Vehicles for helping to make things run more efficiently. Going to DMV has an undeserved negative reputation in our view – at least in Warren County. A recent trip by one of our editorial board members found that the "greeter" being used by Warren County made the entire experience go smoothly as they efficiently helped the public navigate through the maze of bureaucratic paperwork.
Post-Star editorials represent the opinion of The Post-Star's editorial board, which consists of Publisher Brian Corcoran, Editor Ken Tingley, Projects Editor Will Doolittle and citizen representative Al Matrose.
Catch the latest in Opinion
Get opinion pieces, letters and editorials sent directly to your inbox weekly!