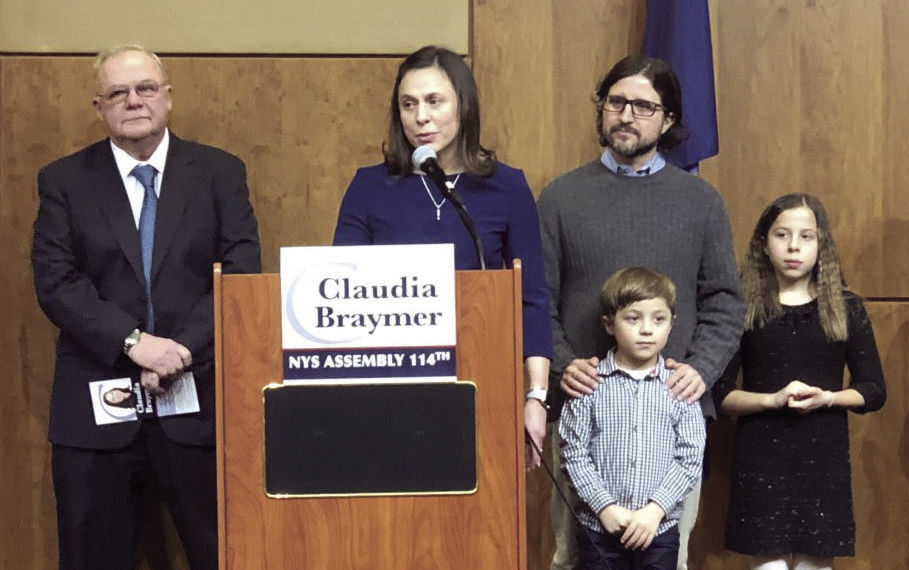 Matt Simpson is a person you want on your team, cheering for you and offering encouraging words when you need them.
But Claudia Braymer is the one you want leading the team.
Simpson is the Republican candidate for the 114th Assembly District seat, Braymer the Democratic candidate. In the three-way race, Evelyn Wood is running on the third-party Serve America Movement line for the seat now held by Dan Stec.
Stec is running for state Senate to fill the seat held for years by Betty Little, who is retiring.
Simpson – friendly, positive and low-key — is the supervisor of Horicon and president of Adirondack Association of Towns and Villages. He describes himself as a consensus-builder.
He has led something of a charmed political life — first asked to serve on a couple of boards in Horicon, then to run for the Town Board and finally for supervisor, he has faced little in the way of political opposition over the years.
For decades, he ran a successful drywall business, but retired from that recently to concentrate on politics. His business style was to do deals on a handshake, building a good reputation over time, and he seems to approach public office in the same way.
But with his political experience coming in a tiny town (Horicon's population is about 1,300,) and his preference for having everyone get along, we worry Simpson would get steamrolled in Albany's political arena, where they play rough.
We don't worry about Braymer getting steamrolled. Warm and personable, she nonetheless conveys a strength and confidence that fit with her background as a world-class rugby player. She is also an environmental lawyer with her own local practice and a Warren County supervisor from Glens Falls' Ward 3.
As a politician, she prizes her independence and ability to do the research and make the case to bring her fellow supervisors to her side. She mentioned the Climate Smart Communities pledge, which she pushed, eventually persuading everyone else on the board to vote for joining the program.
As is often the case in local elections, not a lot of daylight exists between the three candidates' positions. All want broadband service expanded through the rural areas of upstate and see it as critical to developing our economy. All recognize the importance of responding to climate change and want to balance environmental protection with economic development.
Simpson suggested the Legislature should be brought into the state's economic development process more than it is now with the Regional Economic Development Councils handing out tens of millions of dollars in aid each year.
Wood pointed to her work bringing internet service to her community during more than six years as supervisor of Thurman. She also brought up the flooding disaster the town suffered during that time and her work to secure aid from the Federal Emergency Management Agency.
But Thurman is even smaller than Horicon, and although Wood did deal with numerous challenges as the town's supervisor, we also don't see her as ready to go to Albany and make a difference from day one.
We do see Braymer that way. She has operated on a bigger stage, in athletics and in law, and has the skills and charisma to make an impact.
"She commands the room," one member of our editorial board said, after the meeting with Braymer. That was especially impressive, since the meeting took place virtually, and all we saw of her was an image on a screen. The next room we'd like to see her command is the Assembly Chamber in the state Capitol.
Local editorials are written by the Post-Star editorial board, which includes Ben Rogers, president and director of local sales and marketing; Brian Corcoran, regional finance director and former publisher; Will Doolittle, projects editor; and Bob Condon, local news editor.
Catch the latest in Opinion
Get opinion pieces, letters and editorials sent directly to your inbox weekly!