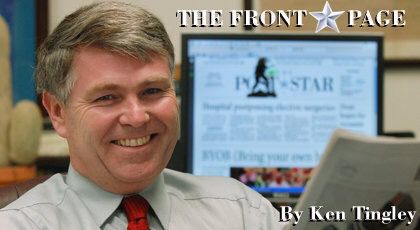 The criticisms we sometimes receive at the newspaper in these increasingly polarized times remind me of when I was sports editor of the newspaper 20 or so years ago.
There was one town whose fans repeatedly complained that the newspaper was not only against its teams and athletes, but it had been against the town for decades.
I would address the message by saying that no one on the staff had been there more than a few years, and none of the staff had attended any of the local high schools. I expressed my surprise that different editors and different members of the staff managed to have the same bias toward this one sports team over decades, despite changing faces on the staff.
I see similarities these days with politics.
There are some who believe that every single person in the media is driven by a political bias – all of us.
All 10,000 members of The Associated Press.
Every reporter and editor on the Washington Post.
Every reporter and editor on the New York Times.
And naturally, every reporter and editor at The Post-Star.
We're all in cahoots together (sarcasm intended).
What I have seen over a 40-year career is that the vast majority of us in the print game are apolitical. We must perform our jobs as fairly as possible no matter what we believe.
That is even true for those of us who express our opinions in written commentary. I often respond to this criticism by saying I'm just trying to get home in time for dinner because national politics is such a small part of the job.
We are a local newspaper that does a lot of local journalism. National politics and what goes on in Washington comprise a small portion of our news product. When we do report on Washington, it is often through the lens of our local congresswoman.
People in power get criticized. But when those critiques are published, we are accused of backing an ideology instead of a stand.
For instance, every time The Post-Star editorial board or one of its columnists criticizes Rep. Elise Stefanik, we are accused of being liberals.
Every time The Post-Star editorial board or one of its columnists criticizes Gov. Andrew Cuomo, we don't hear anything.
I've come to the conclusion that it's not us that has changed, it's the news consumer.
Readers today have access to 24-hour cable news channels. They can read a wide variety of partisan web pages, often funded by politically biased groups reporting dubious facts that more established media outlets cannot confirm.
Many consume only news that confirms their own believes. This is called confirmation bias.
I've written about this before, but it always seems to fall on deaf ears. I was a member of the Republican Party for most of my adult life here in Warren County. Each election, I did my homework and voted for the person I thought was the smartest and most committed. I voted for candidates in all parties.
A few years ago, disgusted by the behavior of political parties, I left the Republican Party and am now an independent.
I'm a staunch fiscal conservative, but more liberal on social issues. I'm willing to listen and always believe my views are evolving. I try to read a couple of national newspapers each day and stay away from prime time cable opinion shows.
What I have always despised are politicians without any original thoughts who tout the party line, even if it means lying.
Newspaper editors don't like people who lie.
Or who violate freedom of information principles.
I still believe we perform a valuable function for local citizens in keeping elected officials accountable.
Ultimately, newspaper people come in all shapes, sizes and beliefs. We work hard to get it right, to support our writing with facts and inform our readers. We sometimes make mistakes, too. When we do, we write corrections to set the record straight.
You can either believe me or not. That's up to you.
I'll let my work and the work of our staff speak for itself.
I had a reader complain recently somewhat reasonably that we needed to print more pro-Trump letters.
I've heard this complaint many times over the years regarding political candidates.
We work very hard to get every letter possible printed.
I suspect we print between 90 and 95 percent of the letters submitted.
The biggest problem these days is letters that are too long. When letters are more than the allowed 300 words, we will tell letter-writers they need to shorten them to be published. The other problem is letter-writers who play fast and loose with the facts.
This is a more recent problem that we did not have years ago.
Letter-writers will write things they have "heard" as the gospel. If it does not sound right, we attempt to verify it or at least get the letter writer to give an attribution of where they got the information.
If we can't verify the statement, we tell the letter-writer they have to take it out of their letter.
Most work with us on their letters to get them published. Others are a bit more stubborn.
So when it comes to Trump letters, we print the ones we get, but we can't make readers write them.
Ken Tingley is Editor of The Post-Star in Glens Falls, N.Y. and writes a regular blog called "The Front Page." He can be reached via email at tingley@poststar.com.
Catch the latest in Opinion
Get opinion pieces, letters and editorials sent directly to your inbox weekly!