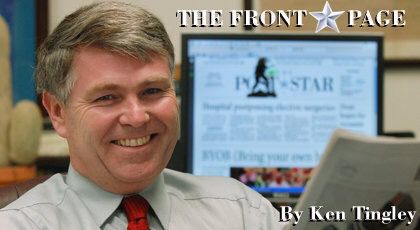 Over the past few weeks, I've come to learn that many people don't know what a newspaper column is.
I initially found this shocking, since I've been writing a newspaper column for more than 40 years. I grew up reading columns in newspapers. They were my favorite part of the newspaper and I found them far more interesting than straight news.
At their core, columns are personal essays by the person whose photo appears next to it in the newspaper. I believe one of the strengths of our newspaper is our column writing.
Forrest Hartley writes about his life on the farm, Martha Petteys gives us a contemporary look at a modern mom raising her kids while Bob Henke informs us about the great outdoors.
People often tell me these columns are their favorite items to read in the newspaper.
Will Doolittle and I are the news columnists, but we don't limit our writings to just news.
We write about news, interpret it, analyze it, offer opinions and sometimes moral outrage about what is happening in the world.
Sometimes, it is much more personal. Will and I have both regularly written about our families as our children grew up, and Will has taken it to another level, regularly writing about his wife Bella's diagnosis of early onset Alzheimer's.
Neither Will nor I are afraid to wade into the arena of politics and the great issues that face our community and country. But more often than not, we focus on local issues because we are a local newspaper.
I think a good columnist gives a newspaper heart, soul and personality.
Regular readers often feel like they know the person.
I regularly hear from readers that they read my column all the time.
There seems to be some who don't understand what an editorial is either. We formed an editorial board about 15 years ago that included members of the community and leaders at the newspaper. The board operates independently of the reporters and editors who write the news stories and has no influence over news stories. The six-member board meets weekly to decide what position the newspaper editorials will take on the "Viewpoints" page.
Editorials and columns are always labeled to distinguish them from straight news. Online, that label is in the headline and impossible to miss.
I've also heard from people who tell me there should not be any opinion in the newspaper.
They want just the facts, they say. They will make up their own minds about what it means.
I don't doubt that for a second.
There is no shortage of opinions in our community, but what I think the newspaper brings to the table – sometimes with its columnists, but more often with its editorials – is a context that is more than opinion.
It brings informed opinion.
Essentially, our business is current events, and the editors and reporters who do the work are experts in the current events of the community.
What I mean by that is that when we write an editorial and publish it on the "Viewpoints" page, we are doing research on the issue. Our editorial board — whose membership is always changing — discusses it at our meetings and debates the pros and cons. It isn't something we heard on television or someone told us. It is not just a personal opinion, but a viewpoint based on facts.
I believe that is an important mission for a local newspaper in its community.
We hope it sets the agenda for public discourse. We hope it is a starting point for solving problems that the community faces. Newspapers are still very much the town square where the community debates issues.
Funny thing, I don't ever recall getting a letter to the editor from a reader saying our editorial changed their mind, or the way they were going to vote.
That wasn't the intent anyway. The point was to provide context on complicated issues.
We hope our editorials make you think, challenge your prevailing beliefs if necessary and get you to look closer at an issue to decide for yourselves.
We hope our columns bring out the humanity, whether that means bringing a tear to your eye or a laugh-out-loud moment over breakfast.
We hope our editorials are thought-provoking.
The news is just the starting point for the really great newspapers.
Equal time
Earlier this month, congressional candidate Tedra Cobb contacted us about writing a guest essay for the newspaper about why she is running for office in 2020.
We agreed and her essay will appear on Sunday's viewpoints page.
In the interest of fairness, we would be happy to run a guest essay from our current congresswoman, Elise Stefanik.
Catch the latest in Opinion
Get opinion pieces, letters and editorials sent directly to your inbox weekly!