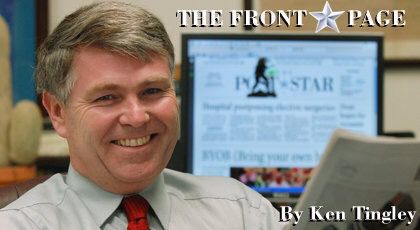 The two best movies I saw this year I had to read.
It's the burden you must accept if you are looking for quality in your cinema. I like to think I always had a high standard when it came to film, but I have become especially discerning in recent years with the availability of streaming services, film review websites like Metacritic (which gives you a score on each movie) and the willingness of the multiplex in Saratoga to show a documentary from time to time.
It just depends on what your expectations are from Hollywood.
Some people are just looking for a good story.
Others to be moved emotionally.
And some just want to see something blown up.
For me, it changes with my mood. I want movies to entertain, inspire, and teach me something I don't know while taking me places I've never been before.
When I was a young man working in Plattsburgh, I used to have Mondays off. The local movie theater downtown had 99-cent matinees. No matter what was playing, I would go to the matinee each Monday. Sometimes I didn't even know what was playing until the movie started.
That's how I discovered a little offbeat comedy called "Arthur" that made Dudley Moore a star and still makes me laugh all these years later with a dozen different lines for the ages.
With movies costing 10 times that these days, and popcorn approaching the cost of a good steak, I'm fussier about what I watch.
Before going to the movies, I'll check the Metacritic score (it's got to be over 70 for me to even consider it), read at least one review and check out the trailer.
The other standard is an Oscar nomination.
For a number of years I've been trying to obtain the Holy Grail of seeing every nominated film – including shorts and documentaries – before Oscar night.
The previous month has been a blur of multiplex popcorn and early-morning streaming.
I've seen eight of the nine best picture nominees, four of the five animated features and three of the five documentary features. I hoped to add three or more this weekend before the Oscar telecast begins.
I've seen 26 different movies that have an Oscar nomination and experienced a lot of different emotions.
I was left angry by the documentary short, "In the Absence," that chronicled the South Korean Coast Guard's inability to react to a sinking ferry boat filled with young students until it was too late. Nearly 300 students drowned.
I was frightened by the Brazilian documentary, "Edge of Democracy," that showed the rise of the Brazilian worker's party that was toppled by an authoritarian leader backed by big corporations. It hit too close to home.
"Toy Story 4" delivered another feel-good story that still has me smiling, while "I Lost My Body" (an animated short) tells a Paris love story through the journey of a decapitated hand. Yeah, it sounds weird, but really clever, too.
It is a reminder you have to be open-minded when it comes to movies not made in Hollywood.
The highlights were two subtitled foreign films.
"Honeyland" has the unusual distinction of being nominated for an Oscar in the documentary and foreign film categories. It's the first time that has ever happened.
The filmmakers' original intent was to make a documentary on ancient beekeeping traditions, shown through the eyes of an old woman in Macedonia who is also taking care of her elderly mother. The filmmakers visited the woman for two or three weeks at a time over a three-year period, pitching tents and living outside in raw conditions.
But after a family with seven children moved in near them, an age-old story of neighbors trampling boundaries made the story more than a documentary.
"Honeyland" took me to Macedonia – yeah, I had to look it up on a map and showed me the world of beekeeping while telling a story of good and bad neighbors that is relevant anywhere in the world.
When I decide to tackle a subtitled film, I get up early on a weekend morning so I am fresh.
I need not have worried about being fresh after seeing the South Korean film "Parasite."
It is a black comedy that follows the poor Kim family as it schemes to become employed by the wealthy Park family. Their brilliant plan works to uproarious perfection before the movie takes a dark and unexpected turn that tells you a little something about living in a country always under the threat of invasion.
Of the eight best picture nominees I saw, "Parasite" was the most memorable and Metacritic gave it a lofty 96 rating.
Sadly, I don't expect it to win tonight.
Most of us just don't read movies. We should.
Ken Tingley is the editor of The Post-Star and may be reached via email at tingley@poststar.com. His blog "The Front Page" discusses issues about newspapers and journalism. You can also follow him on Twitter at www.twitter.com/kentingley.</&box_em>
Catch the latest in Opinion
Get opinion pieces, letters and editorials sent directly to your inbox weekly!