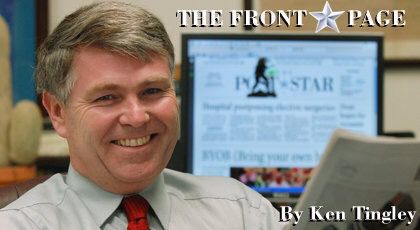 My wife is a Christmas traditionalist.
What that means is that Christmas starts somewhere between the start and end of the Thanksgiving Day parade and continues at full throttle until we count down the Christmas clock on Dec. 24.
Yes, we have a Christmas clock.
Forget Times Square, the real action is on our porch on Christmas Eve when instead of the clock striking zero, it turns to "Ho, Ho, Ho" at midnight. Any revelers at our house gather around the clock and cheer when Christmas officially arrives.
There are other traditional requirements at our home.
We have always had a real tree. It is mandatory.
Shortly after buying our first house, we cut down a 15-foot evergreen from a remote part of our property and dragged it down the hill and through the snow to the house. It was an ordeal, but we were young and we saved some money.
Most of our ornaments have a story, starting with the first few my wife made when we were first married, to again save money, to the most recent ones from far-away lands.
My wife's father, who traveled extensively, used to bring my wife German nutcrackers and smoke men.
He's gone now, but we have made sure her collection continues to grow, expanding it beyond Christmas figures. We may be the only family that celebrates the holiday with a captain of the Titanic nutcracker.
Our house is lit from floor to ceiling with Christmas lights, candles and manger scenes.
Saks Fifth Avenue has nothing on my wife.
For a number of years now, my wife creates a family Christmas story above the kitchen cabinets. This year's story is a dark tale of Santa being run over by a sleigh and being rescued by a helicopter. I'm hoping it has happy ending.
What I'm getting at is that celebrating Christmas is a visual extravaganza to be savored by us all.
Over the years, I have made a contribution or two with the decorating outdoors.
It started years ago when I saw a giant blowup snowman in the store.
I positioned it in a place in our front yard so that my wife would see it when she got home from work.
You have free articles remaining.
It was a big, bulky, plastic monstrosity far from my wife's traditionalist's values, so I held my breath as the car approached.
The next year, I added a six-foot-tall toy soldier next to it.
Then came Santa emerging from a chimney, an even larger 15-foot toy soldier, penguins in a skating rink, Santa in a hammock surrounded by palm trees and, of course, the ultimate way to start any Christmas celebration – an orange octopus.
Shortly after Thanksgiving each year, I check all the stores for new possibilities.
That was when I saw the hot air balloon.
The balloon towered at least 20 feet into the air with Santa Claus riding in the basket underneath. The balloon on display was the only one they had left. I took it.
We think of it as the cornerstone of our traditional decorating.
It is always the first thing up on Thanksgiving weekend.
We marveled the other night it was still going strong despite years of abuse from the wind, snow and ice.
The balloons are all up again this year, too. My wife insists they all face the house so she can see them.
This is how we celebrate the season.
This is what makes us happy.
So when I read about the Moreau apartment complex banning Christmas lights, I was disturbed.
Sisson Reserve executives Ebenezer Scrooge and Jacob Marley should reconsider their policy.
Instead of banning Christmas lights, they should make members of the maintenance staff available to help with light installation.
And if they were really a good landlord, they would find a common area to put up a hot air balloon with Santa in it.
There is no better way to say Merry Christmas.
Ken Tingley is the editor of The Post-Star and may be reached via email at tingley@poststar.com. His blog "The Front Page" discusses issues about newspapers and journalism. You can also follow him on Twitter at .</&box_em>