Column: Sears closing is a reminder of our world in flux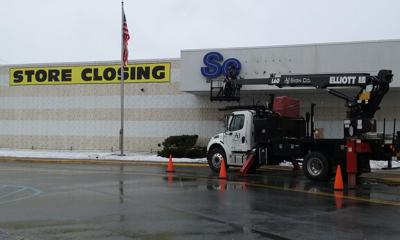 It was Black Friday and my son and I were walking around Aviation Mall.
We entered at the western end of the mall — near J.C. Penney and Target — and walked east. It was busy and festive with holiday shoppers.
We kept walking until we saw the "going out of business sign" hanging at the entrance of Sears.
I had forgotten Sears was closing.
I mentioned to my son that Bon-Ton was already gone.
We walked past where the old Radio Shack used to be — another bankruptcy casualty — and into white, sterile confines of Sears.
Gone were the colors, the attractive displays that lured you to a counter, that hint of perfume in the air that got you to open your wallet. It was now an empty warehouse, not a store.
We heard an announcement that all watches were being sold for $3 each. There were just 10 or so left.
Shelves, mannequins and a few stray pieces of merchandise were all that remained.
We ran across a man trying to get the last vacuum cleaner to work.
We saw several people rush to the watch counter for the $3 sale. They were anxious that no one was there to help them with their purchase.
I've lived long enough to see quite a change in how we shop.
As a small boy, I remember my father taking me with him Christmas shopping in downtown Ansonia, Connecticut. It was a small city like Glens Falls with a downtown store for every possible type of merchandise. These were family-run businesses that had been there for decades.
The first mall there was still a decade away.
Department store chains flourished and malls were born, wrecking too many downtowns to count.
Now, it is the big-box department stores model that is wrecked and malls are in decline, taking a backseat to online shopping.
When stores close, you figure they must have done something wrong.
That really does not apply here. If the big chains did anything wrong, it was not seeing the impact of online shopping and Amazon with its free delivery. It wasn't them, it was us. We changed the way we shopped.
Some are calling it a retail "apocalypse."
RadioShack, Payless, Toys "R" Us, J.C. Penney, Macy's and Bon-Ton have all filed for bankruptcy over the past two years. Sears is just the latest.
People are simply shopping more online. The prices are sometimes cheaper, there is often free delivery and they never have to leave the comfort of their home.
Fewer and fewer seem to partake of the shopping experience, the interaction with salespeople, chatting with people in line.
Between 2010 and 2016, Amazon's sales grew from $16 billion to $80 billion and half of all households are now Amazon Prime subscribers. That means free delivery and another option for entertainment on their television.
I remember living in Oneonta where there was a family-run department store downtown. It is gone, too.
I remember the convenience of getting most of my shopping done in the mall, and planning a strategy of when the lull would be on Black Friday.
There are still 1,200 malls nationwide, but a quarter of them are expected to close over the next few years.
Our priorities have changed, too.
Instead of buying more stuff, we are eating out more and making vacations a priority. Travel spending is booming.
We didn't buy anything at Sears Friday.
To be honest, I can't remember the last time I did buy something there.
I did shop online that weekend.
The world is changing. We are changing.
But I'm not sure it is for the better.
Ken Tingley is the editor of The Post-Star and may be reached via email at tingley@poststar.com. His blog "The Front Page" discusses issues about newspapers and journalism. You can also follow him on Twitter at www.twitter.com/kentingley.