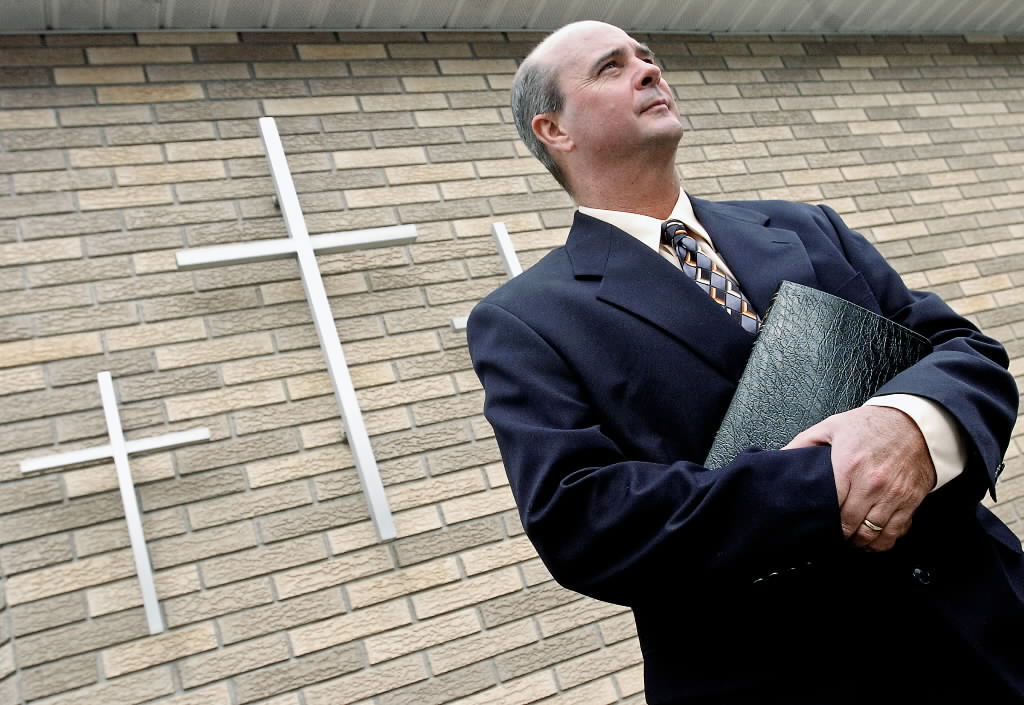 Ten years ago, I thought I was coming in at the end of the story, but that was not true.
When I first met Paul Mead in 2007, he was already five years into his sobriety. He had just been named lead pastor of the Gospel Lighthouse Church in Hudson Falls and the story of his redemption from a homeless crack addict in Albany to the leader of a local parish was a perfect story for Easter Sunday.
He was a man who had been raised from the dead.
That's how I ended Act I 10 years ago.
But it wasn't the end at all.
The story was just beginning.
Mead was just months into his tenure as the lead pastor when I talked to him, and he told me this past week that at the time, he was wracked with self-doubt. He related a moment when he lay down all alone on the floor of the vestibule and sobbed.
He was a high school graduate with only a year of Bible study, taking over a church that was in debt, a building that needed repairs and a congregation that was aging and without momentum after seven pastors in 10 years.
It turned out, this was just the beginning of Paul Mead's journey.
What you have to understand is that leading the Sunday prayer doesn't magically transform you into a man of respect and dignity. It doesn't provide wisdom, insights and answers for those who so desperately need them. That's a daily commitment. That takes dedication and devotion.
He started out as the pastor who used to be the crack addict. That gave him street credibility with the sinners and those struggling with their own demons. Perhaps it made him approachable because he would not judge.
So what he lacked in theology training, he more than made up for in life experiences and insights from his own horror.
He'd seen the gates of hell, so there was little you could say to shock him.
I'm not sure what it is about Paul Mead, but you can talk to him without reservation.
He appears unassuming, with a round face, receding hairline and sad eyes. I believe they speak to his past. He has an aura of ordinariness that allows him to blend in easily among the crowd. His message is soft, gentle and sincere.
After becoming pastor, he hit the ground running with a new purpose in life.
I was not surprised when our paths crossed as the community came together to address the opioid epidemic.
Paul Mead was learning more every day.
He worked with the sheriff and the local assemblywoman and others in the community.
He made himself available to counsel those who wanted it.
Oh, how he must have listened.
And when they were done telling him about the tragedy they had made of their lives, he would turn and say brightly, "You know, I think you are doing a lot better than you think you are."
He refused to tell them what was wrong with them. He argues people already know that.
Instead, he tells them what is right with their lives.
It is a starting place, a beginning.
Fewer than 50 were regulars when he started 10 years ago. Most were older people who dragged their grandkids to the service. He got the building fixed. He told the regulars that changes had to be made. Traditional hymns were replaced with modern Christian folk music, and instead of an organ, there were guitars and drums.
Some left, but more came.
Membership and attendance grew each year.
You see them today and there is an energy, a fellowship that bleeds over into the start of the service with smiles, hugs and camaraderie.
I suspect this all has something to do with the mild-mannered preacher who stuck around to make a difference.
What happened is that Paul Mead grew beyond being the pastor who used to be on drugs, to the pastor who will do just about anything to make a difference.
So last Sunday, the Gospel Lighthouse Church scheduled a celebration to honor Mead's 10 years of service and some 235 people showed up.
The county sheriff was there, the village attorney, the local assemblywoman and the Teen Challenge folks who got him straight 15 years ago.
And the local newspaper editor was there, too, because as it turned out, there was still a story to tell.
Perhaps it was to bear witness to what this man has become, the journey he has made and what he means to these people.
Paul Mead saw the guests. He also saw the former parishioners who had moved on to other churches and the people he had counseled at one time or another, and he said he was surprised.
He looks back at you with those sad eyes again, choking with emotions.
"You know, you just don't know sometimes how you are doing," he said. "You don't do these things to get a pat on the back, but when it happens, it feels good."
They sang Pastor Paul's praises last Sunday, and when they tried to sum up all his fine qualities in one word, they needed nearly a dozen.
I'm sure they could have gone on and on. Let me add one of my own — authentic. He is the real deal.
As the emotions welled up in him again, he was able to choke out a thought to those in front of him: "I need you far more than you need me."
That's Pastor Paul underestimating what he has meant to so many.
Let me just speak for myself in this regard.
Ken Tingley is the editor of The Post-Star and may be reached via email at tingley@poststar.com. His blog, "The Front Page," discusses issues about newspapers and journalism. You can also follow him on Twitter at www.twitter.com/kentingley.
Catch the latest in Opinion
Get opinion pieces, letters and editorials sent directly to your inbox weekly!