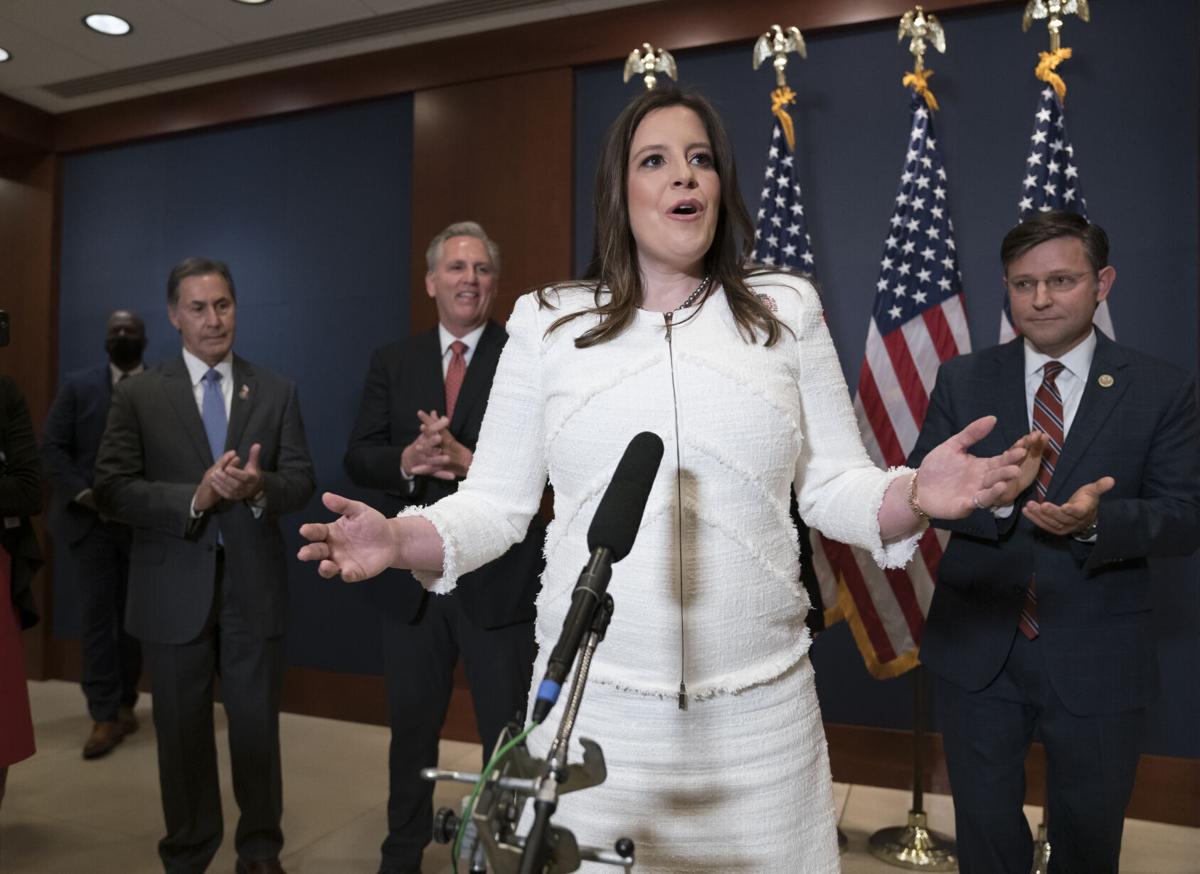 WASHINGTON — Rep. Elise Stefanik called on the Biden administration Thursday to reopen the U.S-Canada border on its own if it can't strike an agreement with the Canadian government to do so together.
Stefanik, who chairs the House Republican Conference, sent a letter to Homeland Security Secretary Alejandro Mayorkas suggesting the move, which, she said, should happen on June 21 if the two countries can't agree on a border reopening plan by then. That is the date when the latest month-long extension of the border shutdown is set to expire.
Higgins is hoping that pressure will force Canadian Prime Minister Justin Trudeau and President Biden to agree to open the U.S. Canada border.
Stefanik, R-Schuylerville, co-chairs the House Northern Border Caucus with Rep. Brian Higgins, a Buffalo Democrat who has been pushing for months for a binational plan to reopen the border.
"As co-chair of the Northern Border Caucus, I have worked with my colleagues across the aisle, our Canadian counterparts, the North Country Chamber of Commerce, and essentially anyone who will listen over the past several months to establish a bilateral, metrics-based plan to reopen the northern border, but the Canadian government continues to lack the urgency this situation demands," Stefanik said in a statement. "Enough is enough — the United States needs to do what's best for the American people and small businesses and reopen the northern border."
Higgins, in a letter to Mayorkas last month, also suggested that the U.S. relax border restrictions on its own if Canada refuses to do so.
"We know that before we get back to normal, cases need to be under control and over 75% of people need to be vaccinated for us to start loosening things in Canada," Trudeau said.
The land border between the U.S. and Canada was closed to nonessential travel on March 21, 2020, to limit the spread of COVID-19. The shutdown has been extended monthly since then, prompting a growing outcry from people who have loved ones on the other side of the border, as well as from property owners barred from visiting their second homes.
Stefanik says the U.S. should be more welcoming to Canadians, even if Canada continues to refuse entry to most Americans.
"If a bilateral reopening plan cannot be established and publicly announced before the current restrictions expire on June 21, 2021, I urge you to unilaterally begin easing the restrictions for nonessential travel into the U.S. across the northern border," Stefanik wrote. "Immediate actions should include expanding the list of exempted travelers to include family members and extended family members; Canadians with property, boats, or leased campsites in the U.S.; and business representatives with business dealings in the U.S., while beginning a phased reopening to the broader public."
Rep. Brian Higgins on Wednesday called on Gov. Andrew Cuomo to invite Canadians to New York State to get Covid-19 vaccinations they might have to wait months for back home.
The Biden administration has been largely mum on the possibility of lifting border restrictions. Speaking to reporters aboard Air Force One last week, White House Press Secretary Jen Psaki noted that the shutdown had been extended to June 21 and added: "I don't think a decision has been made, that I'm aware of, about what would happen after that point."
Meanwhile, Canadian Prime Minister Justin Trudeau has been adamant that 75% of Canadians must be vaccinated before the nation can consider loosening the border restrictions. According to the Our World in Data COVID-19 Data Tracker, 53% of Canadians had received at least one dose of COVID-19 vaccine as of Wednesday.
What started as a modest ad campaign in Buffalo in mid-May is growing into a binational, big-money effort to reopen the long-shut U.S.-Canadian border.
"Recent comments by Prime Minister Trudeau make clear that Canada is in no hurry to begin the reopening process and will make their reopening decisions without regard to U.S. interests," Stefanik said in her letter to Mayorkas.
That being the case, the U.S. should open its side of the border on its own, she said.
"Such actions appear necessary because further extensions of the existing travel restrictions without a clear plan forward is simply unacceptable for the communities along the northern border," Stefanik wrote.