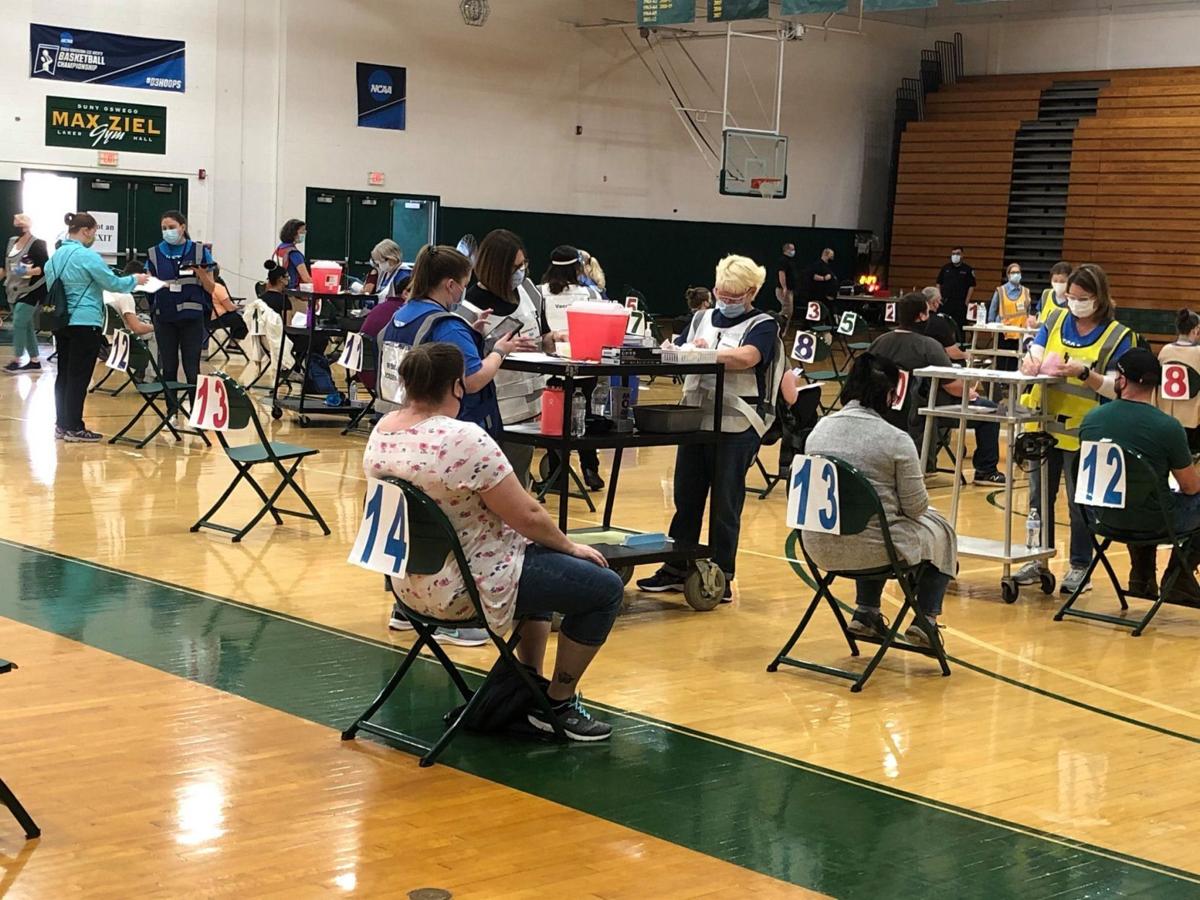 The State University of New York will distribute the Johnson & Johnson COVID-19 vaccine to 34 campuses to inoculate students living on campus before they leave at the end of the spring semester.
SUNY announced Tuesday that the program to vaccinate residential students will begin with an initial allotment of 18,600 doses. Unlike the two-dose Moderna and Pfizer vaccines, the Johnson & Johnson vaccine requires one dose.
The university system is working with the state to secure more Johnson & Johnson doses for the program. There will be more doses delivered to campuses in the coming weeks.
"Giving residential students the one-shot option helps clear a crucial logistical hurdle in the race to get people fully vaccinated before they leave campus and return to their hometown communities," SUNY Chancellor Jim Malatras said. "We strongly encourage all students to schedule their appointments as soon as they can; to do their part in protecting themselves, their families and their communities; and to help spread the word about the many benefits of the COVID-19 vaccines."
Because the Johnson & Johnson COVID-19 requires a single dose, it's considered ideal for college students given the timeline. If campuses administered the Moderna or Pfizer vaccine, a second dose is needed. That means students would need to return to campus to get their second shot.
SUNY's announcement came on the same day New York opened eligibility to all residents age 16 and older. Adults age 18 and older can get any of the three approved vaccines, but only the Pfizer vaccine has been approved for 16- and 17-year-olds.
More than 350,000 SUNY students were sent emails reminding them of their eligibility. The messages include links to vaccine facts, directions for making a vaccination appointment and health guidelines.
With college-aged residents eligible for the vaccine, SUNY issued a reminder about social media campaigns to encourage all students to get vaccinated. Students can post a photo or video with the hashtags #ItsYourTurn and #KnowYourVax. The goal of the campaigns is to address misinformation about the vaccine.
SUNY is also asking students to share why they're getting vaccinated. Katie Prior, a student at the Fashion Institute of Technology, said she received the vaccine because she wants to be back on campus in the fall.
"I want to be able to see my friends safely, and I want to be able to attend my classes in person so I can get the hands-on learning that I've been missing," Prior said.
COVID-19 vaccine eligibility expands today to 16 and over in NY
Aside from efforts to vaccinate students, SUNY has opened many of its campuses for state- and county-run vaccination clinics. More than half of SUNY campuses — 36 of 64 — are being used to host clinics.
As of Tuesday, the vaccination clinics on SUNY campuses have administered more than 900,000 doses of COVID-19 vaccines.
Politics reporter Robert Harding can be reached at (315) 282-2220 or robert.harding@lee.net. Follow him on Twitter @robertharding.