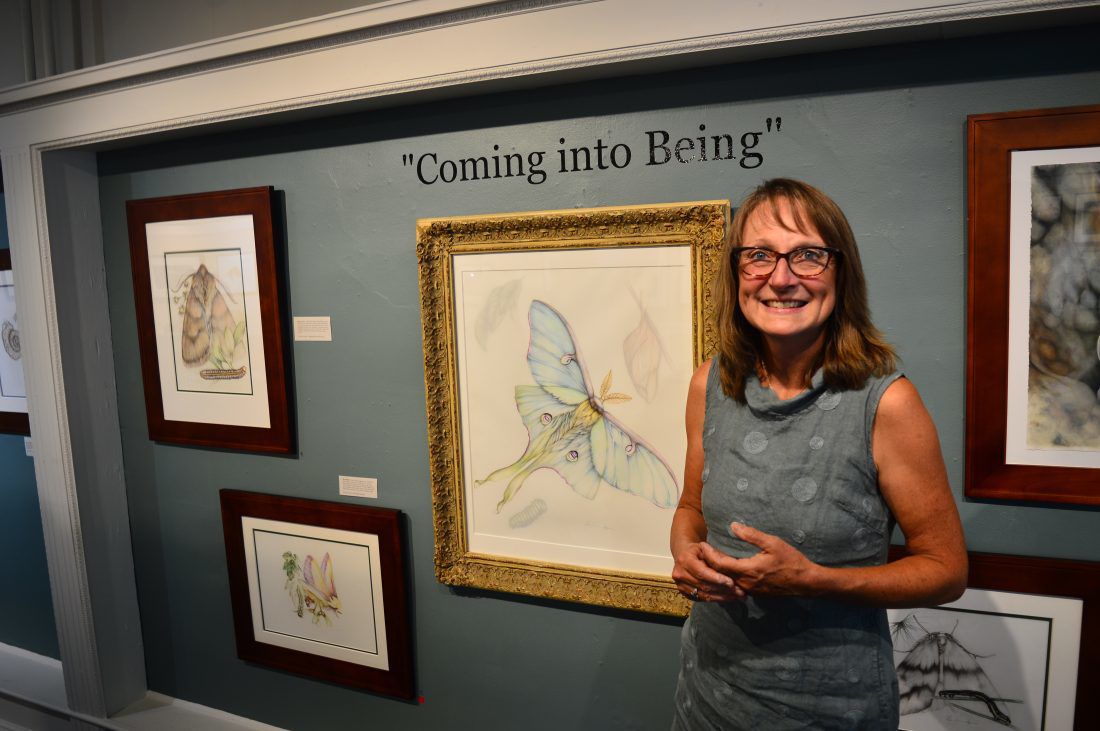 SARANAC LAKE — After state funding for tick research in the North Country bit the dust this spring, a handful of organizations and individual donors drew together enough money to keep Paul Smith's College professor Lee Ann Sporn's research afloat through the end of the year.
Sporn asked for $15,000 from the Cloudsplitter Foundation, a philanthropic trust founded by Lee and Nancy Keet of Saranac Lake, and had her request met in full. She also received funding from the Rocky Bog Fund through Adirondack Foundation and from Craig and Connie Weatherup — Craig is a former Pepsi-Cola CEO.
The research these people funded has revealed the emergence of two tick-borne diseases, anaplasmosis and babesiosis, in the North Country, especially in Essex County, as well as the continued geographic spread of the ticks that carry them and the established prevalence of Lyme disease.
Sporn said this funding "saved the day" in preventing her research from having a data gap. Though this "gap funding" was helpful, she said donations are not a sustainable way to fund her research. She hopes to establish the continuous funding the state previously supplied.
"There's just no way I can spend all this time and effort trying to fundraise each year," Sporn said. "I'm really hoping there's a little more continuous funding stream."
In April, New York state passed its 2019-20 budget, but for the first time in years it did not renew $1 million in funding for Lyme disease research, including $30,000 used by Paul Smith's College students to track the spread of ticks and the diseases they carry in the North Country.
The research of ticks was formerly funded by the state Senate Task Force on Lyme and other Tick Borne Diseases, but with a new Democratic majority in the state Senate this year, all task forces were reset. The majority party has not created a replacement one for tick-borne disease.
"A lot of money and interest has been focused more on downstate, and the North Country kind of got forgotten," Sporn said. "It's ironic that this region is probably some of the most hard hit with the emergence of tick-borne diseases. The need went up, and the funding went down."
Sporn said that while the more exciting types of research are often well funded, routine monitoring and surveillance of tick populations and diseases — what she said is the most important information — is often forgotten by funders.
She worked with the state Department of Health's Bureau of Communicable Disease Control this summer. She said this bureau is spread thin and mostly based in Albany, making it hard for staff to travel to the North Country.
"We are unprotected up here," Sporn said.
She worked this summer to improve the protections against tick-borne disease in the North Country by continuing research, providing information to health care professionals and working with the state to fund more research.
Summer work
The work this summer was done on a volunteer basis by Sporn herself, with occasional assistance from DOH employees from Albany and her son Jake.
Jake has worked on the tick research project for six years as a field technician, website developer, data manager and graphic designer. Lee Ann said the funding supplied by the Cloudsplitter Foundation will ensure he is paid for his work.
They collected a quota of tick nymphs in the spring, reaching the minimum data amount needed to keep the research going. They collected nymphs from at least one site in Clinton, Franklin, Essex and St. Lawrence counties.
Sporn is now storing those samples in her fridge at her home, keeping them in containers of alcohol. They will be tested in the fall as her Paul Smith's College class begins to collect the grown adult tick samples.
She started working with Project Echo, a University of Vermont program that trains rural health care providers, to get the info collected into health clinics and provide health professionals with the knowledge they need to properly diagnose tick-borne illnesses.
Though there are no infectious disease specialists in Saranac Lake, Adirondack Health does a teleclinic, which this summer is focused on tick-borne disease. Sporn said the health professionals have been surprised by local risk, especially that there are more diseases coming into the area than just Lyme.
"It's not possible for them to do their jobs without this information," Sporn said.
For example, anaplasmosis has a 10% morality rate, and Sporn said it often goes undiagnosed. It has spread into the North Country just recently.
"The symptoms are fairly nondescript. If physicians and health care providers don't know that there's a risk, they often won't consider it," Sporn said. "Some of the criteria are that you have to have been exposed in an area that's endemic for that disease, and without the information we provide to (the doctors), they don't know that."
Since her research follows DOH procedures, the information can be entered into larger, national, databases for the DOH and U.S. Centers for Disease Control and Prevention.
Expanding diseases
One of the critical pieces of information Sporn was able to supply to hospitals is the introduction of several new tick-borne diseases in the area.
She said 10% of the ticks tested this spring were positive for anaplasmosis or babesiosis.
Anaplasmosis is a bacterial infection transferred by blacklegged ticks that was mostly contained to the southern portion of New York before this year. Sporn said the rise in ticks carrying the disease seen in her research has also been reflected in a rise in cases in health clinics.
She said around a dozen cases of human anaplasmosis infection occurred this year in the Adirondacks, eight in Essex County.
Babesiosis is a parasitic infection that attacks red blood cells, and it has shown up in the North Country recently as well.
Sporn said a quarter of the ticks tested positive for more than one disease, and 5% tested positive for three, especially in Essex County.
She said though 2018 brought a low population of ticks, 2019's harvest showed regular numbers. Some places in Essex County produced up to 10 times as many as usual.
The future
Sporn has been invited to participate on a governor's working group on tick-borne disease, which is planned to meet in September. She said she hopes being a part of this group will give her a voice to request that Democratic lawmakers reestablish a tick-borne disease task force.
Sporn has also reached out to U.S. Rep. Elise Stefanik, R-Schuylerville, who co-sponsored the Ticks: Identify, Control, Knockout (TICK) Act in June. Sporn said she wants to make sure the act, which ensures continuous funding, supplies some of that funding for monitoring and surveillance.
When the fall semester starts at the college, she will have 18 students enrolled in a tick research class which is supposed to be capped at 12 students. They will renew investigation into tick expansion into higher elevations.
Sporn said she hopes to secure funds to hire one paid staff member who can do the routine parts of tick research, opening up the students to better and more creative educational opportunities. She said she wants to make sure she's not using them for free labor. She would rather have them focused on improving and advancing tick research than driving around to different collection sites.
Students in past classes have been responsible for discovering that ticks are living at higher elevations than before; that new diseases such as Powassan, anaplasmosis and babesiosis are being carried by those ticks; and that more species of ticks, like the Asian longhorn tick, are making their ay into the North Country.
Be the first to know
Get local news delivered to your inbox!