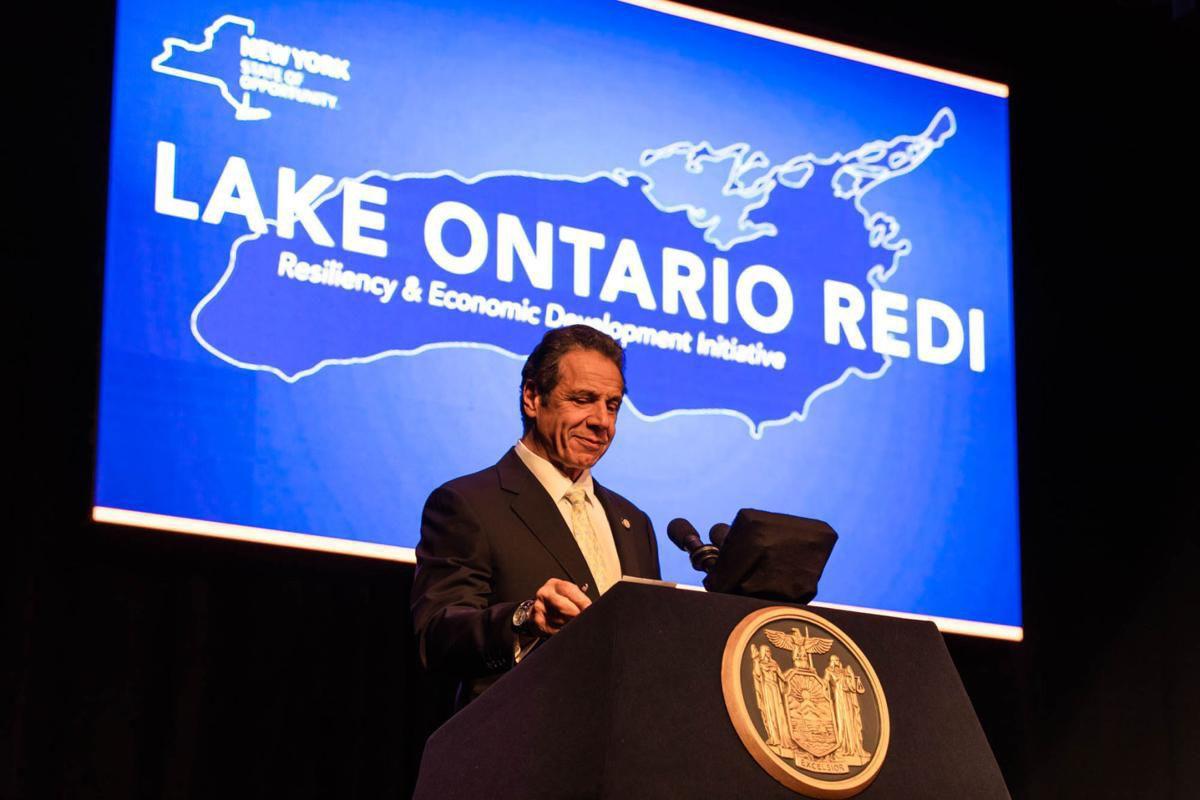 CLAYTON — Gov. Andrew Cuomo announced $60 million in funding for shoreline communities along Lake Ontario and the St. Lawrence River on Thursday at the historic Clayton Opera House.
"Congratulations you have won $60 million, more than any region," he said.
Department of Environmental Conservation Commissioner Basil Seggos, who co-chaired the REDI Commission announced the 38 individual projects.
The stop here came after he announced a round funding in Oswego earlier Thursday for shoreline defense and economic growth through the Lake Ontario Resiliency and Economic Development Initiative.
"New Yorkers living and working along the shorelines of Lake Ontario and the St. Lawrence River have endured extensive damages from record flooding and the state is continuing to step up to help," Governor Cuomo said. "I am pleased to announce these 38 REDI projects for St. Lawrence and Jefferson counties, which will help these communities rebuild and recover after devastating losses while ensuring the area's infrastructure and habitats are better prepared and more resilient in the face of future high water levels."
"Shoreline communities have faced tremendous challenges in recent years. That's why we have taken aggressive action to help local governments, businesses, and homeowners with state support to improve resiliency and address the impact of flooding," said Lieutenant Governor Kathy Hochul. "This targeted funding for projects in St. Lawrence and Jefferson counties will address infrastructure needs to ensure sustainability long-term. These critical efforts will help to combat devastation from extreme weather events, strengthen our economy, and enhance quality of life for residents."
High water levels of Lake Ontario and the St. Lawrence River flooded homes, submerged docks, inundated and eroded shorelines in waterfront cities, towns and villages this year and in 2017.
The $300 million initiative, also know as REDI, aims to aid affected communities by helping fund infrastructure projects that bolster their defense against future inundation, as well as generate economic development. Of the $300 million the state has allocated for the REDI initiative, $20 million has been earmarked for homeowner assistance, $20 million has been allocated for business resiliency projects and $15 million has been set aside for a regional dredging effort.
Clayton Town Supervisor Lance L. Peterson Sr. said because the first local REDI meeting was held in Clayton in July, it was appropriate that the funding awards would be announced at the same location where the process started in the north country.
"I'm very proud. I'm very proud of our community and very proud of what we have to offer," Mr. Peterson said.
The regional planning committee for REDI that represents Jefferson and St. Lawrence counties submitted more than 200 private and public projects for state funding in September.
Funding requests recommended by the committee include $11 million for the village of Waddington's wastewater system, $10.6 million for the town of Henderson's wastewater system, $2 million for the city of Ogdensburg's Maple City Trail, $1.295 million for the Fort de la Presentation's interpretive trail in Ogdensburg, and various projects in Alexandria Bay, Clayton, Cape Vincent, Sackets Harbor and other areas.
The state awarded the first allocations of REDI funding last week for projects in Monroe, Wayne, Orleans and Niagara counties. Officials awarded a combined $84 million for 43 projects in Monroe and Wayne counties and $49 million for 20 projects in Orleans and Niagara counties.
Be the first to know
Get local news delivered to your inbox!