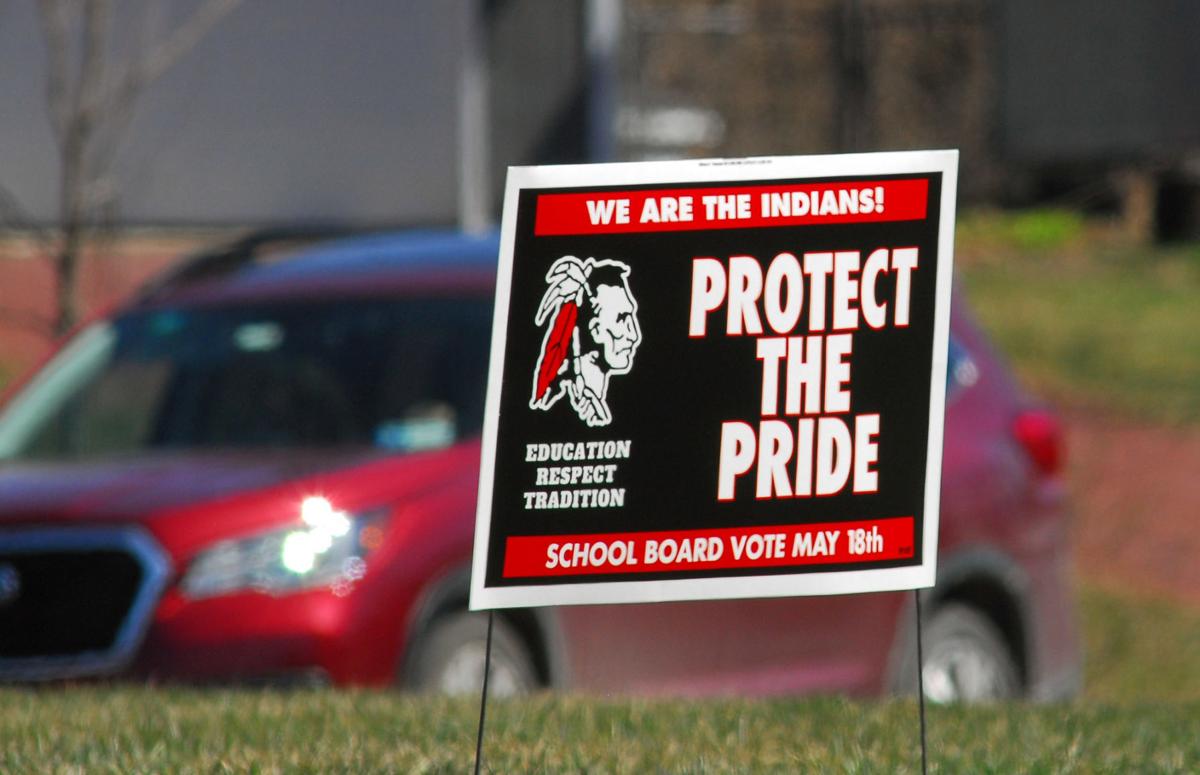 CAMBRIDGE — The conflict over the Cambridge Central School mascot "has played out on a personal level," affecting not only the school but also dividing families, friends and workplaces, said Duke Fisher, leader of the team that held community conversations about the Indian controversy.
"Overall, the team heard a lot of discomfort," Fisher said. "There was a break in the community. People are saying, 'This is not who Cambridge is. This is not who we want to be.' There's a loss of community, of a chance to engage in conversation without getting hurt."
In late April, prior to the Board of Education's 3-2 vote on June 17 to end the use of the Indian name and image as of July 1 and form a committee to come up with a new nickname and emblem, the board hired The Restorative Practice Team: Bridges.
The board wanted to give all sides a chance to be heard in a safe, mediated process before the board voted on whether to keep or retire the mascot in mid-June. The Bridges team comprised Fisher, Thomas James Reed, Kevin Johnson, Adah Moreno and Peter Arvo.
Team Bridges held an introductory meeting via Zoom on May 6, kicking off a fairly intense six weeks of 93 individual interviews and 25 group circles, 16 held remotely and nine live, with 151 participants.
"We worked really hard to assemble as many people as we could," Fisher said. "We asked participants, 'Who haven't we talked to? Who's been most impacted?' I think coverage was pretty good. We heard from people on both ends of the spectrum."
Circles for students were held during and after school on May 19.
"The junior and senior high school students were most engaged," Fisher said. No elementary students participated, although "we do know there was impact on them. There was some discussion of how circles could be offered to the younger kids to engage them in what's next."
Participants were asked to name harms they have suffered because of the debate, what they needed instead, and their reflections and recommendations. The team did not include its own recommendations or thoughts on the subject.
Team Bridges delivered its 10-page report on June 7. The report is available on the school's website, www.cambridgecsd.org. Click on "Mascot discussion" on the menu bar at the top of the district homepage, then "Cambridge Community Bridge's Mediation Work" in the left-hand menu.
Among the harms cited by community members were loss of relationships, tension in the school and community, feeling attacked, alone or unsafe, damage to the community's and school's reputation, a loss of trust, particularly in the school board, and concerns that history was being distorted.
Some harms were contradictory: the decision process was taking too long, the decision process was happening too quickly. Three responses cited harms specifically related to dropping the Indian name mascot, including erasure of school and local Native history, and that people who had "proudly supported" the mascot would be "vilified."
By contrast, the only student response specifically related to the Indian mascot were allegations that some students were avoiding sports because they didn't want to wear uniforms with the Indian emblem. Students generally were more concerned about being left out of the discussion and the diversion of resources from students struggling with the effects of the pandemic. In general, community members and students said that they wanted to feel safe, to be heard and respected, and "to exist in a community that communicates well."
Recommendations included giving students a voice in what happens with the mascot, improving the school's teaching of Native American history, culture and current issues, ideas for a new school nickname and emblem, supporting respectful communication, and asking the state to take a stronger role around school mascots.
Did the pandemic affect the conflict?
"Absolutely," Fisher said. Not only did COVID and its shutdowns hamper schools, businesses, and families, it also kept people from discussing issues in person.
"Social media is brawling because people weren't face to face," Fisher said. "It's more difficult to be aggressive or confrontational face to face."
People tended to forget that they might later run into someone they'd attacked online, he added.
Students told of adults in their lives telling them to stop associating with friends or family members who were on opposite sides of the issue. Business owners worried about alienating customers, Fisher said.
"Even not saying something could have consequences," Fisher said.
Cambridge has one family with Native heritage. Reed, one of the facilitators, is a member of the Oneida Nation. Part of Reed's job was to ensure that all circle participants felt that they, their families and their community's customs were respected. For example, during in-person circles, Bridges often uses the Native American custom of a "talking stick," an object passed to each participant in turn to give that person the floor. "There are different tribal expectations" about discussions, Fisher said. "It may be as simple as in which direction the talking stick is passed."
Johnson is a retired school administrator from central New York.
"Kevin's role was to make sure the mechanics of the district and the circle were in line," Fisher said.
For example, some discussions might touch on the teachers union contract or school policy. School board members could join the circles, but "we wanted to ensure they were not in the circle in a way that could create legal issues for the district," Fisher said.
The work of reconciliation started to happen in the circles, Fisher said, as participants admitted they'd lost their tempers or said something harsh.
School Superintendent Douglas Silvernell was charged with hiring the mediation team and overseeing their work.
"I thought the process was set up in a way to help facilitate civil discourse," Silvernell said. "I think everyone had the opportunity to participate."
Silvernell wasn't sure if the debate would have been less heated without the pandemic, but "it certainly made things more difficult. It helped lead to the perception that the board members were not listening because the (board) meetings were over the internet and not in person."
Many of the needs, harms and recommendations cited in the report had already come to the district in emails, meetings and conversations, Silvernell said.
"To see them all compiled in one place does highlight certain issues," he said. "I think it is clear that people are wishing for something that can help unify the community again."
The impact of the mascot debate on students concerned Silvernell "from the beginning," he said. "I would say that in general they are less worried about the mascot, and more worried about the impacts of the pandemic on themselves and their fellow students."
It's too early to tell if the mediation process has had an effect, Silvernell said. "I'm hoping the bridges made between individuals with those of a differing opinion will pay off in the coming months and years," he said.
Bridge's bill is still being finalized, Silvernell said. Thanks to strong community participation, the team did more interviews and circles than anticipated. The school received a $5,000 grant from the Alaska Community Foundation to help cover Bridges' fee, he said.
Although the formal mediation process is over, Fisher said the Bridges team will continue to follow developments.
"If you spend six to eight weeks in a community, a level of intimacy comes in," Fisher said. "We're as curious as the community as to what will happen. We're certainly watching."