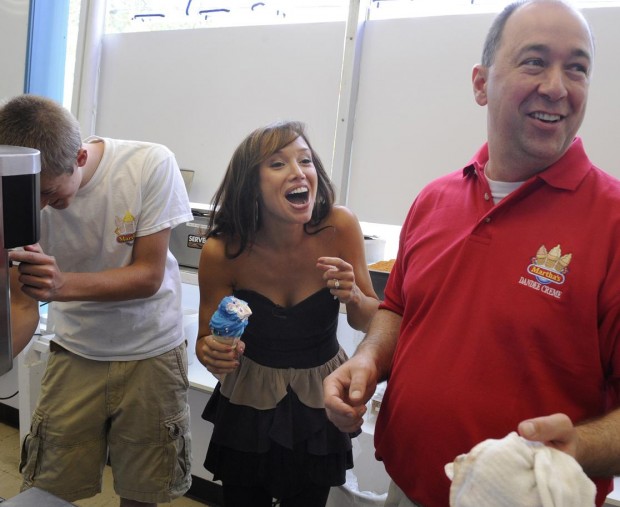 QUEENSBURY - It's only three hours from here to New York City, but from Queensbury High School to an office at 30 Rock, it's a long trip.
Sara Gore graduated from Queensbury High School in 1994, and is now embarking on her third television show on WNBC in New York City.
She has been the anchor of the weekly luxury lifestyle program, "First Look New York" and "Open House NYC," which spotlights distinctive properties in the city. She has appeared on the "Today" show, and came back home when the show traveled to Lake George, where Gore did a segment on Martha's Dandee Creme in Queensbury.
Her latest endeavor begins in September, when she and co-hosts Siafa Lewis and Michael Flocker will host LX New York, a one-hour lifestyle and entertainment show that will debut on Sept. 14 at 5 p.m. on WNBC in New York City.
Gore is the daughter of George Gore of Queensbury and Gail Gore of Lake George. Her shows can be viewed by satellite users in the area who can access New York City channels.
"I hope the new show grows and expands, and will move to other markets as well," Gore said in a phone interview from her office at 30 Rockefeller Plaza.
She said that she began acting in high school, and took part in the Miss Teen USA Pageant, winning Miss New York.
"Right around then, I got an agent in New York, and I went to the city," Sara said.
She went to Marymount Manhattan College, starting as a theater major, but one of her lifelong passions has been cooking.
"My mom and I used to cook for the soup kitchen in Glens Falls when I was a kid," she said. "It's always been a hobby of mine, and it got serious when started catering dinner parties for people in the city."
She worked for Chef Jean Georges Vongerichten, where she said she learned a great deal about cooking.
Gore did a pilot for the Food Network that never got off the ground, but she began doing cooking segments for "Today" every month or so.
"After I did the piece in Lake George, they asked me to fill in for Natalie Morales for a week," Gore said. "I was beyond ecstatic, I was in pinch-me mode."
Gore described the Today Show as a "well-oiled machine."
"Everyone is very friendly, but it gets crazy," she said. "The people behind the scenes in makeup and wardrobe are all light and friendly, but you get your script seconds before you appear on camera."
She said for that week, she got up at 4 a.m. for her "Today" show appearances, and then spent the rest of her days at her regular job.
"I did it happily," she said. "It was just a great experience and going to Lake George brought it all home, how much I really love where I come from."
Gore recently became engaged to Matthew Miele, a writer and director for films.
"We haven't set a date yet, but I'm looking in Lake George to get married," she said. "I loved growing up in Queensbury, I want to raise my kids somewhere upstate. There is a lot more freedom as a child. Growing up in the city doesn't give you the same opportunities to be near the lakes and mountains, places to run."
The couple visits the area as often as they can.
"There is so much going on, I like to come up and relax on the lake," she said. "Matthew's sister has a place in the Hamptons, but with traffic, it takes just as long to get there, so I like to come home."
George Gore said he is amazed at what his little girl has become.
"She was a very athletic person," he said. "She was the ironwoman of her senior class, and to see what she's become as a young woman, I'm amazed. Each television appearance I see her as she is - a bright, happy, energetic woman."