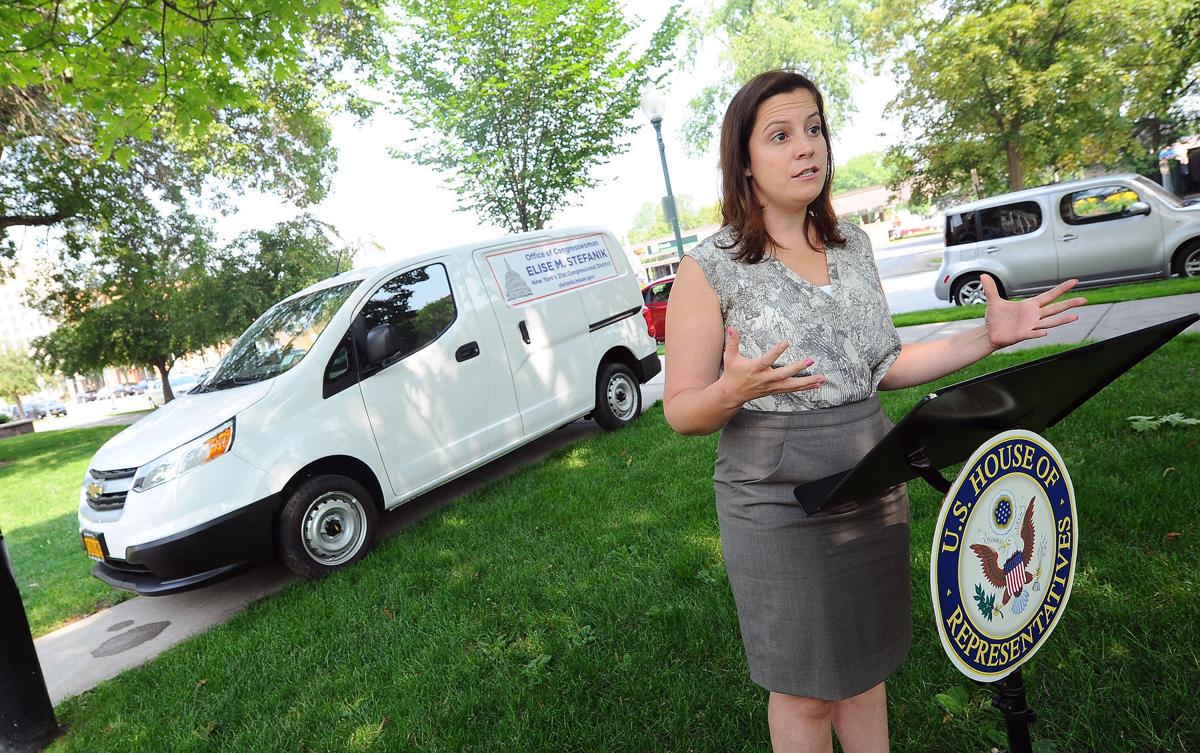 Since Gerald Solomon and John Sweeney served multiple terms each as our congressman, we've seen a parade of congressional representatives. It has been difficult to get to know any of them.
We watched Kirsten Gillibrand as a neophyte candidate grow into a polished member of the U.S. Senate, and we suspect Chris Gibson will be a formidable foe for Andrew Cuomo when he announces his run for governor later this year, while Scott Murphy vanished from the political scene almost as quickly as he appeared.
We inherited Bill Owens after redistricting, but never felt he had much interest in our region. Which brings us to our current representative, Elise Stefanik, who proved timing is everything by challenging Owens before the congressman announced he was stepping to the sidelines. She used her youth and enthusiasm as a rallying cry for change in Washington.
But as we all know, governing is a lot different than campaigning, and change is Washington has been slow.
Rep. Stefanik sat down with our editorial board just before Christmas to recap her first year in office. We spent almost an hour listening, chatting and asking pointed questions on issues at which we are at odds.
Our first impression was that Rep. Stefanik has already grown in her job. Her presentation is more polished and she obviously has a command of a wide variety of issues.
What we hoped to ascertain from our meeting, and what has confounded us over the past year, is who Elise Stefanik is and what she actually stands for.
When we checked govtrack.us, a nonpartisan transparency website that tracks the voting records of members of Congress, we were surprised to see she had one of the most moderate voting records among Republicans in the House or Representatives.
While "moderate" has become a bad word for many Republicans, we were pleased to see her voting record skewing to the middle. We believe the only way our country can move forward and Washington can get untracked is through a bipartisan give and take.
Rep. Stefanik promised that on the campaign trail, and in some ways, she has delivered.
She joined 10 other freshman Republicans in writing a letter saying they opposed a government shutdown.
She joined with Chris Gibson in a resolution in which she acknowledged that climate change is real and needs to be addressed.
She also voted to allow the president to negotiate trade agreements in a vote that split the Republicans.
She also voted against her party when it voted to reject a measure that would have provided training to American workers displaced by foreign trade agreements.
But at other times, Rep. Stefanik has toed the party line, especially in symbolic votes to repeal Obamacare or to implement any type of new taxes or move forward with the Iran nuclear deal.
It's as if there are two Stefaniks at war with each other. What we grapple with are her motivations. Is she trying to do the right thing or trying to do the right "political" thing?
We were especially interested in how she could acknowledge climate change in one stand, yet vote to delay implementation of the Clean Power Plan (new standards for coal-burning power plants), especially while representing a region that was devastated by acid rain from those plants in the Midwest.
She said her vote was to protect jobs and keep down the escalating cost of electricity for small businesses. We still believe her vote is a contradiction.
While she hailed the recently passed transportation bill as a great step toward repairing the country's roads and bridges, and we agree, we also pointed out that the federal gas tax was not raised, and it has not been raised since 1993, meaning the bill's funding is suspect and continues to be a problem.
We also questioned why she was opposed to the death tax — or estate tax — when it only affects estates valued at more than $5.4 million for individuals and $10.8 million for couples.
Rep. Stefanik said this was one of the biggest concerns of farmers in her district. We asked how many farms in her district were affected by the tax. She said she knew of one, but there may be others.
In both cases, we felt the congresswoman had taken a political position.
Since she is a member of the House Armed Services Committee, we were especially interested in her stand on Afghanistan, the Middle East and sexual assaults in the military.
She stood by the current strategy in Afghanistan and said she would follow the lead of military commanders in strategy and force sizes.
One member of our board described helping Syrian refugees as a "moral imperative" and said the U.S. should show leadership because this is a moral issue, not a political one.
Rep. Stefanik disagreed, saying she was opposed to allowing in more refugees because of the threat of terrorism.
She also said she backed the military chain of command in addressing the sexual assault epidemic.
We asked pointedly how she could stand by the military chain of command when commanders repeatedly were covering up sexual assaults.
Rep. Stefanik cited her conversations with Fort Drum commanders and female soldiers who said that the military conviction rate for these types of crimes was higher than in civilian courts, yet the Military Times reported in May that only 317 service members were court-martialed and sentenced to confinement out of 6,131 reported sexual assaults.
Our board was most stunned Rep. Stefanik could stand by those statistics, especially since she serves on the House Armed Services Committee.
Finally, one member of our board asked her about joining her Republican colleagues in votes to repeal Obamacare. She explained that Speaker Paul Ryan would be unveiling a plan to replace the Affordable Health Care Act in the coming year that would be an improvement, because current deductibles are too high.
Our editorial board member explained he has insurance through the Affordable Health Care Act and doesn't want to lose his insurance. He felt her response was unacceptable, because it did not address what happens to those who have insurance now.
At the end of our hour, our board still had concerns about what Elise Stefanik stands for and what she does not.
Local editorials represent the opinion of The Post-Star's editorial board, which consists of Publisher Terry Coomes, Editor Ken Tingley, Projects Editor Will Doolittle, Controller/Operations Director Brian Corcoran and citizen representative George Nelson.
Local editorials represent the opinion of The Post-Star's editorial board, which consists of Publisher Terry Coomes, Editor Ken Tingley, Projects Editor Will Doolittle, Controller/Operations Director Brian Corcoran and citizen representative George Nelson.