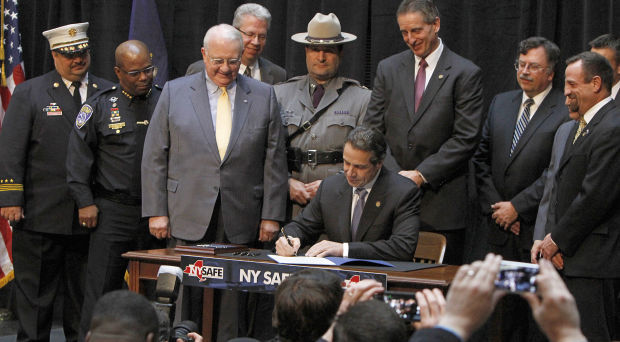 Some area gun dealers continued to sell high-capacity magazines banned by the NY Safe Act days after Tuesday's hasty passage of the sweeping gun control legislation, as confusion reigned about when they actually had to pull the clips from their shelves.
And the state took steps Friday night to clear up the widespread befuddlement.
The state Senate passed the controversial crackdown on high-capacity guns late Monday night, only hours after most lawmakers were first handed the lengthy bill, and the Assembly followed suit Tuesday because Gov. Andrew Cuomo's "message of necessity" waved the traditional three-day vetting period.
The haste at which the bill plowed through Albany meant most of the required state oversight wasn't in place even though the law technically was.
And local gun dealers, for three days following the law's enactment, couldn't get answers from Albany about when they had to pull the banned magazines from their shelves, all while patrons flooded their stores looking to skirt the restrictions.
"I want to comply, but nobody is telling me anything," said Chris Nemec, who operates Nemec's Sport Shop in Warrensburg, one of several gun dealers overrun with customers seeking supposedly illegal magazines.
Nemec's repeated calls Thursday to State Police and Cuomo's office in pursuit of some guidance were fruitless, he said.
"Until we hear something, we're business as usual," Nemec said Thursday. "Everybody is freaking out and buying 10-round mags," he said.
Patrons were buying armfuls of supposedly illegal 10-round magazines from shops throughout the region more than 48 hours after much of the law went into effect.
You have free articles remaining.
The NY Safe Act limits any magazine's capacity sold in New York to seven rounds, but when the magazine regulations take effect remained a mystery to dealers and local officials.
Gun owners and dealers looked to area police for clarity, but county sheriff's offices were equally out of the loop.
"We've had no guidance," Washington County Sheriff Jeff Murphy said Friday. "People are calling us and we just refer them to State Police."
Cuomo has said legislation was fast-tracked to avoid a run on assault weapons and high-capacity magazines.
The New York State Sheriff's Association struggled to respond to statewide queries from member police agencies. The association was expected Friday to release a guidance sheet to local police, said Warren County Sheriff Bud York.
"This was done so quickly, we haven't had time to digest it," York said.
State Police posted a lengthy list Thursday on the Internet of firearms that could no longer be sold under the expanded state assault weapons ban. The state launched nysafeact.com Friday evening in an effort to answer the flood of questions by dealers and gun owners. The seven-round magazine limit takes effect April 15, according to the new website.
Cuomo's use of the message of necessity to fast-track the sweeping ban raised the ire of pro-gun Republican lawmakers, who said it was employed to skirt public scrutiny. Several newspaper editorial boards also criticized Cuomo for the move, arguing it intentionally avoided transparency. The Post-Star editorial board went so far this week as to label the fast-track maneuver an "abuse of power" and argued Cuomo increasingly relies on the message of necessity as "standard operating procedure" to ram through controversial bills before the public can react.
Cuomo blasted The Post-Star editorial later Thursday on New York Post Capitol reporter Fred Dicker's radio show, "Live from the State Capitol," on Talk 1300.
"If you look at the number of messages of necessity, I've done less than Spitzer, Pataki, Paterson; I've done less," Cuomo said. "So to say it's becoming standard operating procedure is wrong. I don't mind a passionate debate. But when people change the facts, I do mind."
Cuomo's predecessors often used the message of necessity on budget bills.