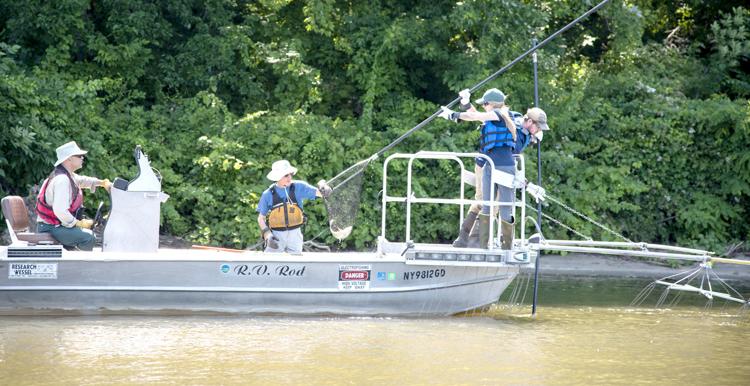 The latest news about PCB contamination in the Hudson River has dismayed both those who opposed dredging and those who championed it as the way to clean the river.
After a year of testing fish, the Department of Environmental Conservation announced just before Christmas that contamination levels in fish were "essentially the same" as they were before dredging. The contamination is also three times higher than the original goal for 2020.
Residents on both sides of the dredging debate found themselves using the word "failure" as they discussed the results.
"We kind of expected a miracle, and there was no miracle," said Fort Edward resident Julie Wilson, who lived next to the dredging operations and endured the years of noise and light.
FORT EDWARD — As the public waits for a final decision from the EPA about the Hudson River dredging, Gov. Andrew Cuomo released a study arguin…
Under an order to the Environmental Protection Agency, General Electric paid to dig up contaminated sediment in the river, remove the water, and haul the remaining material to a toxic waste dump.
But Wilson and several other residents who lived near the operation maintained all along that dredging wouldn't work, and she said the DEC results proved her right.
"Mankind does not have the technology. He can ruin it easily, but he can't fix it," she said.
In a news release announcing the findings, DEC suggested that more dredging could be the right solution. Wilson was not persuaded.
"More of the same? They will never be successful," she said. "Leave it alone. Let's see what happens."
Among those who thought dredging could remove the contamination, the results were also disappointing.
Althea Mullarkey, a public policy analyst with Scenic Hudson, said it was now clear the community would not get the results described in the Record of Decision that ordered General Electric to dredge the river. That decision called for a "rapid reduction" in fish contamination shortly after the dredging, which has not happened.
But Mullarkey noted that in one area of the river, where more dredging was done, fish improved more.
"I never want to say dredging was a failure, because when you dredge according to what the problem is, it works," she said. "Are we going to meet the goals of the Record of Decision? No."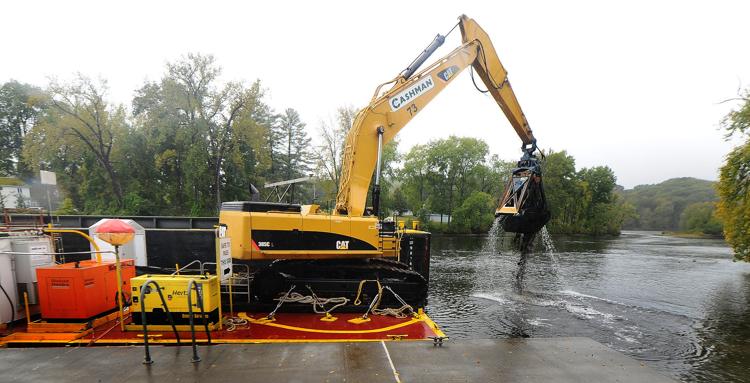 She thinks more dredging could accomplish those goals.
"They need to design a project that addresses the problem. But first and foremost you have to acknowledge there is a problem," she said.
Mullarkey said scientists made mistakes in designing the dredging project.
"We found much more contamination than we originally thought, and much wider spread than we thought," she said.
The mistake wasn't so much in theorizing incorrectly as it was in not adjusting the dredging to account for the real-life conditions, she added.
"You didn't fail. This is what science is. You discovered something new," Mullarkey said. "They theorized what was in the water when they designed the project. Now they know fish swim in this way, water moves in that way — this is how the contamination moves through the river. They know that now. That's what science does. Make your adjustments accordingly."
Instead, the dredging project went on as originally planned.
Mullarkey thinks the solution is to do more dredging now.
But an official spokesman for General Electric said the dredging project was a success.
"The Hudson River dredging project is working and is delivering the environmental benefits that the U.S. Environmental Protection Agency and New York state sought and predicted. The data demonstrate this conclusively," spokesman Mark Behan said.
He noted that PCB contamination levels dropped in the sediment and in the water. In addition, an average of all the larger fish tested shows a contamination decline of 58 percent, he said. However, his figures still showed numbers much higher than the goal: 1.19 ppm of PCB contamination on average, when the goal for next year is for contamination to be at 0.04 ppm for the composite average of large fish.
SCHUYLERVILLE — Local officials and economic developers are worried about what lurks in the Old Champlain Canal, but they don't want state and…
Behan said the state just needs to give the fish more time to recover.
"Because PCB levels in fish are known to fluctuate, EPA has said in its draft Five-Year Review Report, 'It is important to recognize that up to 8 or more years of fish tissue data may be necessary to draw statistically based conclusions about trends, with a high degree of confidence,'" Behan said.
He called the early data "encouraging" and said GE would continue to monitor the fish, water and sediment to make sure improvement continues.
However, DEC said a close look at each type of large fish showed no such improvement. The agency provided details on each type of fish, in response to a Post-Star request. For bass, a large and popular sport fish, tests in 2004 found 1.51 ppm of PCB contamination. In 2016, after dredging, the same tests found a slight decrease, to 1.23 ppm. But in 2017, that went back up to 1.59 ppm. That data was from what DEC called the most representative area — in Stillwater, the longest pool in the river system.
In several other areas, there was an increase in contamination during dredging and a decrease afterward — but that decrease often leveled off quickly. In each case, DEC said, there was no significant improvement and "not a lot" of ongoing improvement.