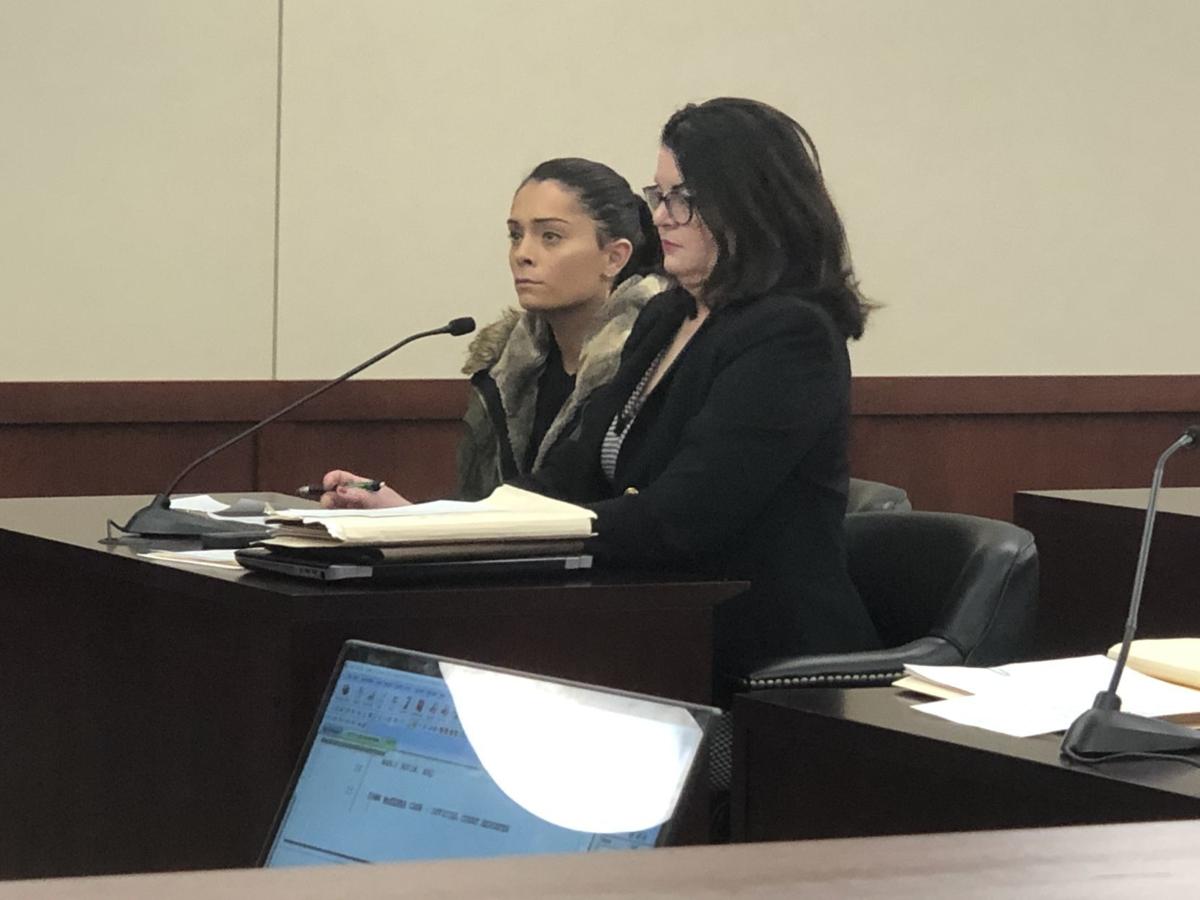 QUEENSBURY — The Glens Falls woman who helped her then-boyfriend remove evidence from the scene of a fatal stabbing earlier this year pleaded guilty Friday to a felony charge for providing him with "criminal assistance" after the brawl.
Ashley N. Bell, 29, pleaded guilty to second-degree hindering prosecution for driving Jesse Breault to and from the May 24 confrontation that led to the death of 36-year-old Queensbury resident Christopher Goss.
Breault, 26, of Glens Falls, was sentenced last month to 18 years in state prison on a first-degree manslaughter charge for killing Goss when the two met to fight over comments Breault made about Goss' girlfriend. Breault brought a large hunting knife, which he plunged into Goss' upper back at the end of the fight.
Goss staggered to the front yard of a nearby home, where he died.
Bell showed no emotion in Warren County Court on Friday as she admitted she drove Breault to the Quaker Road, Queensbury, parking lot where the fight took place and drove him away from the scene knowing that Goss had been stabbed.
Breault threw the knife out of the car window as they drove to his Glens Falls home, Bell said.
"Did you render Mr. Breault criminal assistance by driving him to the scene where this gentleman was stabbed, and then drove him away?" Warren County Judge John Hall asked.
Bell agreed to a plea deal that will result in a minimum of 6 months in Warren County Jail and 5 years on probation, up to a maximum of 1 to 3 years in state prison.
Goss' girlfriend of more than eight years, Ali Barton, said later Friday that she believes Bell should get the maximum sentence.
Barton said Bell has not been remorseful and told a friend "'She would have never gotten sober if this didn't happen,' like it's a blessing the love of my life was murdered."
"She deserves the maximum prison sentence," Barton said. "She has ruined my life completely and even said 'This was all over nothing' and 'I knew how much Ali loved Chris.' I think she is a coward and soulless."
She was particularly angry that Bell called her after the fight, instead of calling 911 to get help for Goss knowing he had been stabbed.
Hall said he will review the findings of the county Probation Department and the statements of victims and the lawyers in the case before deciding what sentence is appropriate.
As part of the plea deal, a felony charge of tampering with physical evidence will be dropped. That charge stemmed from Bell driving Breault back to the stabbing scene to retrieve the cellphone he dropped during the fight, before Goss was discovered.
Both charges are punishable by up to 1-1/3 to 4 years in state prison.
Bell waived her right to appeal.
The plea deal will also satisfy a pending probation violation charge that was filed after Bell's arrest, as she was on probation at the time for a misdemeanor conviction in Queensbury Town Court.
Bell's lawyer, Veronica O'Dell, told Hall that Bell was taking part in substance abuse treatment. She said she had no comment on the matter after the hearing.
Bell is free pending sentencing Jan. 15.
Goss had worked as a high school teacher in Waterford and as a real estate agent, and he also operated a bar in Glens Falls in 2011-12.
Don Lehman covers police and court matters and Warren County government. He can be reached at 518-742-3224 or dlehman@poststar.com
Get local news delivered to your inbox!
Subscribe to our Daily Headlines newsletter.