BOLTON — After driving back from a campsite, a state Department of Environmental Conservation employee opened up her tent to find a stowaway bat.
It was a lactating female, said DEC wildlife technician Kate Ritzko, and that meant there were babies back at the site waiting for their mother to come home. Ritzko said her co-worker drove all the way back to the campsite to let the bat go.
Even one bat has an impact, especially these days in New York, when white-nose syndrome has crushed the populations of multiple bat species.
The syndrome is caused by a kind of fungus called pseudogymnascus destructans, or "pd" for short, Ritzko said. She's a bat specialist with the DEC and presented at the Lake George Land Conservancy's final "Living Lands Series" on Wednesday night in Bolton Landing.
Those who don't inherently love bats should still worry about the population decline, Ritzko said. The species in New York largely feed on insects like mosquitoes, moths and beetles and have shown to save agriculture and forestry industries more than $23 billion in pest-control savings.
That bat-provided service is at risk because of white-nose syndrome.
The fungus responsible thrives in cold environments, usually the caves that many bat species hibernate in, and attacks any hairless parts of their body, usually starting with the nose.
Hibernation time is when bats are most vulnerable, slowing down their bodily functions and sleeping through the winter. When infected with the fungus, however, the syndrome often wakes them up, forcing them to reheat their bodies at a time when there is little to no food or water available. The fungus can also eat away parts of their wings, and the damage can be lethal.
Bats are social animals, often huddling together in caves. The syndrome can easily be spread from bat to bat. White-nose syndrome was first found in a cave in the Albany area around 2006, Ritzko said, calling it "ground zero" for the United States. The disease has spread to seven provenances and 33 states between then and now.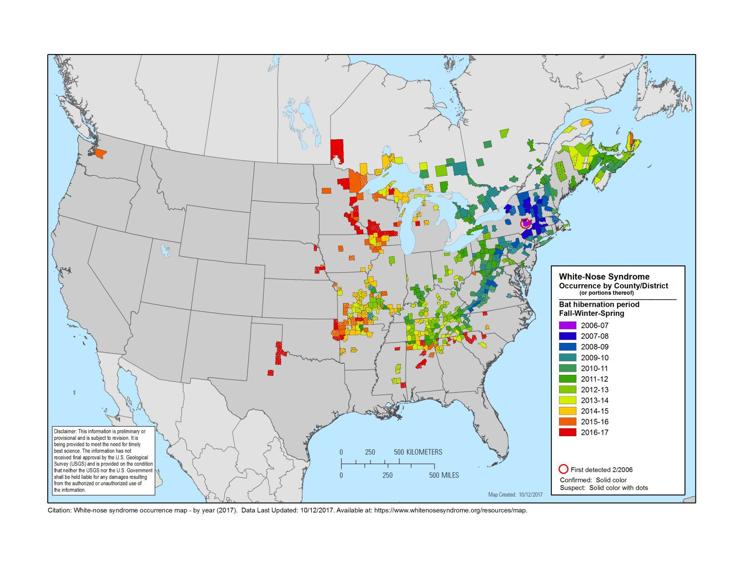 "How are they doing?" Ritzko said. "Well, they're still all dying, except for some of our migratory bats."
In New York, the little brown bat's population has plummeted by 83 percent. Indiana bats, an endangered species already, have dropped in numbers by 76 percent. Northern long-eared bats' mortality rate is 99 percent and tri-colored bats' mortality rate is at 97 percent.
Ritzko said nearly all of New York's bats are sick, and scientists are struggling with what to do about it.
The fungus is thought to have arrived from Europe or Asia. The fungus appears to have evolved with the bats that live overseas, and thus European and Asian bats have not seen the mortality numbers that the United States has.
Research is underway to see if caves can be sprayed with bacteria that will gobble up the fungus. The worry with that, Ritzko said, is the bacteria may have a problematic effect on something else living inside the cave. Scientists are also experimenting with intense ultraviolet light, which appears to destroy the disease. But that, too, comes with a risk. High levels of ultraviolet light could burn the bats' skin or cause them to develop cancer.
"The Holy Grail would be a vaccine," Ritzko said.
That's a solution that would be specific to bats, but there's still the problem of figuring out how to vaccinate thousands and thousands of small, flying mammals.
There are also scientists who think the best thing to do is wait and hope the bats develop and adapt to the fungus. Some scientists worry that by intervening with a potential vaccine or spray, people could be inhibiting that adaptation.
For now, New York is monitoring the populations and protecting hibernation sites. The DEC, Ritzko said, encourages residents to continue educating themselves about bats and white-nose syndrome, consider keeping dead trees on their properties, where bats like to roost, and consider putting up bat houses for the summer months.