QUEENSBURY — Gabriel Goss, 14, was completely confident that the ropes would hold him if he fell on West Mountain's new Aerial Adventure Park.
So he took them to their limits, leaping through the air and taking risks that would have landed him in a heap on the ground if it weren't for his safety gear.
"It's so much more fun when you make it difficult," he said after he nearly did a split as he crossed too quickly on a bridge of disconnected pieces of wood.
When asked what to tell his parents if he died, he added, "Tell them it was worth it." And then he took a running leap into the air, from one treetop to a landing about 20 feet away.
He didn't make it, of course, but the ropes held.
He loved the course, which his school group was the first to try. On Monday, the Burnt Hills-Ballston Lake middle school group spent the afternoon there.
It opens to the public on July 1.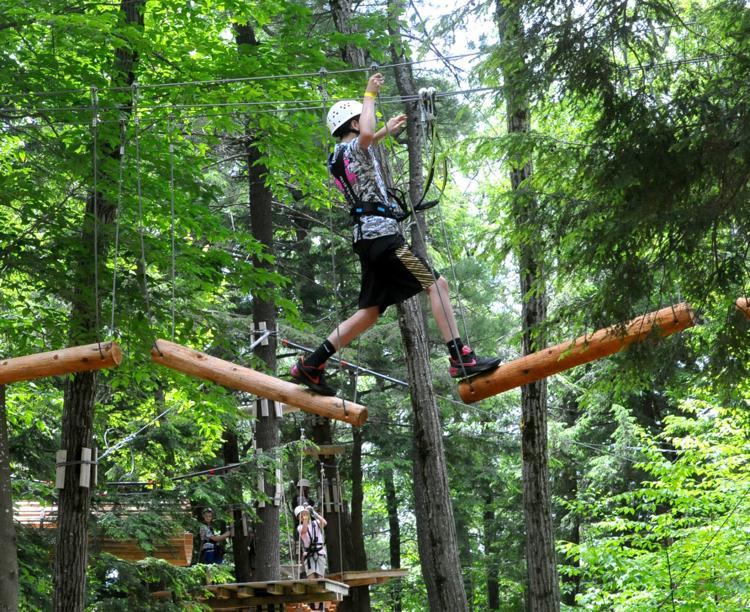 The $850,000 course was built in two months this spring, after about four months of planning. The goal was to create a series of increasingly difficult challenges, without cutting down trees to make room. So designers walked through the woods, selecting the best trees and designing the course around them, West Mountain co-owner Spencer Montgomery said.
The goal is to make the business year-round.
"You just can't guarantee a lot of snow and a long winter," West Mountain General Manager Sara Montgomery said. "It's so important you're open more than four months of the year."
You have free articles remaining.
The entire course is about 5 acres in size, though most people won't do the entire thing in one visit. There are five courses, from easiest to expert, and visitors must start with an easy course. No one can just skip straight to the expert course. There is a three hour time limit to complete the course and visitors can complete as many courses as they desire.
Challenges include a barrel that you must crawl through, bridges to cross, a net to climb through, several free-falls and six zip lines.
Park manager Adam Sheerer led the first group to do the course. He loves it too.
"Just being outside and being able to climb through the trees," he said. "It's a great workout. Having something really close is nice too."
Visitors buy tickets at the ski lodge, then take the West Express to the top of the mountain. There's a short walk to the course. Monitors run everyone through "ground school" to be sure they know how to safely hook onto the equipment before they start the course.
The harness include "smart belays," which are used to hook the climber's harness to the safety lines. When one belay is locked, the other one can be unlocked. But both belays cannot be unlocked at once. That ensures that climbers are always hooked to a safety line with at least one of their two belays.
When a climber falls, they can only fall about three feet. They can easily grab onto the course and haul themselves back into position.
Ryan Lussier, 14, of Burnt Hills, learned that when he fell repeatedly as the first student on the course.
The first fall startled him.
"But after that hooked me, I was like, all right, I'm fine," he said.
"The challenge of it. The feel of success afterwards," he said.