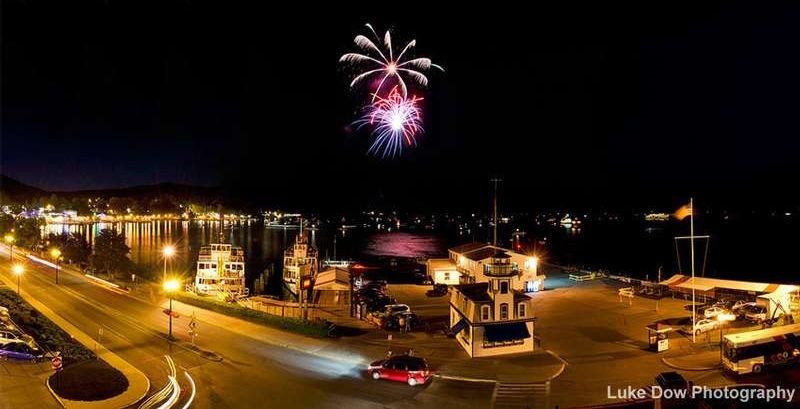 The village of Granville was planning its typical Fourth of July celebration: a concert at the park followed by fireworks on Friday.
But on Monday, the mayor reluctantly canceled the party. The fireworks will go off, but only in front of rows of cars, not a crowd of people. There will be no concert.
It was the latest in a series of cancellations. On Friday, West Mountain in Queensbury had to cancel its party, too, after organizers learned that they could not get past the state's 50-person limit for social gatherings. Organizers had planned to paint squares on the mountain to keep people in separate groups of 50, but that did not pass muster. They, too, will shoot off fireworks without a crowd.
Concerts are also not allowed, according to the state, even though restaurants can have live music for their patrons if the musicians are 12 feet from the tables.
"It's because the musical event in the bar or restaurant is for the patrons who are already being governed by the guidelines — 50% of capacity inside, 6 feet between tables," said Warren County Administrator Ryan Moore. "The answer (for why concerts are banned) is it's crowd control. You're going to get more than 50 people showing up for it."
The regulations are designed to prevent the spread of coronavirus.
But some said the rules just don't make sense.
"From the elevated bandstand, the nearest person would be way further than 25 feet," said Granville town Supervisor Matt Hicks. "If people spread out themselves in the village park and stay 6 feet away from the next person and wear a mask, I would think it would be reasonably safe to do that."
Washington County Health Services did not see it the same way.
"Large gatherings are not a good idea, whether you're protesting, whether you're worshipping," said county Attorney Roger Wickes, the Health Services spokesman.
Still, officials in both Warren and Washington counties did not flat-out ban the events.
In Warren County, officials asked West Mountain to voluntarily follow the rules.
"We said the state is not allowing it. It was not adversarial at all between the county and (West Mountain co-owner) Spencer (Montgomery)," Ryan said, adding that he was impressed by the attempt to set up a safe party. "Everybody's thought outside the box."
In Washington County, Wickes said a similar message would be conveyed Monday: "I believe the Health Department is going to say you shouldn't be doing this, but we aren't going to go out there and shut it down."
Then village Mayor Paul Labas learned that two people had anonymously sent complaints to the state. The village office also got several phone complaints.
"I do want to say our concert was scheduled for after Level 4 and Level 4 does include entertainment," he said, referring to Phase 4 of the state's reopening plan. "Isn't a concert entertainment?"
But on Monday he learned that concerts weren't allowed, even at the start of Phase 4, which is scheduled to begin Wednesday.
"We're going to have the fireworks but we're not going to have the concert in the park," he said. "We're complying. I'm not happy about it."
He added that he can't keep up with all the new rules.
"It seems every day I wake up and there's different rules on the plate. You can go to a zoo (in Phase 4) but you can't go to a park where there's music playing? That's kind of odd to me."
And people in his village would have loved the event, he said.
"I think people are desperately wanting an out. That's the reason why we're still going to have the fireworks," he said.
The fireworks will go off from the Little League field. The parking lot there is "massive," as he put it, although the village has not yet finished a parking plan. But he noted that most people in the village should be able to see the fireworks without driving to the field.
"We're not trying to do anything here," he said. "To me, the Fourth of July is the opening of summer. It used to baseball, hot dogs and Chevrolet, remember that ad? Now it's COVID, get a mask and stay away."
Concerned about COVID-19?
Sign up now to get the most recent coronavirus headlines and other important local and national news sent to your email inbox daily.