FORT ANN — With a motocross-themed wedding scheduled for August, new riders in every week, more demonstration days scheduled and no sound complaints as of Thursday, ADK MX Racetrack Owner Jeremy Treadway said this season is off to a great start.
It's all welcome news for Treadway, who has encountered many hurdles since he first opened his motocross track business on Route 149 in 2016. While it's not smooth sailing yet — sound complaints from a group of neighbors are still pending litigation in Washington County Supreme Court — Treadway said he's confident he will win.
"Once that's done, I think that's our fourth one we've fought and we've won, so I hope that the majority of people are starting to understand that we're here," he said in an interview Thursday. "It's a good thing. It's a good place. It's good for kids. It's good for families, and I'm not going anywhere, so they can keep fighting, but I'm not, we're not giving up, and we're doing the right thing."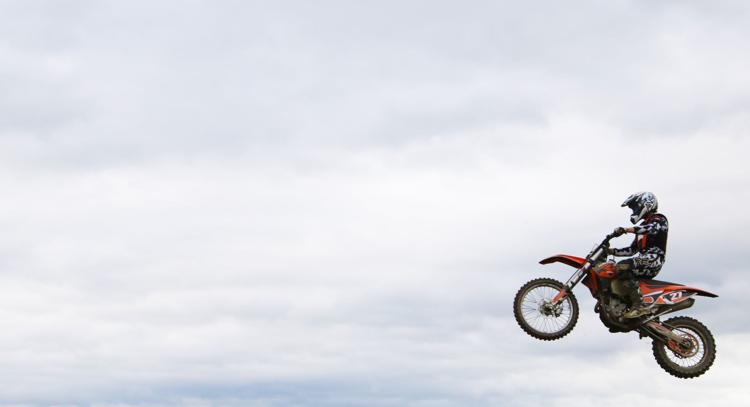 The track officially opened in 2016, but only for a couple of weeks. Treadway said its first full season was in April 2017, where riders from all over the Northeast and beyond got a chance to ride a track converted from a golf course.
Ever since, Treadway's permit with the town of Fort Ann has run into some bumps here and there, besides legal battles with neighbors wanting to shut the track down. For example, sound testing had been an issue after Treadway said several residents filed about 30 complaints last year. Negotiations with the town led to the latest permit, which requires bikes to have sound levels in compliance with the American Motorcyclist Association.
Fort Ann Supervisor Richie Moore said Thursday that there had been "zero, zip" sound complaints so far. He said the town's position on the racetrack "remains the same as always," in that it supports it as long as it meets the terms and conditions of the resolution and permits. Moore added that it seemed to be bringing more business to the town, noting that a corner gas station told him more customers were stopping by after the track opened up.
During opening weekend this season, Treadway said the track was packed. About 240 riders came both Saturday and Sunday, which the owner said was almost too many. On more recent weekends, there have been closer to 110 riders, he said. Anything over 100 Treadway called a good number.
One thing Treadway is working to bring to his business is camping. Often, motocross families will spend a night or two while visiting tracks, he said, and that's something he currently doesn't have a permit to allow. Working with state and town officials, he hopes to have camping capabilities at his facility within the next couple of months so families can start to plan their next year's vacation.
More and more motocross companies, too, are using his venue for product demonstrations and appreciation days. Motorcycle and sports car company KTM and motorcycle producer Can-Am have used the track for demo days, and Treadway expects more will follow. The track also hosts four spring competitions and four fall competitions.
While Treadway has other things on his wish list for the racetrack that he didn't want to divulge just yet, he's excited about the prospect of having camping that will lead to future projects. While it's taking a little longer than he'd like, he said he is focused on getting things accomplished through the proper procedures and channels.
"Now I think they're starting to see that, 'Alright, he's an honest guy,'" Treadway said. "'Yes, we've been a little tough on him, but he's also stuck to it, so this is a good, positive place.' So I think that most of them are coming around. The couple that aren't, I don't think ever will, and it is what it is. You know, we do the best we can, and we try to keep making things better."