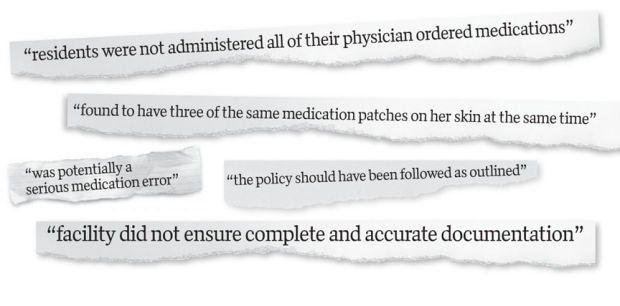 Tiffany Vanalen, a 38-year-old licensed practical nurse from Schuylerville, didn't intend to harm anyone last June, which is when state investigators say she neglected to give five residents at Pleasant Valley nursing home their drugs, then falsified documents to indicate she had, her lawyer said.
Vanalen, who has worked in the elder care field for more than a decade, was a victim of circumstance in a nursing home facing an exodus of employees and increasing public scrutiny, according to her lawyer, George Lamarche.
"I think understaffing could be a problem. Too many patients assigned to a single nurse could be a problem," Lamarche said Tuesday. "The sad thing is, she's being singled out and targeted."
Vanalen's arrest in August on felony neglect charges followed a damning state Department of Health investigation the previous spring that found bloody rags in the kitchen at Pleasant Valley and drugs going to the wrong patients.
The 15 felony charges filed against Vanalen have since been reduced to a handful of misdemeanors by the state Attorney General's Office. No court date has been set in the case.
Vanalen's story is one of nursing home staff, already stressed by an ongoing privatization effort, grappling with low wages, daunting hours and administrative upheaval.
It's a tale that repeatedly plays itself out with different actors and similar results throughout the region, state and nation, officials said.
"They can have an entire wing to themselves. They don't pay enough. These poor girls work long, hard hours," said Harriet Bunker, ombudsman for Warren County's Office for the Aging.
Bunker handles and investigates complaints about public and private nursing homes throughout the county.
"I know it's a matter of cost but somebody has to absorb it," she said.
Most complaints are minor, often concerning transfer requests or a faulty call light used to beckon nurses, Bunker said.
Federal officials testified to Congress in 2010 that 7 percent of complaints to state and county ombudsmen concerned provable cases of abuse and neglect.
A certified nurse's aide, the lowest rung on the nursing home care ladder, can make as little as $10 an hour, while caring for residents afflicted with dementia.
Persistent staffing shortages can mean double shifts for all medical personnel, and facilities increasingly rely on outside agency nurses who are not familiar with individual residents of nursing homes where they're assigned.
New York doesn't regulate the number of patients that can be assigned to a single nurse or aide. Most homes base a nurse's maximum allowable case load during a shift on the specific needs of the resident population. More acute patients require greater time and effort, officials said.
Renee Groesbeck overhauled training of Pleasant Valley's staff after taking over following the state review. She is credited with stabilizing the county nursing home, which at one time was bleeding staff and on the brink of financial collapse.
Installing uniform training patterns and expectations among Pleasant Valley's medical staff, while stabilizing the full-time staff to avoid a reliance on outside nurses, were the keys to righting the facility, said Groesbeck, Pleasant Valley's executive director.
But not all cases of abuse and neglect in nursing homes can be blamed on stressed, overworked personnel.
A 2011 study of abuse of New York's elderly living in various environments sponsored by the state Office for the Aging and Cornell University concluded actual abuse rates are 24 times higher than what gets reported to authorities.
That number could be even higher if looking solely at the nation's 3.2 million nursing home residents, because that population is even less capable of speaking for themselves, reform advocates said.
Not-for-profit nursing homes tend to have fewer deficiencies than their for-profit counterparts, because more resources are spent on staff and training, according to multiple studies.
Fort Hudson Health System falls into this trend relative to its public and for-profit local competitors, as the nonprofit nursing home in Fort Edward has for years had fewer deficiencies noted in state inspections.
But even so, a late 2012 review found five of 29 patients randomly selected by the state for review didn't receive their drugs as prescribed by a physician.
"If the nurses would follow the policy and protocol, that would be avoided," said Holly Vaughn, Fort Hudson's director of nursing.
Warren County's Westmount Health Facility and private local nursing homes, such as The Pines at Glens Falls, The Stanton Nursing and Rehabilitation Center in Glens Falls and Indian River Rehabilitation and Nursing Center in Granville, have all exceeded the state average for number of deficiencies found in recent inspections, according to the state Department of Health. Most of those issues were considered relatively minor by state inspectors.
The state's method of review has for years been widely criticized by nursing home administrators, who consider it a method of scaring the public with strong language based solely on a two-week review.
"We can say without a doubt that deficiency statements sound a lot more ominous than the reality," Fort Hudson's Executive Director Andy Cruikshank said, noting his facility has been deficiency-free so far this year. "It could be as simple as some received their medications a half-hour late and it sounds like the entire drug delivery system has fallen apart."
Abuse cases can run the gamut from ignoring a patient with bed sores to, in extreme cases, rape.
But for abuse to be recorded, it first has to be reported.
"A crime is a crime no matter where it occurs. It's another world in a nursing home. People just don't report these things," said Robyn Grant, public policy director for advocacy group, National Consumer Voice for Quality Long Term Care.
At Indian River, the state Department of Health is investigating a case in which a man fell, and later died, but who may, in the interval, have been left alone for hours.
The Washington County Coroner's Office ordered an autopsy on the body of the man, whose name was John "Punk" Zellars. The results of that autopsy haven't been released by local or state officials.
A recent investigation by ProPublica.com, an online news organization, found Pleasant Valley topped the list of New York's 632 nursing homes for errors found by state inspectors from 2009 to 2012. (See box on front page.)
Twenty "serious" deficiencies were found at Pleasant Valley over that time, accounting for more than $100,000 in fines leveled against the Washington County facility. The state has yet to level the fines for last year's inspection.
State inspectors left Pleasant Valley satisfied last week, the second consecutive survey the once-troubled facility has passed this year.