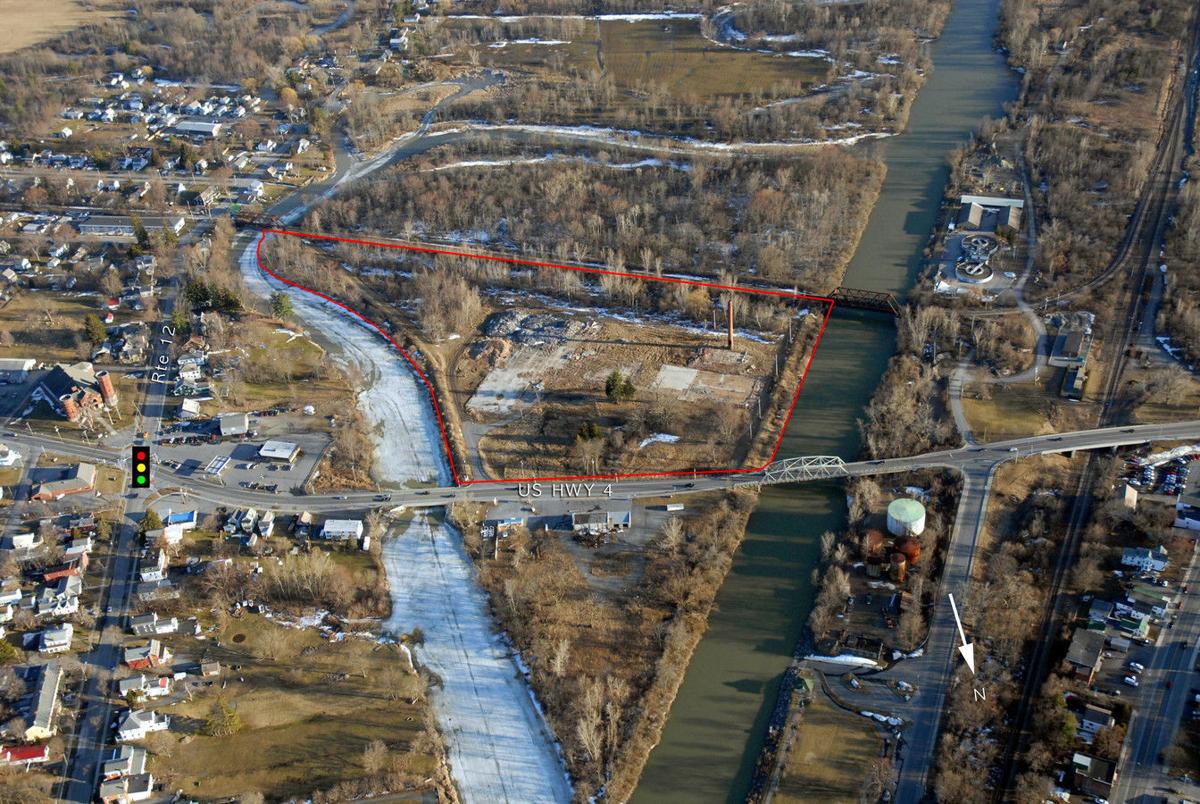 WHITEHALL — A demonstration plant that recycles waste, including medical and hazardous substances, could be coming to the former EB Metals site off Route 4.
Representatives from several companies involved in the proposal came to a Whitehall Village Board meeting on Tuesday to see if the community would be receptive.
"On the surface we're kind of excited about it, but we all have some skepticism as well, so we're just on the very tip of this," said Mayor Phil Smith in a phone interview on Wednesday. "We got to do a lot of investigation."
The companies involved in the proposal are Enersol Technologies, which develops and builds the system; Airgid Global, a firm that finances and deploys the system; and Edison Energy, an engineering consultant.
The proposed plant is called a plasma enhanced gasification system. It would take construction waste, medical waste and sewage sludge and, using chemical processes including a plasma torch that is hotter than the sun's surface, turn the waste into gas and a glass-like byproduct.
Matt Mason, a senior engineer with Edison Energy, said this kind of waste system "is not currently operating commercially" in the United States. There is a pilot plant in Virginia, which is under the supervision of the Department of the Army and the Virginia Department of Environmental Quality.
There is another in Virginia that processes medical waste for a hospital, and a plant under construction in Texas.
The gas, according to a presentation by the companies, can be converted into light fuel oil and gasoline. It can also be used to make electricity.
The byproduct ash and glass-like material, also according to the presentation, can be used as a base material for foundations and roads.
Mason shared via email a reference letter from the Department of the Army stating that the process "has clearly demonstrated its ability to destroy highly toxic waste" and "the process emissions testing by independent labs have demonstrated the superior environmental performance of the technology."
It's not clear exactly what kind of waste a Whitehall plant might accept, but Mason said the New York and New Jersey "metro region alone produces over 40,000 tons per day of waste, so there is a lot out there to work with."
He added that hog farms in North Carolina are struggling with what to do with their manure, and this system could process it.
The 11.5-acre site is listed under Tower Associates Realty and is a former brownfield site. It was contaminated for years with industrial solvents and fuel, but Smith said it has since been cleaned up.
Mason said the site is particularly attractive to the companies involved because of its proximity to rail lines and the canal system.
Should a plant be built, Mason said Airgid estimates about 30 jobs will be created, with about 50 tons of waste processed per day. Airgid is also proposing a microgrid to produce electricity.
Smith was excited about the potential to partner with the companies on this and cover the village's electricity costs.
But is this kind of waste technology safe for human health and the environment, and is it the same kind of technology as the trash plant in Hudson Falls?
It depends on who you talk to.
The companies proposing this say the byproducts are steam and electricity, and the technology involved is not incineration.
HUDSON FALLS — The Wheelabrator trash-burning plant in Hudson Falls is listed as one of the top polluting incinerators in the country for lead…
Mason felt the community response at Tuesday's meeting was reserved, as questions came up "regarding the existing waste-to-energy plant and how it has been such a financial boondoggle for the region," referring to the Wheelabrator trash plant in Hudson Falls.
"The theme was that people of Whitehall know they are in dire need of economic growth, but don't want their community to be turned into a dumping ground," Mason wrote in an email. "They want the growth, but are not going to put up with a ruined environment to obtain the growth."
Mike Ewall, executive director of the Energy Justice Network, said these gasification systems are still a form of incineration. The Energy Justice Network is an advocacy organization focused on promoting clean energy, zero waste and assisting communities with waste pollution.
In his research so far, Ewall said most of these systems are made by companies with no real history or experience, and they don't run the facilities themselves. They usually don't operate continuously and most shut down, he added.
HUDSON FALLS — A national environmental advocacy organization working to shut down all incinerators in the country has its long-term sights se…
They are built to a small scale, Ewall said, so most are under the radar of state permitting for things like air emissions. He said that the leftover ash and byproduct isn't as desired by industrial and construction companies as companies lead one to believe.
In a 2013 report prepared for The American Chemistry Council, the emissions of such a system are a bit of a mystery because one has not yet been made to a commercial scale.
This technology, however, could help address the continued question of what to do with things like medical and toxic waste.
Mason and the project's representatives have also pointed out that the system could attract other businesses to Whitehall. It would especially be attractive if the system set up a microgrid to keep companies from experiencing blackouts, according to the presentation.
Mason said he is working on a letter to the mayor addressing some of the remaining questions.
Smith said he plans to schedule a public meeting about the proposal to get feedback from residents. The date and time of that have not yet been determined.
Get local news delivered to your inbox!
Subscribe to our Daily Headlines newsletter.