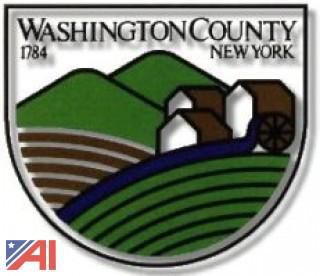 FORT EDWARD — There are more than 100 Washington County properties — homes and businesses — going up for tax foreclosure auction next month because of unpaid property taxes.
Last week there were 124 properties on the list, but since that time, Washington County supervisors removed four properties from the list last week due to possible contamination issues and owners have been coming into the Fort Edward Real Property tax office to pay the delinquent tax amounts.
"After we put signs out, people are coming in and paying," said Laura Chadwick, county director." It can change by the minute."
Property owners have until Oct. 25, the day before the sale, to pay or their property will be sold, according to Chadwick.
"The treasurer does his best to accept payments up until the end if they bring in cash or a cashier's check," she said. "We hate to see anybody lose their home."
You have free articles remaining.
This year's Oct. 26 sale is slated for a new location at the Hartford Volunteer Fire Co., 8118 state Route 40, Hartford. Registration begins at 8 a.m. and the auction starts at 10 a.m.
Chadwick said that she is currently finalizing the property catalog and it will be available online (auctionsinternational.com) soon and not later than early next week.
There are properties being sold in 14 of 17 Washington County towns, including family residences, quarries, seasonal waterfront properties, vacant rural land, a lumber yard and rural vacation property.
In last week's board of supervisors finance committee meeting, supervisors approved pulling several properties from the foreclosure list because of possible contamination issues.
These properties include:
A 10-acre Argyle family residence at 736 county Route 47, owned by Rebecca Ann Seiz-Guyett.
A 24-acre Fort Ann property at 310 S. Old Route 4, owned by Terra Materials Group LLC.
Two Greenwich parcels, including a 5.65-acre riverfront property owned by Bull Rushes Limited and a 19.7-acre parcel at 192 Route 53, also owned by Bull Rushes. There is a $113,000 tax lien these properties, that Greenwich will have to pay back to the county.
A 4.5-acre Greenwich parcel owned by Bio-Tech Mills, Inc., has a $45,000 tax lien that Greenwich will also have to pay the county.
During last week's finance committee meeting, Greenwich Supervisor Sara Idleman said she will have to discuss the status of these properties with the Greenwich Town Board.