FORT EDWARD — Washington County officials are hoping to get the Champlain Canalway Trail off of Route 4, but the process is taking longer than some would like.
The county is part of multiple trail initiatives including the Empire State Trail and the Champlain Canalway Trail. Both hope to link communities through biking and hiking paths, but the Empire State Trail has opted to put a bike lane on Route 4 without widening the road. Many local officials have shaken their heads over the bike route and think it's a dangerous and difficult ride.
Instead of piggybacking off of the Empire State Trail, they hope to take the canalway trail off the highway and onto a parallel canal route.
Several town supervisors and county staff gathered Nov. 14 for an Ad Hoc Trails Committee meeting to get an update on the canalway trail's progress, focusing discussion on the portion from Fort Ann to Whitehall. The grant is currently for Comstock to Whitehall, though Laura Oswald, director of the county's department of economic development, said there could be money leftover to help out the Fort Ann section.
The recommended new trail only traverses one short stretch of public road, Oswald said, over a bridge at Route 22 in Comstock. The rest of the proposed trail is off-road.
Meanwhile, Fort Ann is still figuring out what to do about a tricky section near Clay Hill Road, where the Empire State Trail currently runs. Fort Ann Supervisor Richard Moore said the road is "twisty, very steep," but he and others are in discussion with a private campground about potentially rerouting the trail to its property. State funds can't be used on private property, however, so Oswald said the landowners would need to give the county an easement.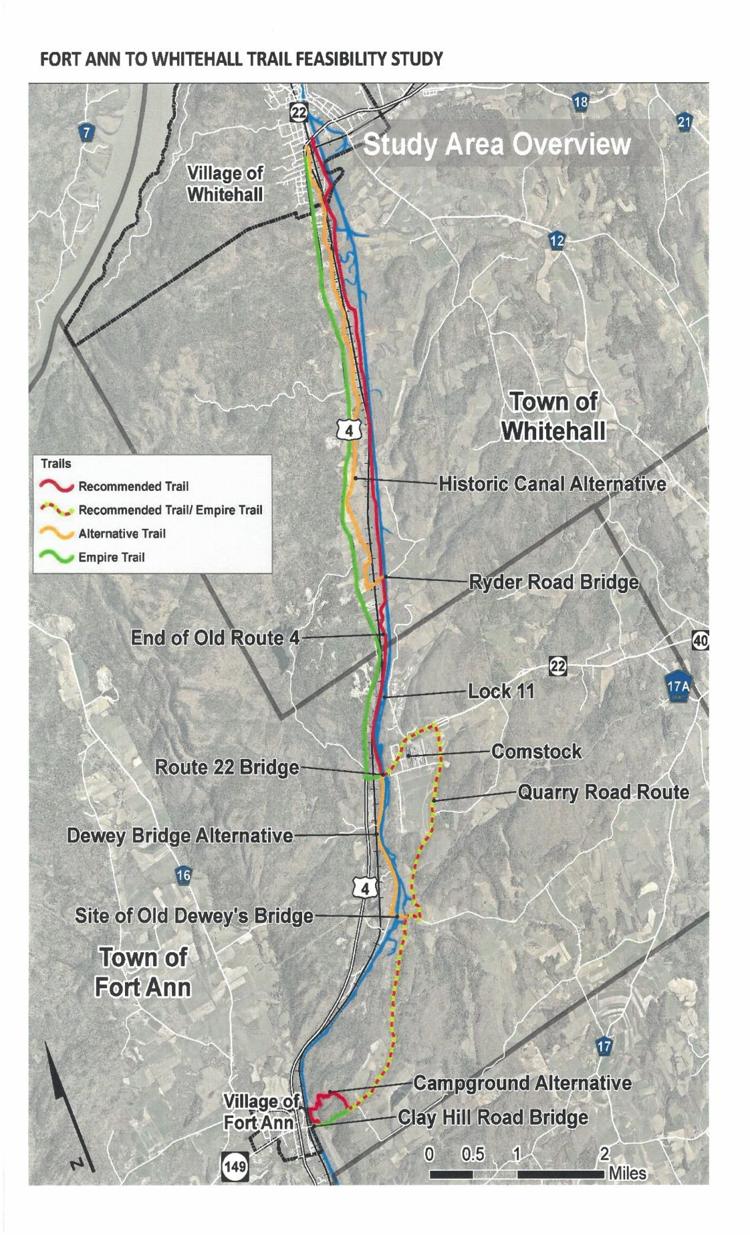 Two engineering and design firms answered the county's request for proposals to design the new trail route, including local firm Chazen Companies and JMT, a firm headquartered in Maryland.
After reviewing the scope of services provided by the two, the committee opted to recommend Chazen Companies. The Board of Supervisors still has to approve the proposal. The scope of services includes things like topographic surveys, wetland delineation and permitting, environmental quality reviews, construction plans and drawings and getting all the necessary permits so the trail is construction ready.
The county was awarded a $130,000 Department of State grant for some of the work, but the state has yet to sign a contract with the county to make it official. Oswald said the county could go forward with awarding the contract to Chazen, but she cautioned against signing and agreeing to expend money with a firm until the state contract was finalized.
"I am going to try and push those buttons and get that done," she said. "It would be really nice to get this survey work done over the winter, because that's the best time to do it, when the leaves are off the trees and the ground is frozen enough, they can traverse on those wet areas, but if we don't have a state contract, we can't move."