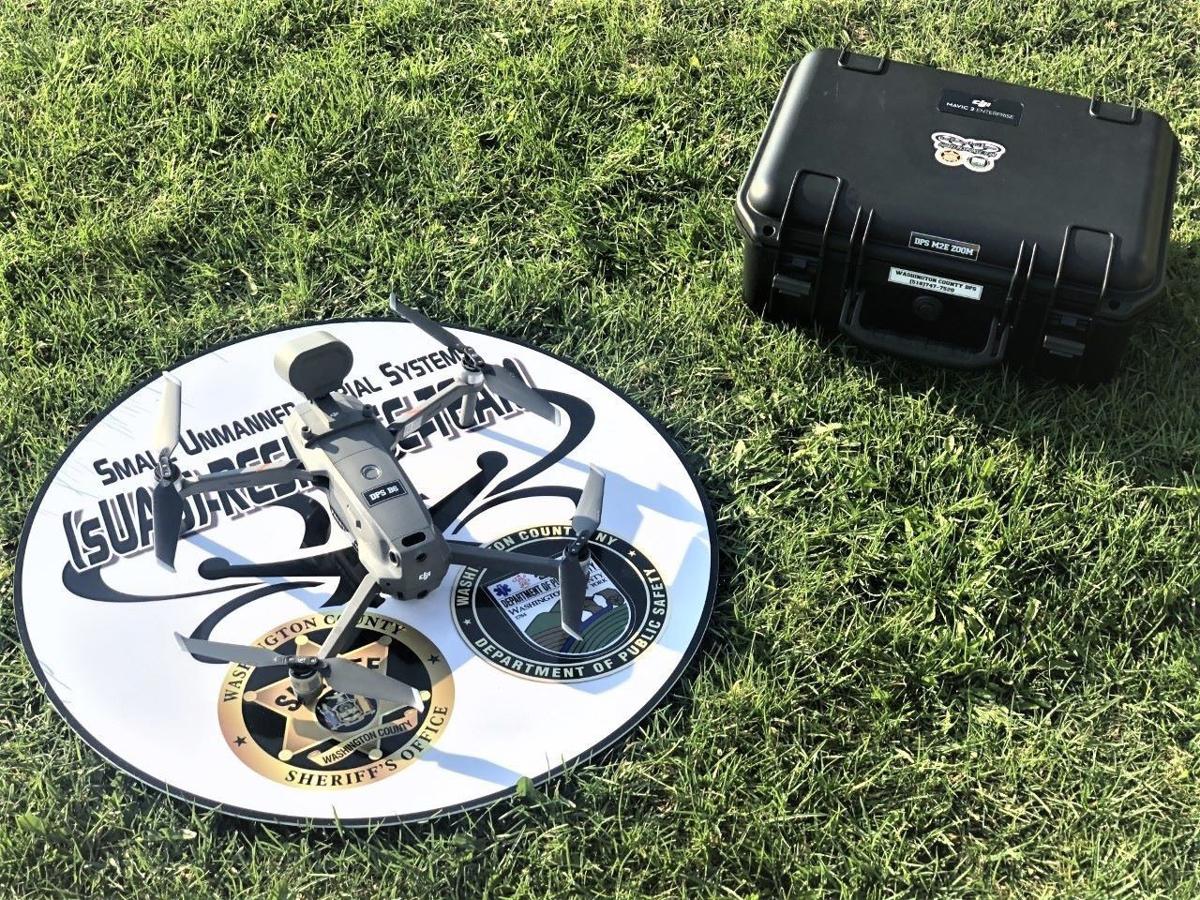 FORT EDWARD — Washington County has received a donation of two new drones to be used for planning during the coronavirus pandemic.
Tim Hardy, deputy director of public safety, announced Sunday that the county applied for and was selected as a recipient of DJI Enterprise's Disaster Response Program. The county received two new Mavic 2 Enterprise Zoom aircraft.
The two new drones will be added to the five-drone fleet the county started two years ago.
In 2018, the Washington County Department of Public Safety and the Washington County Sheriff's Office joined forces to form the county's joint Small Unmanned Aerial Systems Response Team, providing aerial support to local municipalities and first responder agencies.
These new drones are tactical units that have a speaker and spotlight or beacon on top that can light up the ground, Hardy said.
"It's really amazing to be able to see it from 200 feet," he said. "It will light it up like a football field."
The drones are also equipped with a speaker, although the county has not used them to enforce social distancing.
"You can blast out a message from the pilot that says, 'Hey, please make sure you stay 6 feet apart,'" Hardy said. "We have not had to use it for that. The one benefit of being upstate is we have a lot of people that are socially distant normally."
The county has used the drones for planning, Hardy said, particularly looking for places to stage shelters, set up tents for PPE (personal protective equipment) shipments, determine where a field hospital could be placed or, if necessary, place mortuary services.
"We are not opposed to checking parks if we had reports that people were in parks or holding large gatherings ... but we haven't had to do it yet," he said.
A certified drone pilot, Hardy was at the structure fire in Fort Edward on Monday morning and used one of the county's small indoor drones to shoot video inside after the fire was extinguished.
"We flew inside the building, so we could get a good idea what was in there without having to send the firemen in after they had the fire out," Hardy said. "We were able to take live video of what each room looks like before anyone went in and touched anything after the fire was out."
Washington County also used a drone during a recent grass fire in Granville. The county also owns two units that use high photographic technology for mapping.
"This is definitely a piece of technology that we've been able to rely on a bunch of different ways in the last couple of years," Hardy said, "so the donation from these guys certainly will help us continue to grow our program without having to buy more units and spend local dollars."
Gretta Hochsprung writes hometown news and covers Washington County. You can reach her at ghochsprung@poststar.com or 518-742-3206. Follow her on Twitter @GrettaHoch or at her blog on www.poststar.com.