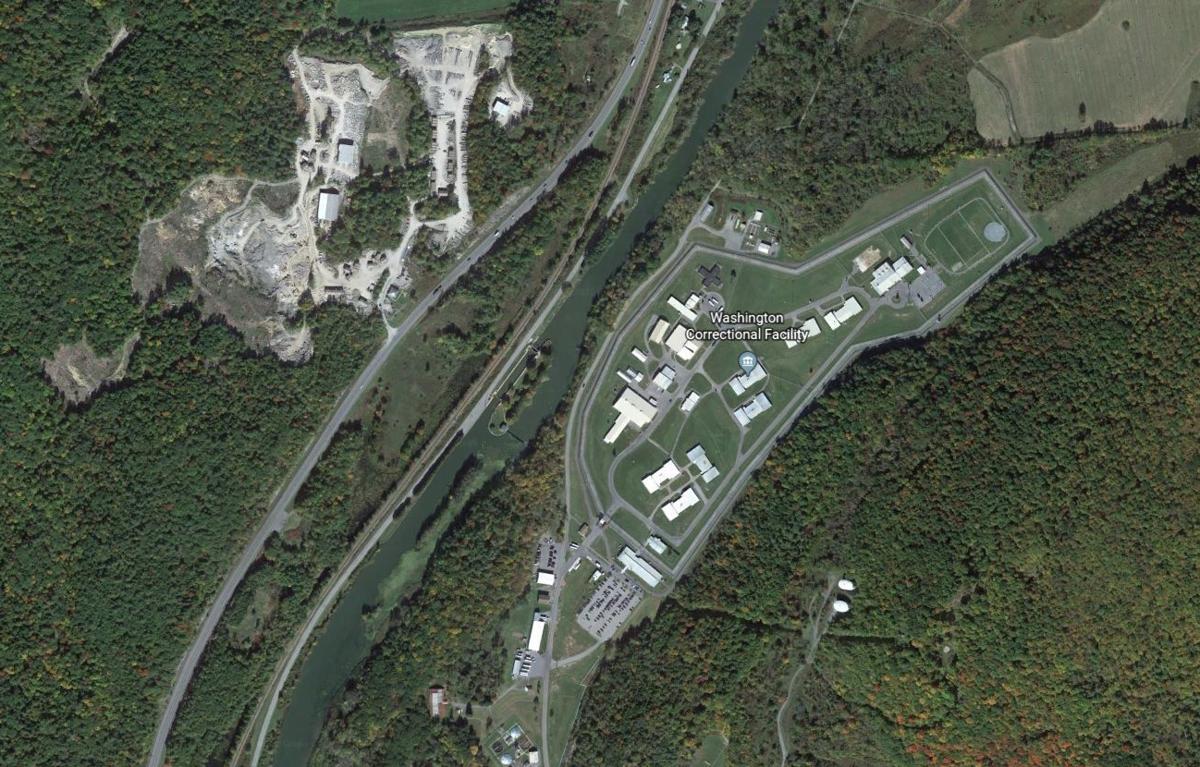 Washington County may not be getting off the Vermont quarantine anytime soon, after a surge in cases at Washington Correctional Facility and with hundreds of prisoners at Great Meadow awaiting test results after showing symptoms.
The state is now counting coronavirus cases among prisoners as being part of the county in which the state prison is located.
Washington County officials were taken by surprise Friday when that added 15 people to their coronavirus case list — people they did not know and had not interviewed, who live in a place where county Public Health workers are not allowed in to try to stop the outbreak.
All 15 cases are at Washington Correctional Facility, a medium-security state prison in Fort Ann. In addition, 113 inmates have been tested after showing symptoms, but those tests have not come back yet, according to the state Department of Corrections and Community Supervision.
At nearby Great Meadow Correctional Facility, a maximum-security prison, 44 prisoners have caught the virus since March, but all have recovered. However, 496 prisoners were recently tested after showing symptoms and Great Meadow is awaiting those results, according to DOCCS.
It's important to note that in the general population, only about 1% of people who get tested turn out to actually have coronavirus.
But if a nursing home had 15 cases, Public Health would take action. The county could ensure that every nursing home resident was immediately tested, for example, and do careful contact tracing in an effort to ensure that people did not spread the virus beyond the facility.
"Epidemiology-wise, it's no different from a nursing home. It's a population that doesn't move, taken care of by a population that does move," said County Attorney Roger Wickes.
He's frustrated by how little the state will tell the county about outbreaks in the prisons.
"Everything that goes on up there is a security issue for them," Wickes said. "That's why they don't tell us."
He thinks the state should count prison cases to each inmate's home county.
"For census purposes, they count them in their counties," Wickes said. "Be consistent."
If the number of cases goes up, it could impact the schools and non-essential businesses in Washington County.
"Greene County got whacked. Greene County started having to close down," Wickes said, referring the results of a large outbreak last month at Greene Correctional Facility.
And, he said, the number of cases is likely to have an immediate impact on the county because Vermont uses all state-reported cases in determining whether people from that county can visit without quarantining for 14 days first.
"That's the concern for us," Wickes said.
He added that Public Health has many questions that the state will not answer.
"One thing that would be good to know — is it confined to one wing? Or is it everywhere?" he said.
He'd also like to know if correction officers are being tested.
The county does not even know whether correction officers go back and forth between the two facilities and whether any of them are sick. If a correction officer lived in Washington County and tested positive, the county would be informed, but since the state does the initial interviews for contact tracing, the county does not know each sick person's profession, Wickes said.
Schuylerville schools
Two students at Schuylerville High School have tested positive for coronavirus since the high school went to all-virtual on Oct. 30.
The high school went all-virtual for two weeks after three students tested positive last month. Of the two new cases, one student was always an all-virtual student. The other student would have been in school, but in-person classes are not happening, so no other students or staff were exposed, the school district said.
The district will reopen the high school on Monday, Nov. 16.
Warren County reported one new case, a person who attended a Halloween party last week and may have caught the virus there. That brings the county's total number of confirmed cases since March to 420. There are 20 people currently ill, one of whom is hospitalized for reasons believed to be unrelated to coronavirus.
Washington County reported four new cases, for a total of 353 confirmed cases since March, and nine recoveries, for a total of 327 recoveries. There are 13 people currently ill, and one is hospitalized.
Saratoga County reported one new death, but Public Health did not yet have details on the age, gender and location of the person who died. The county also reported that over the weekend there were 50 new cases, for a total of 1,527 confirmed cases, and 66 people recovered, for a total of 1,368 recoveries. A total of 139 people are currently sick, and 14 people are hospitalized, up from seven on Friday.
In the northern Saratoga County towns, new cases include one Northumberland resident (for a total of four) and one South Glens Falls resident (for a total of two). Still ill: one village of Corinth resident, three Northumberland residents, four Moreau residents, two town of Saratoga residents, two Schuylerville residents, one South Glens Falls resident and eight Wilton residents.
Recovered: one town of Saratoga resident, one Schuylerville resident, one Wilton resident.
Essex County reported two new cases over the weekend. There are currently 12 people ill and none are hospitalized.
Saratoga Hospital reported four coronavirus patients, up from zero Friday, and Glens Falls Hospital reported none.
For Sunday, the most recent date for which the following data was available:
The Capital Region reported a total of 108 new cases, a positive test rate of 2%. SUNY Albany went to all-virtual classes after a rise in cases there. Albany County had a positive test rate of 4.7% with 46 new cases Sunday.
Every county in the region, except Rensselaer County, were above the 1% goal for keeping the virus under control. Greene County was at 4.1% with three cases; Schenectady County was at 3.3% with 17 cases; Columbia County was at 2.7% with 11 cases; Washington County was at 1.6% with two cases; Warren County was at 1.4% with two cases (having tested more people than Washington County); and Saratoga County was at 1.2% with 12 cases Sunday. Rensselaer County was at 0.7% with 15 cases because it tested 2,238 people. By comparison, Albany County tested 976 people.
Statewide, 3,144 people tested positive, an overall positivity rate of 2.8%. The hot spots had a positive test rate of 4.3% and the state without the hot spots had a positive test rate of 2.69%.
There were 1,444 people hospitalized with coronavirus Sunday and 26 people died.
Gov. Andrew Cuomo warned that the virus is raging again.
"We have definitely entered a new phase with COVID," he said in a telephone conference. "The fall season has brought the expected rise in COVID. We expect the rates will continue to go up."