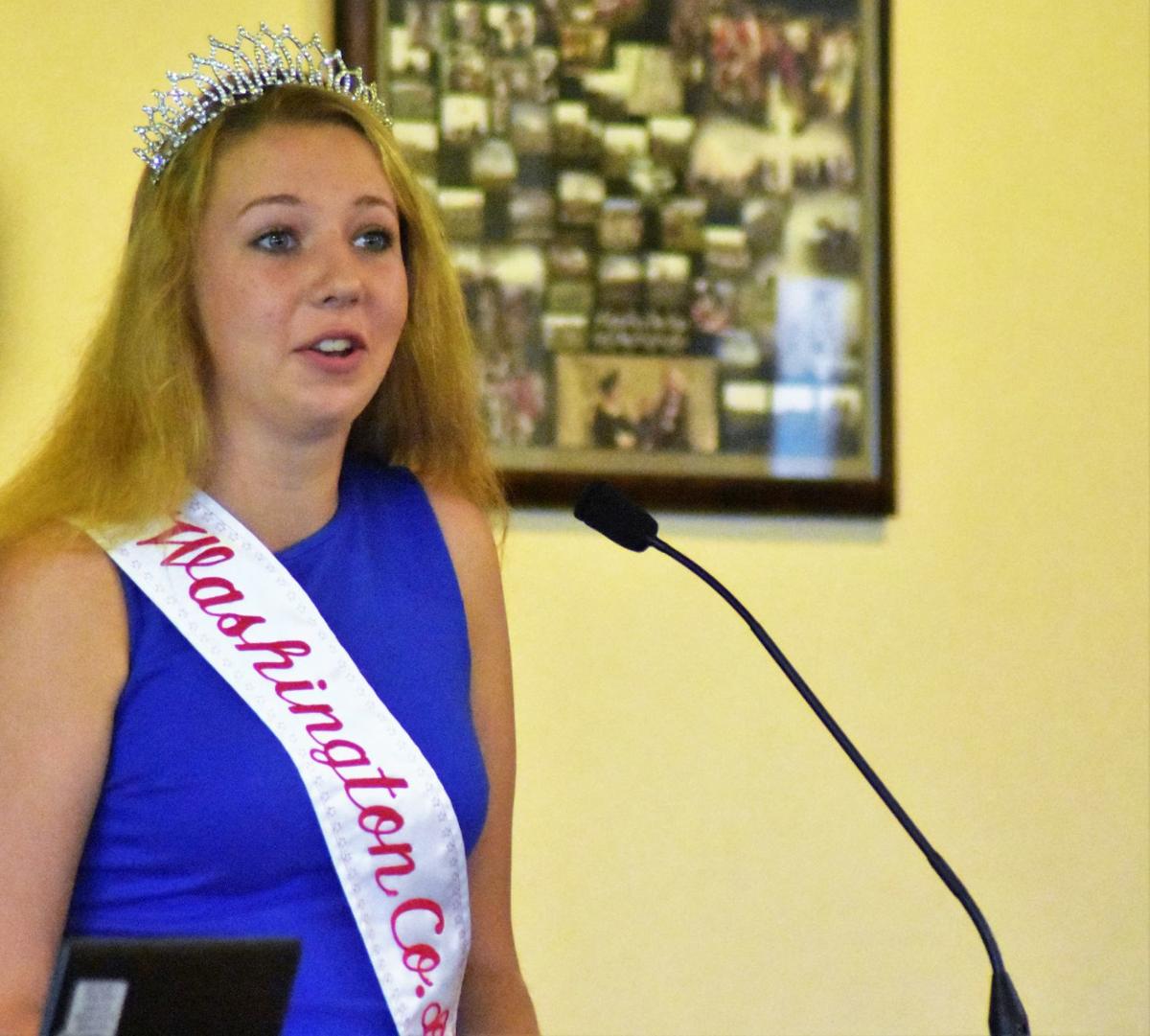 FORT EDWARD — The Washington County Dairy Princess Erin Armitage formally invited the Washington County Board of Supervisors to participate in the annual milking contest at the county fair on Friday.
"The contest will begin at 5 p.m.," said Armitage during the supervisors regular monthly meeting this past week. "Also, if you attend the fair on Saturday, I organized a dairy scavenger hunt which will include stops at the birthing center, the milking parlor and the dairy farmer. If you stop at each of these stations and fill your scavenger hunt card, you will be rewarded with a free ice cream cone."
"The miking contest is in just one week for the coveted gold stool that Supervisor Idleman (Greenwich Supervisor Sara Idleman) and I are the reigning champs of," she said.
Armitage also shared that since she and her team of dairy princesses were crowned in the 54th Annual pageant in April, they have participated in over 10 parades and visited many county schools.
"We have been busy promoting the dairy industry across the county," said Armitage, during a Friday presentation at the Washington County Board of Supervisors meeting in Fort Edward. "We have participated in numerous parades and school programs engaging students."
According to Armitage, the dairy princess key messages include the health benefits of dairy products, how dairy farmers care about cow comfort and animal welfare as well as sustainable practices and taking care of the environment.
"We plan to attend more classes in the fall so we can reach even more youth," she said. "My team and I visited over 35 classrooms in just two weeks."
Armitage told supervisors about her "Fill A Glass With Hope Campaign" that she is kicking off in the fall.
"Through this campaign, money would be raised in Washington, Saratoga and Rensselaer Counties to provide milk and other dairy products in local food pantries," she said. "The money goes directly to the regional food banks to purchase only dairy products. This program will benefit dairy farmers and the industry as well as community members in need."
Kathleen Phalen-Tomaselli covers Washington County government and other county news and events.
Get local news delivered to your inbox!
Subscribe to our Daily Headlines newsletter.