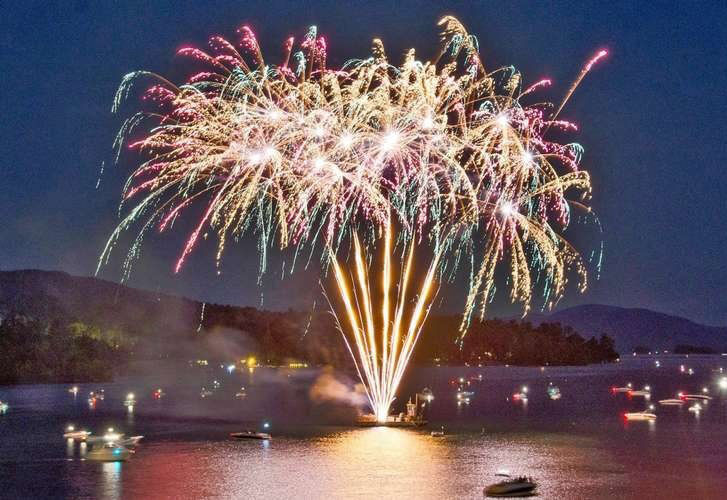 What was the most searched word on the Warren County Tourism Department's visitlakegeorge.com website last year?
Summer fireworks displays, the weekly Lake George offering in particular, were the most popular feature on the website, even as visits to the site have risen sharply in recent years.
"We have a whole landing page on fireworks," said Warren County Tourism Director Joanne Conley. "It's quite a draw."
Conley released a plethora of data points to the county Board of Supervisors Tourism Committee this week about how last year was for the tourism industry in Warren County.
And the numbers seemed to show that 2019 was a good year for those who cater to the tourists who descend on Warren County by the hundreds of thousands, according to data from the county Tourism Department.
Smith Trend Reports, which surveys select hotels and motels, reported a slight increase in room demand in the county, from 1,020,841 rooms rented to 1,029,362 last year. Average room rates rose $3 to $152 a night. Occupancy tax receipts were up over 7 percent, with more payments for 2019 still coming in.
Visitlakegeorge.com had 1,853,801 user "sessions" last year, a 30 percent rise from 2018 and a 73 percent increase over 2017. Eighty-one percent of those visits came from smartphones or tablets.
The most visited event on visitlakegeorge.com was the Adirondack Balloon Festival, followed by the Americade motorcycle rally. The most visited attraction page was the Million Dollar Half Mile outlets page, while the events section of the site drew nearly 20 percent of all visitors.
Airbnb demand in the county grew by nearly 20 percent, with the short-term home rental market generating an estimated $27 million in the county.
75 percent of the Tourism Department's Facebook followers are women, and 56 percent of the followers are from New York while 10 percent are from New Jersey, 8 percent Massachusetts and 6 percent Connecticut.
Conley said metrics show that fall tourism has been a growing sector.
"Fall has almost become an extension of summer," she said.
Queensbury at-Large Supervisor Michael Wild said he would like to see some metrics that show what "results" come from the social media and website visits.
"How do we know we are getting what we expect from this?" he asked.
The chairman of the Tourism Committee, Lake Luzerne Supervisor Gene Merlino, said sales tax increases and occupancy tax increases confirm that more people are visiting the region.
Merlino announced this week that he has also decided to revive an effort to have some regional business leaders provide guidance to the Tourism Committee.
He said Sam Luciano from the Fort William Henry Hotel and Conference Center, Ed Moore from The Queensbury Hotel and Mark Behan from Behan Communications have agreed to serve on a volunteer advisory committee, and he planned to seek a fourth businessperson for the group as well.
"I'm looking for positive people, people with no agendas," he said.
Don Lehman covers police and court matters, Warren County government and the outdoors. He can be reached at 518-742-3224 or dlehman@poststar.com
Get local news delivered to your inbox!
Subscribe to our Daily Headlines newsletter.