QUEENSBURY — Warren County sold 24 properties at the annual tax foreclosure auction earlier this month, taking in $290,420 and only seeing two properties on the list not sell.
That is a drop in sales from the last few years, where the county was able to sell nearly $400,000 worth of property in 2017 and $625,000 in 2016. Those auctions had some valuable commercial properties that were being sold because of unpaid back taxes, and there were no high-value properties this time around, however.
Lexie Delurey, Warren County's director of real property and tax services, said only one of the properties had an occupied home on it. A number of the properties were undeveloped or had unoccupied homes that were in tough shape, she explained.
"There were a lot of run-down, abandoned homes that will need a lot of work," Delurey said.
The highest price tag went to a home on Horicon Avenue that sold for $72,000. One property on Ridge Road in Queensbury sold for $2,000, when there was $18,956 in unpaid property taxes to get the title to the property. The new owner is only responsible for a portion of unpaid prior taxes, from the most recent school tax bill. (Corrected)
In all, the county will recoup $151,226 in unpaid taxes on the properties. In past years, some of the proceeds went into a fund for environmental testing of abandoned properties and the county's general fund, but Delurey said the lower receipts this year will not result in that appropriation.
The two properties that were up for auction and did not sell are small slivers of land adjacent to housing developments, both of which had sold in prior auctions only to have new owners walk away from them when realizing they were all but unusable.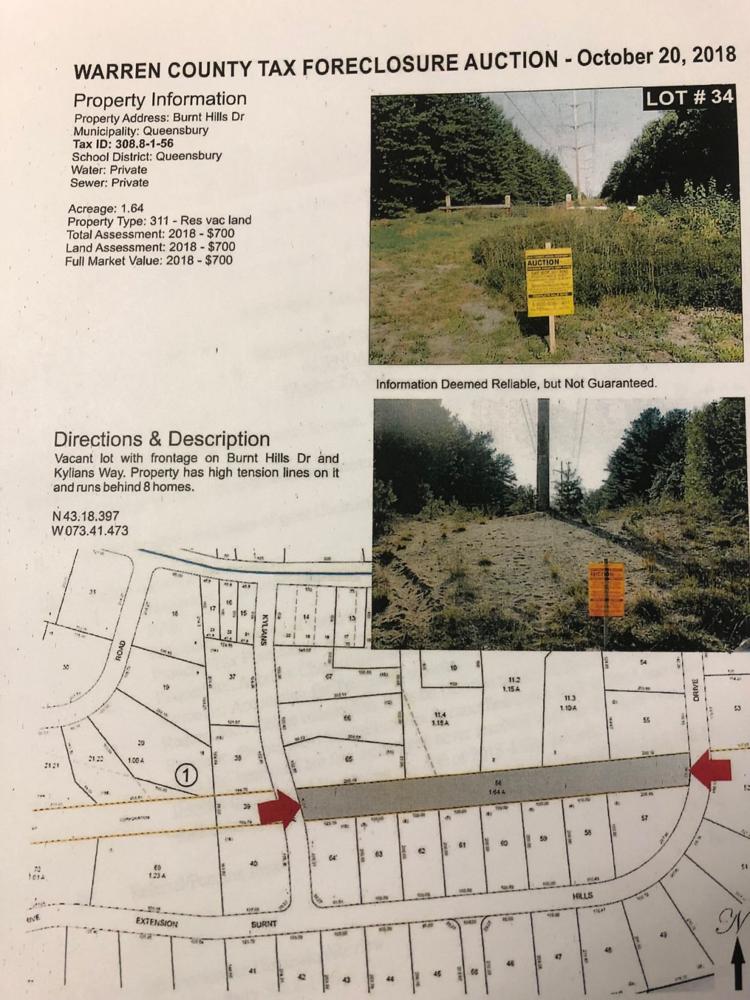 One property that was not in the auction is a 1.64-acre strip of land underneath a National Grid power line off Burnt Hills Drive in Queensbury, and Delurey said she has been discussing National Grid taking ownership of it with the utility company. The company already has an easement on the property for the power lines.
Lake George Supervisor Dennis Dickinson, chairman of the county Board of Supervisors Real Property & Tax Services Committee, said the county should take into consideration that the property is used by four-wheelers and snowmobilers, and National Grid could post it if the company owns it.
"We have some (liability) exposure there if someone is hurt," Dickinson said.
National Grid already owns adjacent stretches of power line property to the north and south.