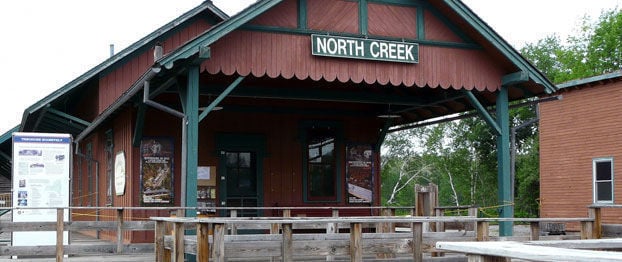 Warren County supervisors unanimously agreed Friday to ask the federal government to deem the county-owned stretch of railroad "abandoned," so that other uses for the corridor can be explored.
The board voted 20-0 to ask the U.S. Surface Transportation Board to initiate an abandonment process for the rail line between Hadley to North Creek, as the transportation board considers a pre-existing request by the state to abandon the stretch of rails to the north, between North Creek and Tahawus. The northern stretch is owned by Iowa Pacific Holdings of Chicago, which is not contesting the abandonment request.
The Warren County vote comes after efforts to find a new operator for passenger and freight trains on Warren County's line fell through earlier this year. A new operator was sought after Saratoga & North Creek Railway pulled up stakes amid major financial problems last year, ending a seven-year run of tourist and limited freight train traffic.
County Administrator Ryan Moore gave a detailed presentation before the vote, explaining what abandonment would accomplish and how it leaves the county with a number of options going forward. The county's request will not mean abandonment is automatically granted, as interested parties can object and petition to use the line.
Moore said starting the abandonment process does not mean the county has committed to a specific future use of the rail corridor. It would result in an transportation board declaration that the rails are not needed for freight train traffic and allow the county to explore other uses for the property.
Those uses could include a recreational trail, or "rail banking" the property to preserve its use for rail purposes in the future while also allowing access to the public for recreation.
"It does not mean we are going to rush out and rip up the rails," he said.
Moore did say it is is opinion that having county taxpayers pay to maintain the rail line for trains, costs that amount to hundreds of thousands of dollars, does not seem feasible anymore.
"In my opinion, the status quo is not acceptable," Moore said.
Andrea Hogan, the Johnsburg supervisor in whose town the North Creek rail depot and museum is located, asked her colleagues on the board to support abandonment.

Numerous environmental groups and a local trail group have advocated for conversion to a trail, as has Glens Falls 3rd Ward Supervisor Claudia Braymer.
Curt Austin, a Chester resident who founded a group nearly a decade ago to create the Upper Hudson Rail Trail on the line, said Friday he was "encouraged" by the developments.
Braymer said a trail could spawn economic development, such as bed-and-breakfast establishments, ice cream shops and other businesses that would cater to trail users. Outdoor recreation has become "a giant industry" and a trail would help local residents' quality of life.
The county was in negotiations with United Rail of Las Vegas for lease or sale of the line, but the talks broke off earlier this fall. United Rail is still in talks about using the stretch of rails to the south of Warren County's section between Corinth and Saratoga Springs, which is owned by the town of Corinth.
Don Lehman covers police and court matters, Warren County government and the outdoors. He can be reached at 518-742-3224 or dlehman@poststar.com
Get local news delivered to your inbox!
Subscribe to our Daily Headlines newsletter.