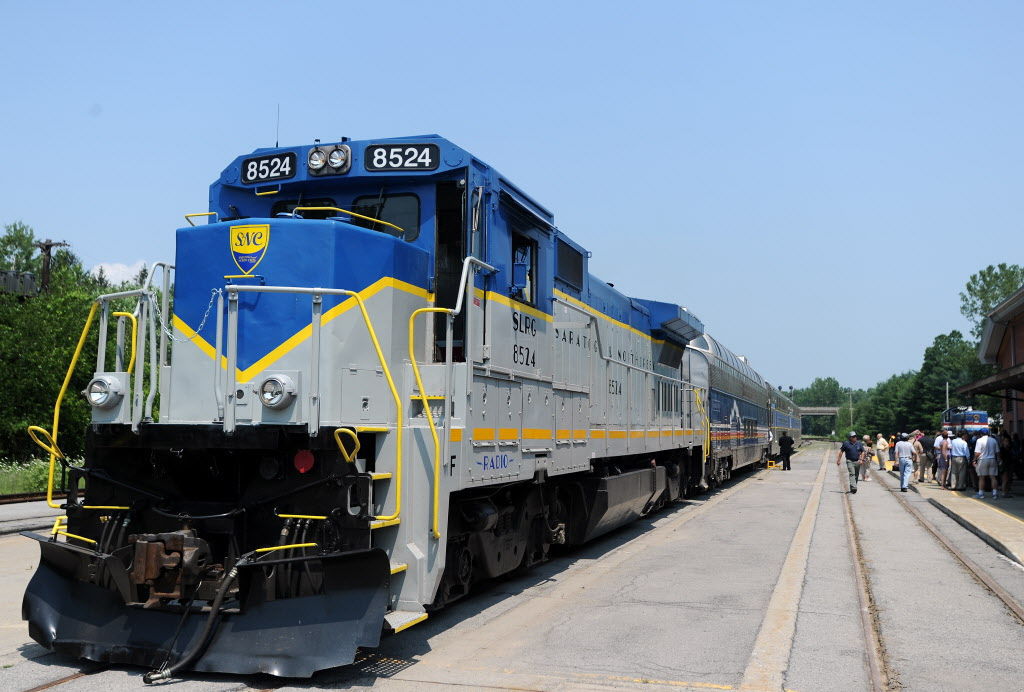 Warren County is down to one suitor to use its rail line after one of two finalists withdrew its proposal in recent days, a development that also means a potential sale of a connected rail line in the heart of the Adirondacks is off the table.
County supervisors decided Thursday to discuss a potential contract with United Rail of Las Vegas, which is working with a group of local residents who want to run tourist trains, and potentially freight trains, on the county's line between Saratoga Springs and North Creek.
Supervisors also agreed to sit down with representatives of the town of Corinth, which owns a stretch of rail south of Warren County's between Corinth and Saratoga Springs, in the next two weeks to further analyze United Rail's proposal and determine whether to contract with the company.
But United Rail is their only option at this point, after OmniTRAX, a major national rail company based in Colorado, withdrew from negotiations after it determined that there were too many potential risks in investing to use the regional rail line, Warren County Administrator Ryan Moore said.
Moore said OmniTRAX, which had exclusive negotiating rights to buy a rail line north of Warren County's, had concerns about relying on Canadian Pacific Rail's fee structure for connection to main rail lines in Saratoga Springs, potential hindrances with rail car storage on the line and its potential interaction with a "rail bike" company that uses the line.
OmniTRAX spokesman Ron Margolis confirmed that the company is no longer interested in either using Warren County's line, and had halted negotiations to buy the so-called Tahawus rail line in Essex County, leading to former mineral mines in the town of Newcomb. He said the company believed that it could find safer investments for "better yields" in light of some uncertainty with the local proposals.
The recent developments left county supervisors with just one proposal that met the county's basic requirements.
The county initially received four responses last month to its "request for proposals," quickly determining that one did not meet the basic requirements. Another, Railnet International, was ruled out for reasons county leaders did not specify, leaving United Rail and OmniTRAX.
Supervisors on the county board's Public Works Committee initially planned to discuss the situation Thursday in a closed-door executive session, but after hearing objections from Glens Falls 3rd Ward Supervisor Claudia Braymer, Johnsburg Supervisor Andrea Hogan and a Post-Star reporter, the committee decided to discuss the issue in the open.
John "Jack" Kelley, a Corinth resident and Saratoga County economic development leader, is serving as the local point man for United Rail's effort to use the Warren and Saratoga counties rail line. He attended Thursday's meeting, and said that the company has had success with tourist trains in Midwestern farm country where the scenery is not nearly as good as the Adirondacks.
"With this kind of scenery, they feel they can do it," he said.
He said the company would agree to an arrangement where it takes care of maintenance and capital costs, and could have trains ready for a fall foliage and holiday train schedule if it gets approval in the coming weeks.
He said hopes for a new use of the former International Paper Co. mill in Corinth could serve as a catalyst for a freight operation.
"We also would like to do freight," Kelley said. "But freight has to be developed."
Representatives of the town of Corinth attended the meeting and agreed that the town and county should jointly look into the United Rail proposal.
"These guys are the only game in town," said Corinth Councilman Jeffrey Collura.
He added that the Town Board had not made any decisions, but "was not disinterested" in United Rail.
The state had been seeking to have the Tahawus line considered "abandoned" after a controversy with current owner Iowa Pacific Holdings of Chicago over storage of tanker cars on the line in the Adirondack Forest Preserve. Iowa Pacific, which operated Saratoga & North Creek Railway, has pulled up stakes locally and has not responded to repeated requests for comment on its plans to sell the Tahawus line.
Braymer said OmniTRAX was the only carrier proposing freight traffic, and with the state abandonment effort pending, county leaders should seek state input on the situation.
"I think we should go back to DEC and figure out what they are thinking now that OmniTRAX is out," she said.
Braymer has also advocated turning the rail line into a recreational trail, as has been done in other parts of the country, though there has not been much Board of Supervisors interest in that idea so far.
Get local news delivered to your inbox!
Subscribe to our Daily Headlines newsletter.