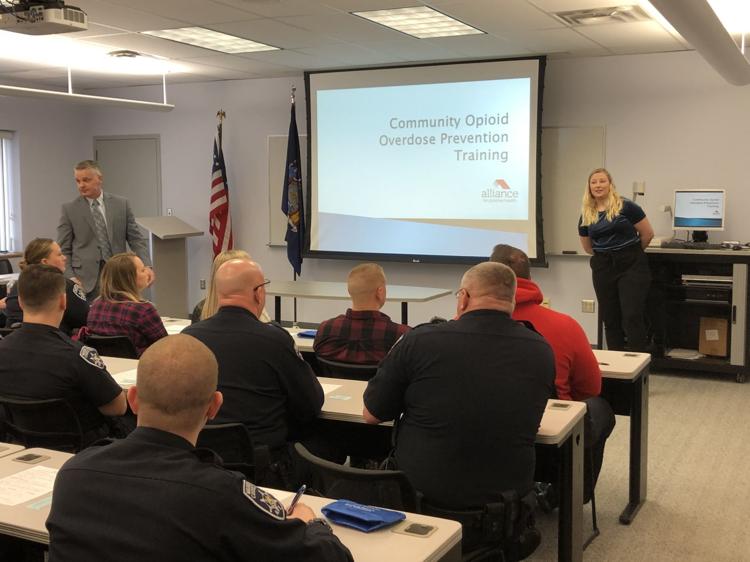 QUEENSBURY — The staff at Warren County Jail will be better able to deal with opioid overdoses thanks to a collaboration with a Glens Falls nonprofit agency.
The jail's correction officers and supervisors received training this week in the use of the anti-opioid medication Narcan, and were issued kits that included doses of the drug for possible overdoses of inmates and staff exposure to opioids.
Sheriff Jim LaFarr said having ready access to the medication can protect inmates who use opioids as well as staff who may unwittingly become exposed to them.
The effort was part of a collaboration with the Alliance for Positive Health's office in Glens Falls. The agency, which has offices around the Capital Region and North Country, provides assistance and services for those with health issues such as addiction, HIV and hepatitis.
The alliance provided the Narcan and training to the Sheriff's Office for free, with "harm reduction specialist" Sabrina Herlick training staff how to use it.
Police and first responders around the region have been carrying the medication for several years, as the opioid crisis worsened.
Warren County sheriff's road patrol officers have had it, but LaFarr said jail staff wanted access as well, particularly as use of synthetic opioids like Fentanyl, more powerful than heroin, increased.
"Trace amounts of Fentanyl can be very harmful to people who don't use opiates," LaFarr said. "We have medical staff here, but it could be several minutes before they can respond."
Washington County Sheriff Jeff Murphy said staff at his county's jail have been equipped with Narcan for more than three years.
He said that was not because of a specific incident, but out of concerns that an inmate could be booked in having used drugs right before they were brought to the jail, and an overdose wouldn't manifest itself until after arrival at the jail. Visitors also try to smuggle opioids into jails when visiting inmates.
Road patrol officers with many police agencies have carried the medication for several years as well, and have used it to reverse dozens of overdoses in public. But those overdose calls have dropped, at least in part because Narcan has been distributed widely to the public as well, Murphy said.
LaFarr, who took office as Warren County sheriff in January, said he has been discussing other possible collaborations with the Alliance for Positive Health to provide services for inmates.
"We're really trying to create a better environment between law enforcement and the population I work with," Herlick said.
While there have been signs that the opiod crisis has slowed, such as a statewide drop in overdose deaths, Herlick said her organization has seen an increase in people brought to the alliance's office on Chester Street in Glens Falls for administration of Narcan during overdoses, as users typically want to avoid police whenever possible.
She said she was aware of seven overdoses, not all fatal, in Washington County in November alone.
Don Lehman covers police and court matters, Warren County government and the outdoors. He can be reached at 518-742-3224 or dlehman@poststar.com
Get local news delivered to your inbox!
Subscribe to our Daily Headlines newsletter.