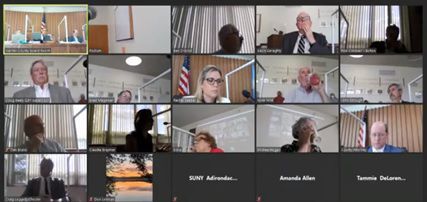 QUEENSBURY — The Warren County Board of Supervisors voted Wednesday to create a special committee to study regulation of septic systems.
The committee will come up with recommendations it will present to the board at a workshop in September for possible adoption in October.
Glens Falls 3rd Ward Supervisor Claudia Braymer, who is the board's minority leader, has been pushing the county to adopt a law that would require property owners along Lake George to have their septic systems inspected upon transfer of the property.
Braymer's proposal included a provision that local municipalities could opt out of the county law.
Braymer was not able to get the proposal moved forward out of the Environmental Concerns and Real Property Tax Services Committee on May 25 because Lake George Supervisor Dennis Dickinson, chairman of the committee, blocked it.
Dickinson believes the law she proposed would create more work for the county and local municipalities.
Braymer decided to bring the matter before the full board.
"I know everyone on this board wants to protect our water quality and wants to protect our residents and tourists throughout the county from the negative impacts of leaking septic systems," she said.
Braymer's law is modeled after a similar one in Queensbury. She said, town officials have told her that 88% of their septic systems are failing in some way. Most of them could be fixed relatively inexpensively, she said.
Braymer has been talking about the issue for two years and the county has heard presentations on it from real estate agents and county planners.
A septic system cleanup should not be about politics or up-county vs. down-county, she said. Warren County can be a leader on this issue, as it was with boat washing, she said.
The Lake George Park Commission has also formed a committee to develop septic system rules, but that process could take two to three years.
Other supervisors expressed concerns with creating a special committee.
"It seems like it's doing an end run around our committee structure," said Chester Supervisor Craig Leggett.
Stony Creek Supervisor Frank Thomas said the proposal should go back to the Environmental Concerns and Real Property Tax Services Committee.
"It just needs to go through the committee and come out of it," he said.
Warrensburg Supervisor Kevin Geraghty said he has wanted to hear more about Dickinson's concerns, but has not been able to reach him. Dickinson was absent from Wednesday's meeting.
Queensbury at-Large Supervisor Mike Wild said the law should not focus just on Lake George while leaving out other water bodies in the county.
Queensbury Supervisor John Strough said getting the town law passed was not easy. Numerous public meetings were held to educate people on the topic.
"There's a lot of people that do not understand their septic system — let alone where it's located or how old it is," he said.
Horicon Supervisor Sylvia Smith agreed the public needs to be a part of the process. People should listen to the lake associations, she said.
Although all supervisors want to protect water quality, that may look different in each town, she said.
Majority Leader Doug Beaty said there is precedent for holding pubic informational meetings. There were three meetings on the now-abandoned plan to expand the runway at Warren County airport. Anywhere from 125 to 175 people attended, he said. He believes there is a lot of interest in this topic.
"I believe our lakes and our mountains make Warren County the best county in the state, and if we can't make significant strides to protect that, shame on us," he said.
Board of Supervisors Chairwoman Rachel Seeber said on Thursday that Braymer will serve as chairwoman of the special committee and Queensbury at-Large Supervisor Brad Magowan will be vice chairman. The other five members will be appointed in the near future.
The committee will be active until the end of the year.
"We clearly heard the message from members of the public and of the board, that the time to address this issue is now," Seeber said.
"Warren County is committed to making sure that septic systems are not causing problems for human health or the environment, and we want to make sure all stakeholders involved in a program like this have a chance to be heard. Our goal is to be as expeditious with this process as possible to protect our environment," Braymer said in a statement.
Michael Goot covers politics, crime and courts, Warren County, education and business. Reach him at 518-742-3320 or mgoot@poststar.com.