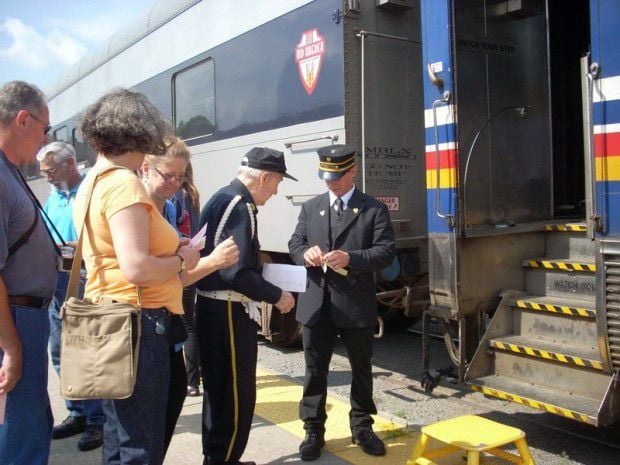 Warren County and the town of Corinth have decided negotiation with their only railroad suitor is better than leaving the tracks vacant.
The municipalities' decision Tuesday to seek an agreement with United Rail Inc. came as the county learned that a major bridge on the county's section of rails in Hadley will need at least $1 million worth of repairs to its decking. The bridge adjacent to the so-called Bow Bridge (corrected) over the Sacandaga River is on the south end of Warren County's portion of the rail line that runs from Saratoga Springs to North Creek.
Matt Simpson, the Horicon town supervisor who is chairman of the Warren County Board of Supervisors Public Works Committee, said the work will need to be done, regardless of whether the county finds a new operator to run trains on the tracks. The county hopes to defray the costs of the project, which could be up to $1.4 million, with state funding, he said.
"We're hopeful there may be grant funding available to pay for 80 percent of it," county Administrator Ryan Moore said.
The county and town of Corinth have put together a negotiating team of Moore, the Warren County Attorney's Office and supervisors Kevin Geraghty of Warrensburg, Claudia Braymer of Glens Falls, Michael Wild of Queensbury, Andrea Hogan of Johnsburg and Richard Lucia of Corinth to work out a deal.
Las Vegas-based United Rail has put together a contingent of local representatives that includes Saratoga County economic development leader John "Jack" Kelley, who plan to focus on tourist and excursion trains and potentially develop freight business as well.
While past operators on the line have struggled with this model, Kelley said his group has plans for better marketing and a better experience. He said they have been talking to representatives of communities along the rail line, as well as former employees of Saratoga & North Creek Railway, about what was done and what can be improved.
Kelley said the goal is to come to an agreement as quickly as possible to allow the company to begin operations by Sept. 15. Operating in the fall and getting the business off the ground this year is important, he added.
The new rail company will do more than bring visitors to the region and spur economic development, he said. The goal is to bring a new tenant to the former International Paper Co. mill in Corinth, with 50 or more jobs created. The prospective tenant has not been identified.
"We will create meaningful jobs, desperately needed jobs," Kelley said.
Warren County leaders have denied a Freedom of Information Law request for the company's written proposal, citing proprietary information.
With maintenance of the rails costing Warren County at least $300,000 a year, and the bridge repair needed, Simpson said county leaders are hopeful they can come to an agreement with a company that will generate some revenue on the line.
Warren County and town of Corinth are looking for a new operator after Saratoga & North Creek Railway halted operations last year amid financial problems. SNCR was a subsidiary of Iowa Pacific Holdings LLC, a Chicago-based international rail operation. The county is suing Iowa Pacific for $110,000 in unpaid revenue.
The county initially had four responses to a request for proposals to use its stretch of the rail line, but two companies were quickly ruled out for not meeting the county's requirements. A third, OmniTRAX of Colorado, decided late last month not to pursue its proposal and dropped out.
OmniTRAX's decision has led to questions about what will become of the rail line owned by Iowa Pacific Holdings north of North Creek into the hamlet of Tahawus in Newcomb, where the state has begun efforts to have the line deemed abandoned. That proceeding was stayed to allow negotiations between the two companies, as the owner of former mines in Newcomb wants to ship stone tailings out by rail. He has been trucking them out.
The mine owner, Paul Mitchell, who operates Tupper Lake logging and construction companies, did not return a phone call for comment this week.
Get local news delivered to your inbox!
Subscribe to our Daily Headlines newsletter.