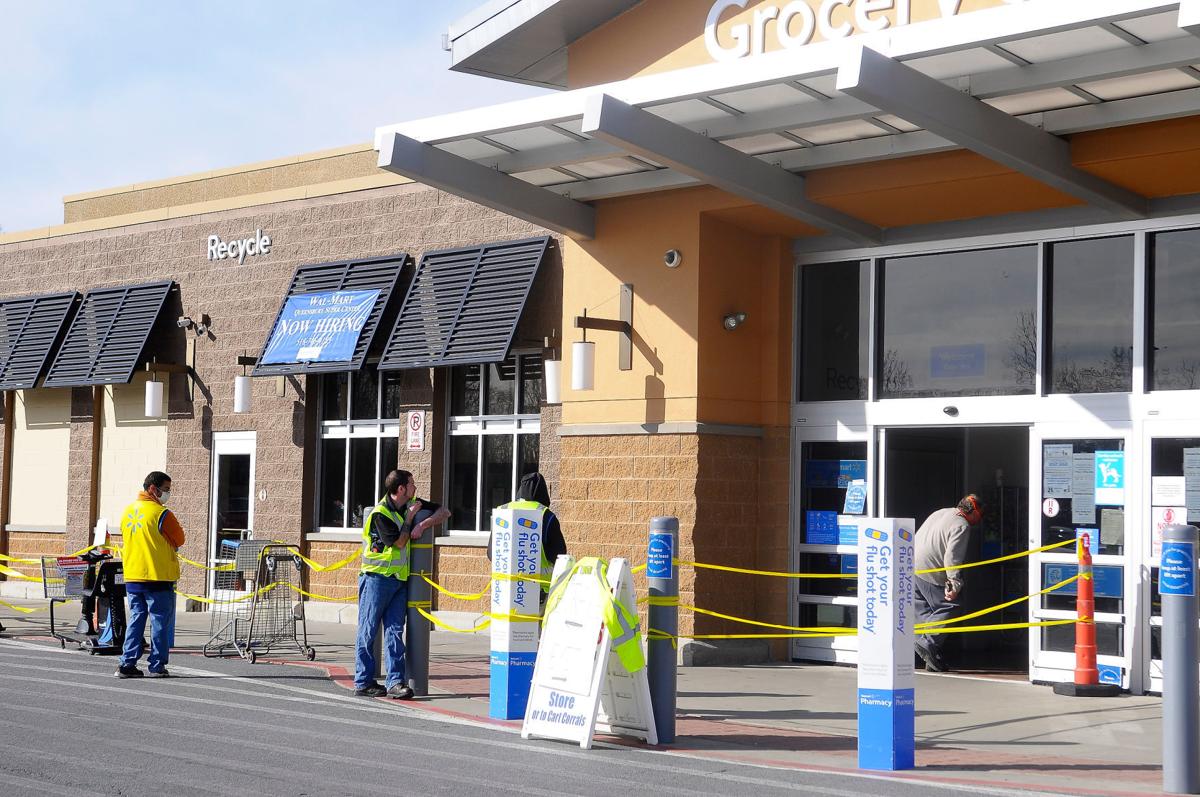 Warren County Administrator Ryan Moore called out local big-box stores as "irresponsible" Friday and told them to "step up" to stop the spread of coronavirus.
They are not requiring customers and employees to wear masks, he said.
In particular, he highlighted four stores in Queensbury as "frequent offenders:" the two Walmart stores, the Lowe's and the Home Depot.
"Their failure to enforce basic safety measures like wearing masks is irresponsible. They are not being good neighbors, and they are not responsive to requests from law enforcement and the medical community to clean up their act," Moore said in a news release.
He noted that the big-box stores were allowed to stay open during the shutdown because they sell products deemed essential.
"They've remained open through the entire pandemic while many of their "mom and pop" competitors have not been allowed to open. Those smaller stores have made tremendous sacrifices to get where they're at right now," he said. "The failures of these big-box stores could jeopardize all of that progress."
He provided a sampling of complaints from just the last week.
A Lowe's cashier told Dr. Stephen Monn that mask-wearing was "voluntary" for employees and if he didn't like the fact that employees weren't wearing masks, he should take his business to Home Depot, Monn wrote in one complaint.
"In the latter circumstance, after her failure to wear the mask safely at my request, and after I then told her to maintain at least a six foot distance from me, she removed her mask and aggressively approached me while telling me I could take my business elsewhere," wrote Monn, who filed repeated complaints with Lowe's corporate office and with Warren County Health Services.
Others filed complaints with the state about Lowe's employees not wearing masks.
The Home Depot wasn't any better, according to other complaints.
On a state complaint, a customer wrote, "When I said to an employee, 'There's so many people not wearing masks,' he responded, 'There's nothing I can do about it.' So I left the store."
The state also received complaints about Walmart, saying that no employee was standing at the entrance telling people to put on their masks. A senior citizen filed a complaint that said 250 to 500 people were in the store and no one was required to wear a mask when they entered.
A Walmart spokesman said that while it's hard to make store employees enforce masks on reluctant customers, all employees should be wearing masks.
"We've been requiring associates to wear masks. They shouldn't be slacking off. We haven't changed our approach at all," spokesman Casey Staheli said.
Other stores have also been the subject of complaints from customers, who noted that employees did not even ask people to put on a mask. One customer filed a complaint after visiting Stewart's on Aviation Road in Queensbury.
"I ventured to this shop to grab some ice cream and iced tea," the customer wrote. "My visit was probably about 5 minutes, and in that short time, 3 separate customers were allowed to shop and buy without any face coverings! One of them even exited and re-entered a second time without covering. Any of those 3 could have endangered me and everyone else there."
Gov. Andrew Cuomo signed an executive order last month that allows stores to turn away any customer who is not wearing a mask. Reopening regulations also say that every employee must wear a mask when interacting with the public. Violators can be fined.
"It's not that they can't do something to protect us … it's that they're choosing not to do something," Moore said.
He is especially concerned about the virus because three Warren County residents flew back from vacation in Florida last week and brought the virus with them. They exposed so many people — on two flights, plus flight crews, as well as other interactions — that the state Department of Health and the Centers for Disease Control are helping Warren County trace all the potentially infected people.
"This is serious," Moore said. "We need everybody's help to contain this, especially the big-box stores."
Concerned about COVID-19?
Sign up now to get the most recent coronavirus headlines and other important local and national news sent to your email inbox daily.