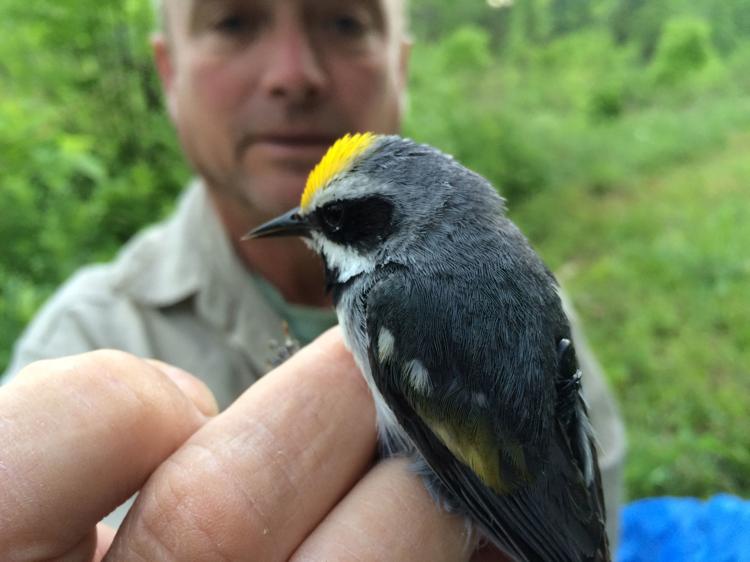 There's a special creature near Whitehall, on the New York and Vermont border.
About 5 inches in length and weighing less than three nickels, the golden-winged warbler calls the area home. The birds are a silvery color, with golden crowns and splashes of gold on their gray wings.
The tiny bird's population is on the decline, however. Its habitat has slowly disappeared. The pocket the birds are found in Vermont and New York attracts about 200 breeding pairs back each May, and researchers with Audubon New York and Vermont are hoping even more habitat can be preserved so the birds will continue to thrive.
"The species could potentially be listed as endangered," said Margaret Fowle, a conservation biologist with Audubon Vermont.
The birds like what Fowle called an "ephemeral" habitat — a combination of shrubs, grasses and wetlands along with deciduous forest. It's the kind of landscape found in the transitional phase of agricultural land to forest.
But forests don't cut it for these birds, and human development is encroaching on the nation's wetland habitats, according to the national Golden-Winged Warbler Working Group.
The Vermont-New York border appears to have the right habitat the warblers need for mating season, so in 2016 and 2017 Fowle and her colleagues conducted a study of the local population.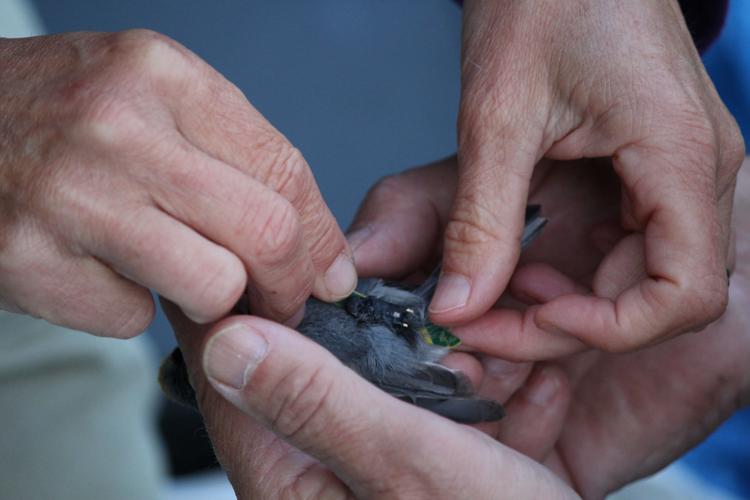 They set up mist nets at the Helen Buckner Memorial Preserve, a 3,791-acre wild area about a mile from Whitehall and managed by the Nature Conservancy. Mist nets are what scientists use to catch and band birds.
Besides golden-winged warblers, Fowle was looking for blue-winged warblers, also a rare bird found in the area. The two species have also been known to interbreed and hatch hybrids called Lawrence warblers and Brewster warblers, Fowle said.
Using pre-recorded bird calls, Audubon Vermont attracted and caught 19 golden-winged warblers and 18 blue-winged warblers in 2016 in their mist nets. Staff put a small U.S. Fish and Wildlife Service band on their feet, as well as a tiny geolocator on their backs.
The geolocator looks like a backpack, and using a radio signal tracks the birds' migration after they're released. Some of the birds tagged at the preserve were found to have migrated as far south as Colombia, in South America.
The geolocators' batteries typically last a year. Some fall off; some of the birds die.
You have free articles remaining.
But in 2017, Fowle and her colleagues recaptured nine of the 37 they had tagged in 2016.
It was trickier the second time around, Fowle said, because the birds remembered the mist net and the fake bird calls.
"They knew," Fowle said. "They had been schooled somehow. ... The males learned that the tape we played was fake. Really frustrating, but it was like, 'OK, these guys are smart.'"
The birds only hang around the area from May to mid-June for mating season.
"It's very quick," she said. "They get right to it."
Then they make their long journey south, wintering in Central America and sometimes South America.
While Audubon New York is not doing any population tracking at this time, it is starting a new program with Audubon Vermont called Woods, Wildlife and Warblers.
Its goal is to provide landowners with knowledge, tools and resources to care for the habitat that might be home to some of these rare species, said Andy Hinickle, a conservation biologist with Audubon New York.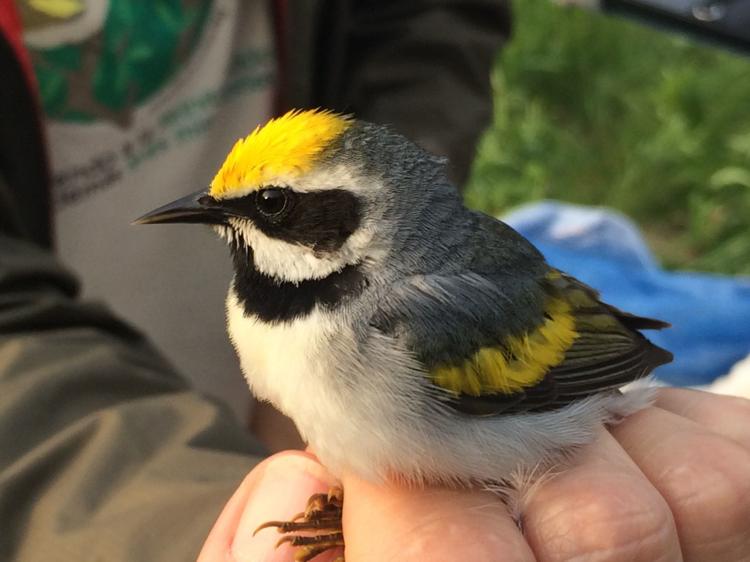 The program is in partnership with multiple groups and covers the Lake Champlain basin and the upper Hudson River watershed.
In addition to golden-winged and blue-winged warblers, Hinickle said they're looking at other birds who are dependent on young forests, including the wood thrush and American woodcock. Forest-dependent species are also part of the program, like the black-throated warbler.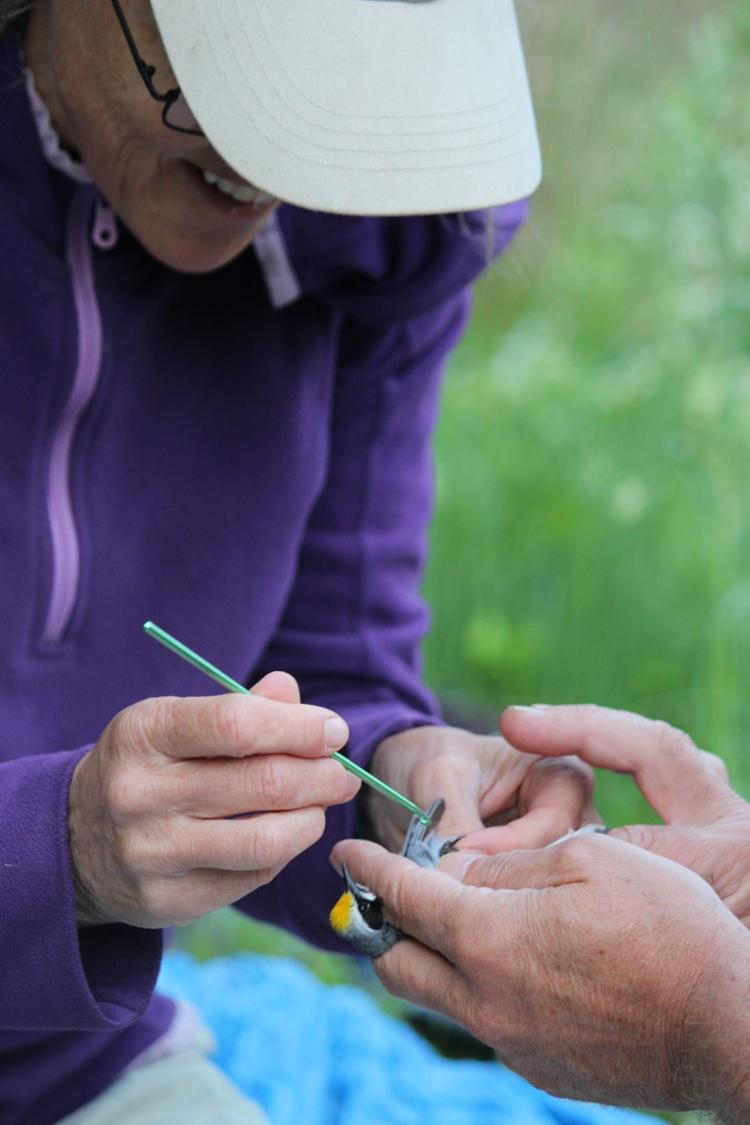 "A healthy forest is a dynamic forest that has different age classes," Hinickle said.
Audubon New York does site visits, and works with foresters and loggers, too, to educate about bird-friendly forest management practices.
Anyone interested in working with the program to make their land more bird-friendly can contact Suzanne Treyger, forest program manager for Audubon New York at 607-254-2122.