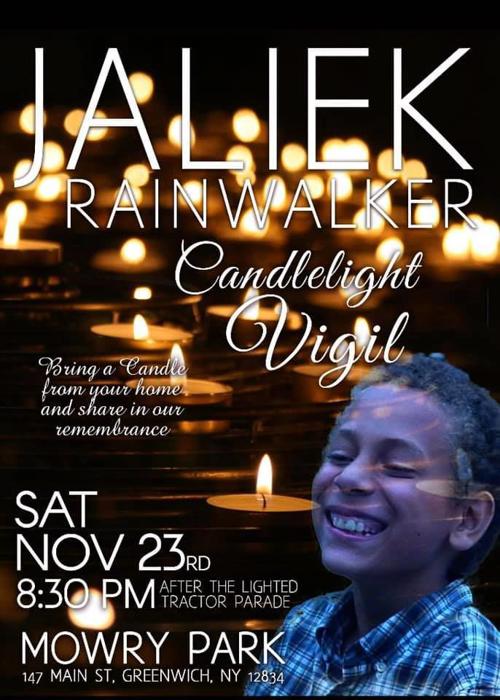 GREENWICH — Hoping to keep Jaliek Rainwalker's 12-year-old disappearance in the public eye, a group that has organized via social media is planning a candlelight vigil in Jaliek's memory after the tractor parade Saturday.
Calling themselves "Jaliek's Army," the group organized on Facebook as the search for Jaliek passed its 12th year earlier this month.
The tractor parade is one of the biggest annual events in town.
Group members got in contact with the National Center for Missing and Exploited Children, which sent along about 150 copies of the "missing" posters that were posted around the region and Albany area after Jaliek disappeared, as well as child safety literature for distribution.
Mo Aldrich, a retired Warren County sheriff's investigator who is originally from Greenwich, said the group began with postings on Facebook, and when people who had interest or involvement with the case began commenting, the decision was made to put together a formal Facebook group to discuss the case and brainstorm ways to help police solve it.
"We plan to support law enforcement and want to work together to come up with some ideas," Aldrich said.
Those wishing to take part in the vigil are meeting at Mowry Park after the parade, with the vigil planned to start around 8:30 p.m.
No charges have been filed. Kerr, his wife and other children moved to western Vermont in the months after Jaliek was reported missing. Kerr has refused to discuss the case publicly since, turning down an interview request from The Post-Star as recently as this past August.
In addition to setting up a vigil, the new Facebook group has been working to try to develop new leads to pass on to police.
Among them was reaching out to the musician Michael Franti, who seems to be mentioned in an anonymous typewritten letter sent to media around the region in January 2008 that claimed Jaliek was still alive and had been "picked up" on Route 40.
The letter did not have a return address, but the copy received by The Post-Star was postmarked "Westchester, NY." There's a Westchester County downstate, but the only Westchester postmark appears to be in the north Bronx.
Police dismissed it as a hoax.
Don Lehman covers police and court matters and Warren County government. He can be reached at 518-742-3224 or dlehman@poststar.com
Get local news delivered to your inbox!
Subscribe to our Daily Headlines newsletter.