Editor's note: This article is the first in an occasional series on harmful algal blooms affecting area water sources.
It is harmful algal bloom season in New York State.
More than two dozen bloom sightings have been reported so far, including on Lake Champlain in Essex County and one of the Finger Lakes, Cayuga Lake, which is a drinking water source.
These blooms can pose a threat to human health and the environment, and they're growing more widespread and, in some instances, more toxic. They are affecting drinking water, beaches, fishing spots and ponds for livestock.
Federal and state agencies, educational institutions and local municipalities are working to protect people and pets from the blooms.
LAKE GEORGE — The state Department of Environmental Conservation is gearing up for harmful algal bloom season with a new notifications website…
This year, the U.S. Environmental Protection Agency is requiring larger public water systems, like the one serving Glens Falls, to test for algal bloom toxins under its emerging contaminant rule.
No blooms have threatened the public drinking water systems in our region yet, but officials are on the lookout and the state Health Department is urging residents who draw their water from local lakes to be vigilant.
Scientists around the globe are studying what causes these blooms and what makes them toxic.
We know they thrive in warm waters, need nutrients to eat and sunlight to grow.
"Climate is changing," said Greg Boyer, a scientist and professor at SUNY College of Environmental Science and Forestry, who has been studying algal blooms for nearly 50 years. "The indication we have is, these blooms are going to be a bigger and bigger problem."
But this "problem" has been around on the Earth far longer than we have.
This "problem" is also the reason we are alive today.
The big bloom
Rewind to Earth about 3.5 billion years ago, and you'll see the beginnings of harmful algal blooms.
They're more accurately called cyanobacteria, with "cyano" referring to the color blue. We also know them as "the blue greens," or blue-green algae, although they're not algae at all.
As the proper name suggests, cyanobacteria are a kind of photosynthesizing bacteria. They occur naturally in all freshwater and marine water bodies, and they're not always toxic.
Sometimes, when they bloom, they look beautiful.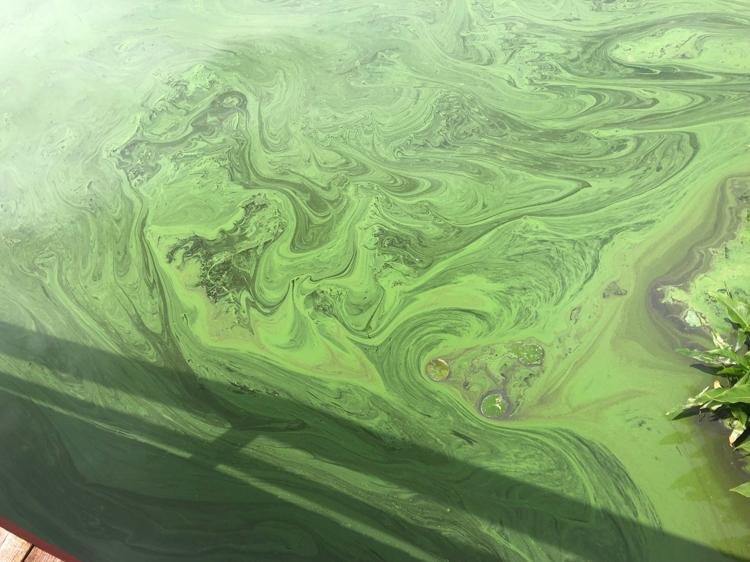 Photos taken by drone and satellite have shown wispy streaks of bright green feathered across a lake. Other blooms look like paint spilled across the surface in a marbled pattern of blue and green. Some, clumpy and chunky, don't look as nice.
We humans are here because of them.
"If we did not have cyanobacteria, we would not be here because they were the first photosynthetic organisms that generated oxygen so we could breathe," Boyer said.
Timothy Davis, a scientist and professor at Bowling Green State University in Ohio, said algae and cyanobacteria produce about 50% of the oxygen in the atmosphere, even though they account for about 1% of plant matter on Earth.
The cyanobacteria in oceans, Davis continued, is helping people who live in the middle of the United States, who may have never seen the ocean, breathe.
"It's pretty amazing how globally connected we all are," Davis said.
Cyanobacteria are complicated
In addition to producing oxygen, some cyanobacteria produce other things that are good for humans. Some produce things that are bad for humans.
"The first thing to remember is cyanobacteria is a group," Boyer said. "It's kind of like saying 'people.' There are 8,000 species, of which there are only probably 100 species or so that actually produce toxins."
These organisms are complicated "chemical factories" Boyer said, and they communicate with each other through chemicals. Some even create compounds that are beneficial to humans.
"They make all sorts of great stuff, and many of these compounds are bioactive, anti-inflammatory, anti-cancer," Boyer continued. "It's no accident that one of the largest culture collections of cyanobacteria is at the National Cancer Institute. They're using them for drug discovery all the time."
The few "bad actors" that produce toxins are what tend to make the news.
The chemical compounds of primary concern in New York are a liver toxin called microcystin and a neurotoxin called anatoxin. Anatoxin has a short lifespan, so it's more difficult for researchers to test.
People exposed to microcystin may experience symptoms like nausea, diarrhea, skin rash, respiratory problems and headaches.
Boyer said he and other researchers believe microcystin compounds are involved in the biochemistry of the bacteria's cells.
"It just so happens their biochemistry and our biochemistry are close enough that they interfere with each other," he added. "It's just messing us up."
The neurotoxins are more of a mystery. Cyanobacteria don't have a nervous system, Boyer said, so there's no apparent reason why they would be making that kind of a chemical compound.
A drinking water threat
In 2014, western Lake Erie experienced a very toxic bloom near the water intake for about 500,000 people in Toledo, Ohio.
Microcystin toxins were detected in the drinking water.
You have free articles remaining.
"They just weren't able to properly treat the toxins that came into the plant, and therefore, some of them, a certain percentage, made it through to the finished drinking water," Davis said.
While cyanobacteria blooms have been around forever, they became more noticeable around 2010 in New York and became a full-blown crisis for Ohio in 2014. Boyer said the event was "poorly managed, in part, because the EPA had not given them good guidelines on how to manage."
There was no particular human health guideline for how much microcystin a person could drink and be OK, except for a lifetime advisory by the World Health Organization. A lifetime advisory, however, didn't translate well in the short-term.
Now, the EPA has health advisory guidelines for a 10-day exposure, which New York has adopted for its one-day exposure.
"It's very new territory of what's an acceptable risk for some of these things, and the EPA guidelines, I would say, are pretty conservative," Boyer said. "They have like a 1,000-fold safety factor built into them."
The guideline is just a guideline, however.
Emerging contaminants
Every several years, the EPA publishes a list of "emerging contaminants" that larger public water supplies test for.
Steve Gurzler, engineer for the Glens Falls Water and Sewer Department, said the intent is to find out if these contaminants are present, and if so, at what levels.
The testing helps the EPA decide if the contaminants need to be regulated in the future.
A report by the New York Public Interest Research Group released Tuesday shows the city of Glens Falls and the Queensbury Water District have …
On this latest list is microcystin.
Lloyd Wilson, with the state Health Department's water division, said testing is happening at between 30 and 40 different public drinking water systems this year. The state is doing its own microcystin testing in drinking water supplies, too, something it has been doing for a while.
"In doing that, we never found anything through that testing," Wilson said. "Where we had concerns were always related to our event-based sampling."
The event-based sampling involves things like blooms at public beaches.
Wilson said the department doesn't expect to see much from the microcystin tests in drinking water, but "getting more information and having that background information is really helpful."
Boyer isn't worried about public drinking water systems, either, since they are so tightly regulated.
That doesn't mean the water sources aren't susceptible to blooms, however.
Testing Glens Falls
Gurzler said the city bought an instrument to help with water-quality sampling in its reservoirs.
Glens Falls has three reservoirs in the town of Queensbury — Wilkie, Keenan, and Butler — in addition to Halfway Brook. Like any open water source, these reservoirs could start experiencing cyanobacteria blooms.
Once a month, Robert Bombard, a water resources specialist with the Warren County Soil and Water Conservation District, gets in a canoe and samples the city's reservoirs. He checks and records things like the water temperature, pH and clarity.
The district has an agreement with the city to use this instrument, not only for Glens Falls' water sources but also other water bodies in Warren County.
Bombard said the probe has a "total algae censor" on it. Three lights are emitted from the probe, sending different light wave lengths into the water.
"The light that is reflected back will be indicative of a particular type of algae," Bombard said. "From that, you can very roughly estimate the amount of specific algae in the water."
So far, the city has not seen any specific cyanobacteria blooms in its waters.
"If we have a problem with one (reservoir), we'll take it offline and switch it to another one," Gurzler said. "We do weekly observations of the reservoirs. There's algae in the reservoirs. We've seen some algae in Halfway Brook in the past, but we haven't had any harmful algal blooms yet."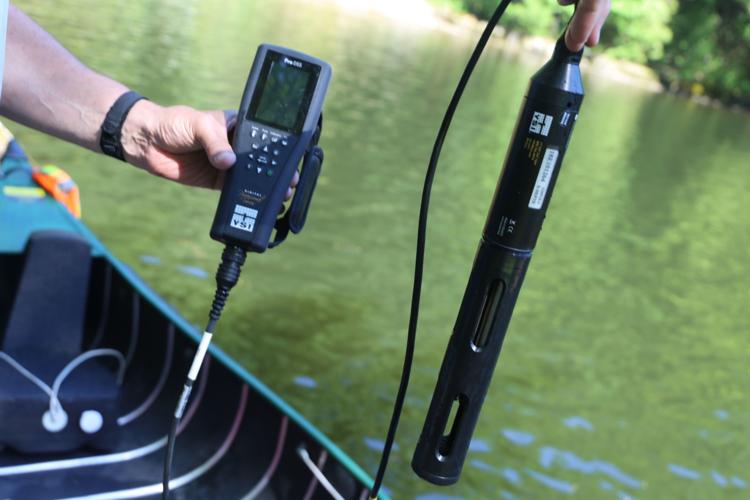 According to the city's annual drinking water report, the water treatment process includes a sand filter, which typically removes particulates like algae. It also uses disinfectant.
Boyer said public drinking water is a concern, but he worries more about private drinking water supplies.
"Those are a totally different situation, because quite often, those are not monitored at all," Boyer said.
Do you pump your own water?
People with private wells are safe from cyanobacteria blooms, because sun doesn't reach the well water, so the blooms can't photosynthesize.
But people who pipe water into their homes from Lake George or other open surface waters need to be more vigilant.
About 25% of those in the Lake George watershed are served by public water, with the remainder using private intakes on Lake George or using private wells, according to the atlas.
"We produced the fact sheet that really stresses the fact that we do not support anybody having an intake in a surface water that's not a public supply," Wilson said about the state Department of Health. "For an individual home to do that, if they are going to, they really should seek professional management of that water system. That's the backbone."
Besides cyanobacteria toxins, the Health Department said there are too many other concerns to pump residential water directly out of a lake. Wilson said if an animal or bird swims by and is carrying the parasite giardia, for example, people drinking the water could get very sick.
Roger Sokol, director of the state's environmental health division, said even a Class AA drinking water source like Lake George requires treatment.