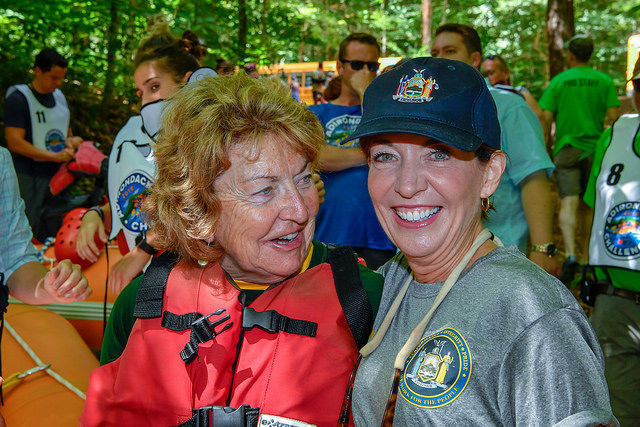 Tourism is generating record revenues and numbers of visitors in New York state, including in the Adirondacks.
In 2017, more than 12.4 million people visited the Adirondack region and generated more than $1.4 billion in direct visitor spending, according to a press release Sunday from Gov. Andrew Cuomo's office. That's about 460,000 more visitors and a 5.5 percent spending increase from 2016.
To help showcase tourism destinations and recreational opportunities in the North Country, more than 350 elected officials, community members and tourism industry leaders participated in the Sixth Annual Adirondack Challenge on Sunday in Indian Lake. Lieutenant Gov. Kathy Hochul participated, visiting destinations in Hamilton and Warren counties.
Events included a guided hike through the state's newly-acquired Boreas Pond region, kayaking, mountain biking and a Taste NY food and beverage reception at Gore Mountain, according to the release.
You have free articles remaining.
"The Adirondacks are one of New York's crown jewels, from its breathtaking views to its thrilling recreational activities," Cuomo said in a release. "This year's Adirondack Challenge truly showcases the region's natural beauty and highlights New York's investment and promotion of the North County that has only enhanced these assets and has attracted visitors nationwide."
At the event, Hochul announced that the Bassmaster Elite Series Tournament will return to Waddington, St. Lawrence County. The fishing event runs from Aug. 23 to 26.
Other tourism success were also highlighted throughout the day. Whiteface Mountain, for example, stayed open through May 5 this season, a record. Snow capacity is expected to increase by 25 percent as part of its $8 million plan, and repairs and replacement to the Whiteface Veterans Memorial Highway and Castle elevator system are planned. A new elevator taking guests directly to the summit is expected to be installed by May 2019.
In North Hudson, the equestrian campground and day use area of the Frontier Campground is expected to be completed this fall. Regular campground sites will follow in the spring of 2019. Also underway at the former Frontier Town site is a $5.2 million expansion project for Paradox Brewery. The company hopes to start manufacturing beer in the new space by December, with the project completed by next summer.
"The Adirondacks isn't just a park, it's a home for more than 430,000 New Yorkers who live in the beautiful North Country," Hochul said in a release. "New York is investing in new developments and transformational improvements in the Adirondacks to enhance people's experience and continue to boost the local economy and robust tourism industry. We're putting the Adirondacks on the global tourism map with more activities, attractions, and lodging for visitors. We're proud of New York's gem and encourage everyone to visit the Adirondacks and all it has to offer."