SARATOGA SPRINGS — A tiny house build was a big experience for BOCES students, and it's now for sale on an auction website.
The 23-foot-by-8-foot home was built by approximately 17 high school students from the Donald Meyers Education Center and about 10 adult students from the BOCES Career and Technical Education and Employment Training for adult students.
A number of local businesses also donated the fixtures for inside the house, or helped with the build itself.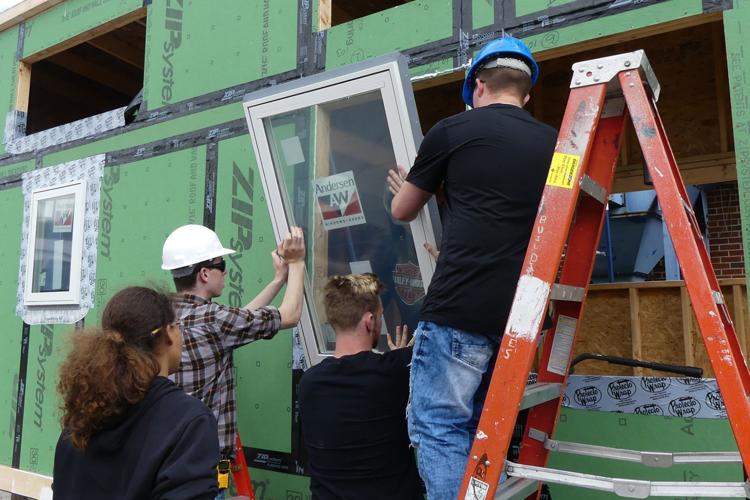 "I'm really enthusiastic about how it came out," said Ian Hamilton, the BOCES teacher who started the tiny house project. "They just started with a trailer, and then to see something when you're on the other side of it, that feels like someone's finished home, they (the students) got a sense of pride out of it."
Students worked on a number of skills to build the house from welding, to plumbing and heating.
"It was a really good collaboration among several programs and getting the whole house done," said Nancy Destefano, assistant superintendent of the Washington-Saratoga-Warren-Hamilton-Essex BOCES. "It was a start-to-finish opportunity for the students."
The tiny house is up for auction on Auctions International, with a starting bid of $20,000. As of Friday afternoon, the current bid was $21,200. Bidding will end at 6:15 p.m. on Wednesday, Dec. 11.
Proceeds made from the sale will support more tiny house builds by BOCES students. Destefano said the plan is to have students help design the next house, as they used plans for the one up for auction now.
"We want them to have more input as far as the planning and development of the tiny house as well as the building and construction of it, just to expand their experiences and knowledge base a little bit more," Destefano said.
Hamilton hopes that students can build one tiny house every two years, with the help of partners like the Saratoga Builders Association, Curtis Lumber, Habitat for Humanity of Northern Saratoga, Warren and Washington counties and the Saratoga-Warren-Washington Workforce Development System.
Get local news delivered to your inbox!
Subscribe to our Daily Headlines newsletter.