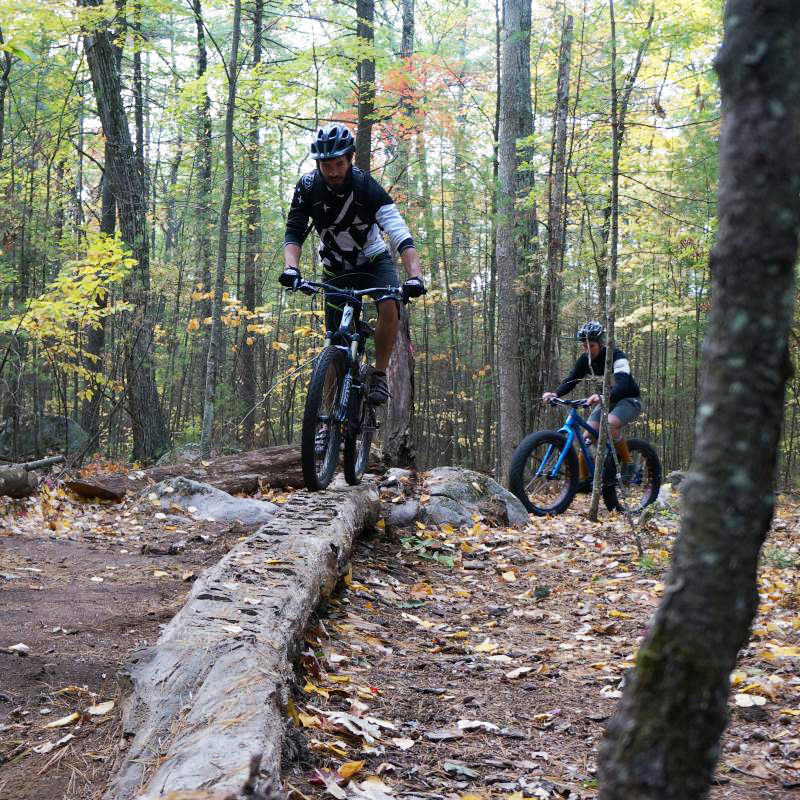 Mountain bike thrill-seekers, looking for something more extreme than Queensbury's Gurney Lane trails have to offer, have been altering trails and jumps, and town recreation officials are asking them to stop.
Recreation Director Steve Lovering said he has seen spots where riders have created new trails and made jumps bigger, without altering the landing area for safety.
"I've seen jumps up there built with just sticks and small logs from the side of the trail," he said Monday.
The jump may be fine and fun when built, but after a big rain washes part of it away, it's a hole, he said.
He stressed that one of the lures of the Gurney Lane system, perhaps even a bigger deal in COVID-19 times, is that it is family-friendly.
When trails are altered, people can get hurt, he said.
Lovering said he is unsure who is making the changes, but said he reached out to local enthusiasts and volunteers who work on the trails, asking if they, too, were noticing more alterations than usual.
They have noticed, and some made Facebook posts urging a stop to the practice.
One post from an account called Churney Gurney, from local outdoor enthusiast and longtime Nordic ski coach Bob Underwood, said riders are lucky the town made the trail system and altering it will add to liability issues.
"You are deliberately adding to that liability that will get Gurney SHUT DOWN," the post read.
Underwood on Wednesday said people need to realize that these are town trails on town land, and they can't alter them at will. He he doesn't think the offenders are being malicious, but changes they are making can be dangerous and have consequences. If frequent riders are used to a trail and speed down it to be met with an unexpected alteration, it can lead to injuries.
Scott Wheeler, an avid mountain biker who does volunteer work on the trails, said he has seen a lot more "rogue trails" built this summer, probably due to increased ridership because COVID-19 has cut down on what people can do.
Wheeler said on any given day in the summer or winter, with fat tire bikers, you can find riders from all over, including New Jersey and Connecticut, using the trails.
He and Lovering suggested that riders with ideas for changes bring them to the town. But they can't take matters into their own hands.
"I get that there are riders who want more of thrill, more difficult rides, and we try the best we can to give them that, but it has to be within reason, it has to be calculated and professionally built and thought out," Lovering said.
Lovering said the trails were meticulously designed by Steve Ovitt, who owns Wilderness Property Management and has four decades of experience building trails. His jumps and banks and other features are all calculated and built for long-term sustainability.
Wheeler said riders can head to other trails systems, at Moreau Lake State Park or regional alpine ski areas, if they want more challenging terrain.
Although mountain biking remains a doable activity the pandemic has made summer programming for Queensbury kids difficult, Lovering said. Major annual programs like the popular Q Club day camp have been canceled, affecting upward of 400 local kids, but other local programs are still running, and the Gurney Lane Pool will open, although with a limited capacity of 50 swimmers at a time.
Registration for a pared down list of summer offerings will begin either Friday or Monday, Lovering said, and interest has been high, evidenced by a constantly ringing phone.
"We're making do the best we can with what we've got," he said. "There are a lot of parks and recreation departments that are shut right down and not planning much if anything for summer so we're kind of a leader in that regard."
Get local news delivered to your inbox!
Subscribe to our Daily Headlines newsletter.