GLENS FALLS — In an intimate, rarely seen exhibition of the works of Pablo Picasso and friends Georges Braque and Fernand Léger, The Hyde Collection's new show rivals such museums as The Met and The Museum of Modern Art in New York City.
"It's such an amazing collection. The prints themselves are in great condition and some of them have a very interesting history as to who owned them," said Jonathan Canning, director of curatorial affairs at The Hyde. "One or two of them had not seen the light of day. And some were wrapped in paper in drawers. They hadn't even been framed or put on people's walls; they had been just put away."
According to Canning, the exhibition, "Picasso, Braque & Léger: Twentieth Century Modern Masters," includes 106 pieces — 66 from Picasso, about 26 from Braque and the remaining from Léger — and spans much of Picasso's life, revealing his close working relationship with Braque.
"This is really significant," he said. "This is one of the first times anyone has ever seen these."
Opening last week, "Picasso, Braque & Léger: Twentieth Century Modern Masters," runs through Jan. 5, 2020, in the Wood and Whitney-Renz Galleries.
The three artists became friends after they all moved to Paris, where Picasso (1881–1973) and Braque (1882–1963) began to experiment with their artwork, ultimately initiating Cubism.
Still, Canning chose to feature Braque as the founder of Cubism, saying that many falsely believe it was Picasso.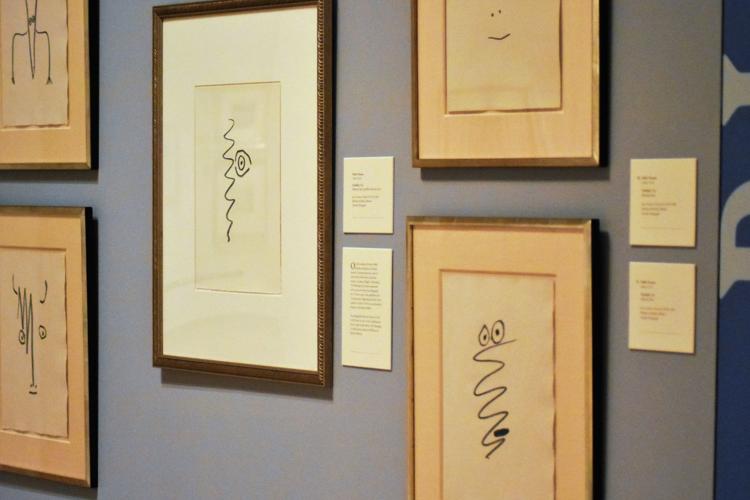 "Picasso and Braque saw each other every day and it is hard to tell their works apart," Canning said. "They are so close to each other and there was a real give and take between the two."
Léger (1881–1955) joined them later, and the three are named among the pioneers of modern art.
The effects of their works imprinted painting, sculpture, architecture, music, and literature throughout Europe, Canning said.
"All artists work off each other and are influenced by the generations before," he said, adding that he is interested to hear how regional artists respond to the show.
Initially interested in all three artists, the collector fell in love with Picasso's creations, and the collection covers the range of Picasso's life and styles.
"The collector amassed an amazing collection," Canning said.
You have free articles remaining.
Many of the works were printed in very small batches and were never meant for commercial use but rather to be shared among the artists, he said.
While the show traveled a few years ago, it has been reconstituted with additional pieces and is scheduled for exhibition only at The Hyde.
"As far as I know it is not going on from here," Canning said.
These works especially reveal the details of the the prominence of the woman Picasso loved — Marie-Therese Walter, his mistress and his muse, who appears in several works, spanning many years.
"The works in this collection are deeply personal," Canning said. "They are wrapped with his own history and sense of self."
Additionally, they reveal his greatest fears.
"Drawn to the Minotaur, Picasso identified with the mythological creature," Canning said, pointing to "Minortaure aveugle guide par une Fillette dans la Nuit" — "Here the Minortaure is old and blind, and he has to be led around by a young woman who is Marie-Therese."
The show begins with one of Picasso's earliest etchings, "La Repas Frugal," 1904.
"This is his first print. He may have done one in Spain before this but look how accomplished it is," Canning said, pointing to the intricate details. "See how he suggests the reflections in the glass, a glint to the bowl. He's got cross-hatching and hatching, it's very delicate. ... In one go he mastered the technique of etching."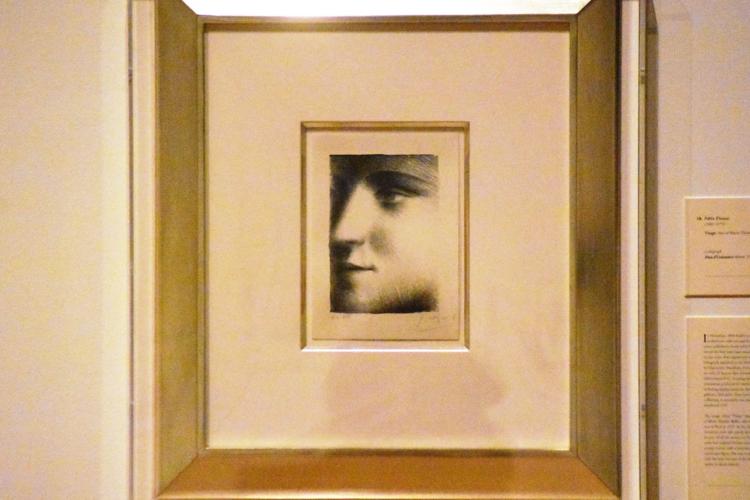 The show travels through Picasso's life to the lives of acrobats, circus performers in Montmartre, which was home to many Paris artists, including Picasso and Modigliani.
Additionally, the exhibition chronicles the three artists' tie to literature and their illustrations depicting the written word, including Picasso's illustration of Fernand's Crommelynck's, "Le Cocu Magnifique;" Léger's artwork for Arthur Rimbaud's collection of poems, "Les Illuminations;" and Braque's illustrations that accompany Louis Broder's, "Le tir à l'arc."
To complement the exhibition, The Hyde is collaborating with Crandall Public Library to offer a selection of books in Wood Gallery for all ages.
"We're very excited about this partnership," said Jenny Hutchinson, The Hyde's curator of museum education and programming. "We know that everyone processes information and experiences artwork differently. The success of our in-guide galleries tells us that people want to learn more about what they're seeing on our walls and we're so grateful to Crandall library for helping us provide a really fun, accessible way to offer them tools to do so."