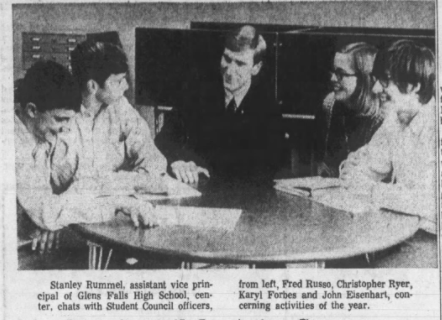 Editor's note: This is the latest in a series of columns compiling anecdotes gleaned from online archives of local newspapers.
Downtown: On June 14, 1946, The Post-Star reported that management of the Rialto Theatre on Warren Street, Glens Falls, was set to install new seats and flooring in the balcony and recondition seats on the main floor. "The new seats are the latest thing in design and comfort, and comprises one of the first shipments from factories since the war."
Downtown: On June 21, 1887, The Morning Star reported that Webb Champlin won the $5 gold piece at the Castle target shooting gallery on Park Street, Glens Falls, with a score of 129 out of a possible 130 points.
19th century vocabulary: Ensconced — established or settled in a comfortable place "The president (Grover Cleveland) is quietly ensconced on the shores of Saranac Lake. His first fishing excursion was highly successful." — The Morning Star, Aug. 20, 1886
Fun fact: On July 30, 1886, The Morning Star reported that George H. Freeman, stenographer for Gov. David Hill, was expected to arrive that day to begin a vacation at South Glens Falls.
Fun fact: On June 14, 1971, The Post-Star reported that WRGB television "weather girl" Louise Woodward would appear from 10 a.m. to noon the next day at the grand opening of the new Grand Union supermarket at 87 Quaker St. in Granville. Pages of Triple-S Blue Stamps would be given away.
Fun fact: On Feb. 15, 1889, The Granville Sentinel reported that the Rev. W. B. Miller of the Granville Methodist Church organized a Sunday School class comprised entirely of Civil War veterans.
Sports trivia: On June 22, 1886, The Morning Star reported that a baseball team of employees from The Boston Store defeated a team from the B.B. Fowler store, 22-18.
RIP: On June 19, 1971, The Post-Star reported that about 2,000 people attended the B.J. Thomas concert the previous evening at Saratoga Performing Arts Center. Post-Star reporter Marilyn Nason had a favorable review: "He sings a clear, understandable tune, and, behind all that hair, beard and mustache, there's a handsome, talented young man." Thomas died on May 29.
Head-turning headline: "Only One Game Forbidden to Girls" – The Post-Star, Sept. 8, 1922, introducing an editorial advocating that women be allowed to play all sports except football.
Oh, what pun: "A well-wisher is one who invests in oil territory." – The Granville Sentinel, Dec. 23, 1887
Editorial: "In Glens Falls and its surrounding territory there are any number of opportunities awaiting young men who are wide enough awake to observe and take advantage of them. It is idle for the younger generation to look upon older men who have become well established in business or professions and reflect on what advantages the men who are leading must have had. In order to succeed, a young man must realize that he has a long, hard road ahead, but he must never falter or fail to grasp opportunities, which are ever present, and take advantage of them." – The Post-Star, Sept. 5, 1922
Maury Thompson was a Post-Star reporter for 21 years before he retired in 2017. He now is a freelance history writer and documentary film producer who routinely researches historic newspapers of the region.