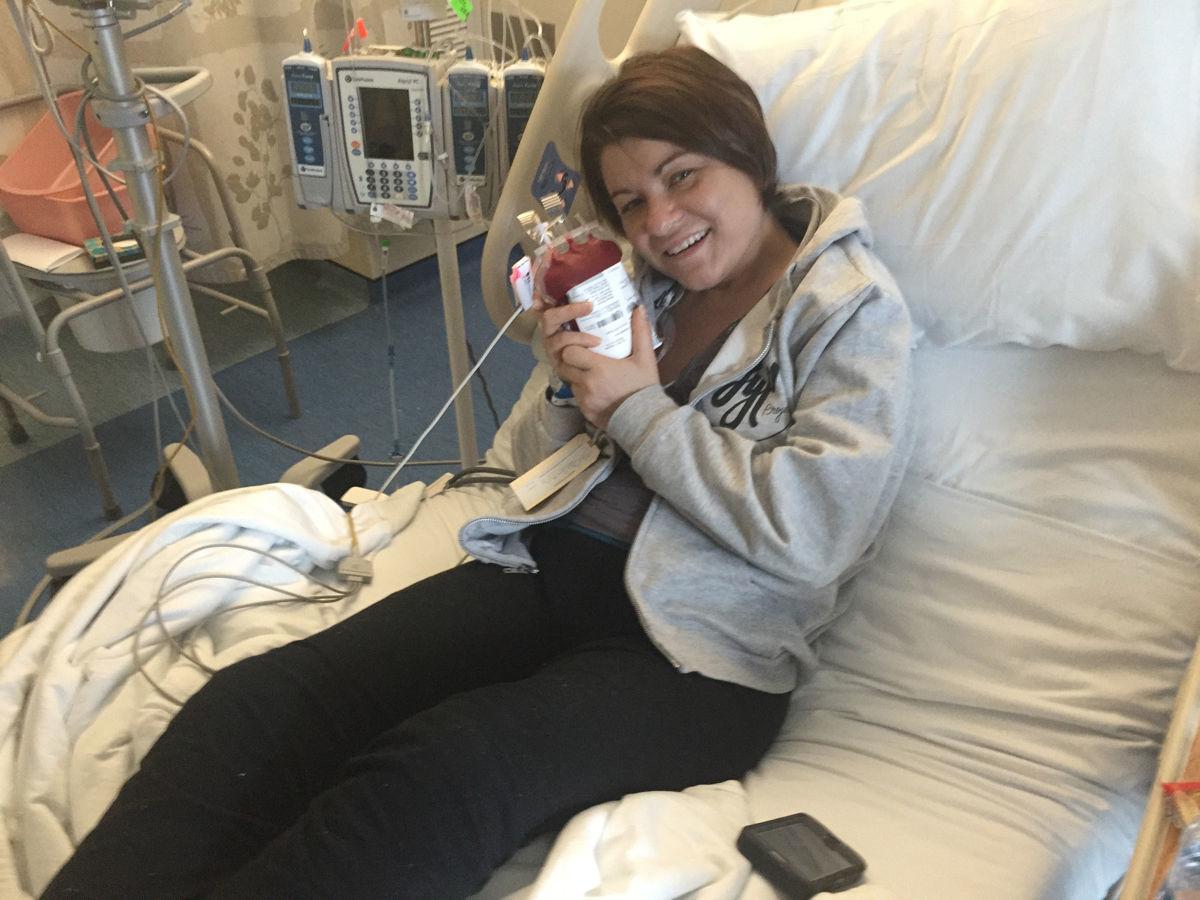 Stephanie Vogel nervously waited with her two kids and a friend for his plane to touch down at Albany International Airport.
She was anxious to finally meet her savior, and when her friend announced his plane had arrived, she burst into tears.
For 20 minutes, she cried inconsolably.
"I just lost it," she said.
But by the time 31-year-old Oregon native Ben Buehler walked toward her waiting arms, while her kids waved "Welcome Ben" signs, the tears were replaced by a smile and a need to give him a huge hug.
"The kids were so excited. Everybody started to come out and there he was," she said. "I think I gave him five seconds and jumped on him and hugged him. And from that point, I don't think he's spent more than 10 minutes without being hugged until now."
The airport meeting on Dec. 1 came two years to the day after Buehler, a complete stranger to Vogel at the time, had his pelvic bone punctured nine times to extract the rare marrow Vogel needed to stay alive.
The marrow extraction on Dec. 1, 2016, took place about six months after Vogel had been told she had aplastic anemia and had only six months to live if a donor match wasn't found.
A night after the airport hug, Buehler was at the Glens Falls Inn surrounded by 50 of Vogel's family and friends. They celebrated her two-year "birthday party" since Buehler's life-saving marrow was put into her body.
They feasted on a sled-sized pan of paella prepared on the porch by Vogel's close friend, Steve Connell. They drank wine and laughed and hugged and then, from a stairway in the historic inn, Vogel delivered a public thank-you to Buehler, her family and her other "family" at Coldwell Banker Prime Properties, saying they could all take credit for keeping her alive.
For Buehler, it was exciting to meet the person who "was originally just somebody" who needed help.
"And she's such an awesome person. It could have gone to anybody anywhere, but it went to somebody who has definitely impacted a lot of people. It made it even more worth it," he said.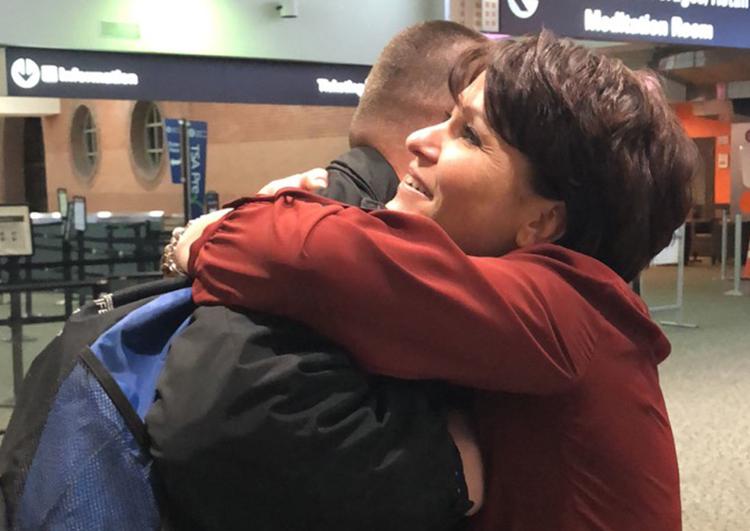 Spots
Before her diagnosis, Vogel was a woman on the go. The divorced mother of a 13-year-old daughter, Shannon, and an 11-year-old son, Alex, she was always busy selling homes, doing mom stuff and thriving.
Then she noticed bruises that were covering her body, "like a Dalmatian." Friends suggested she get them checked out, but not being a "doctor person," she waited.
But when she finally went for a checkup, she was told she had to go to the hospital right away. Her platelet count was at about 2,000.
It should have been between 150,000 and 400,000.
She was told if she fell, she could die.
She would have a transfusion that day, but would continue working. A couple of days later, while showing a house, she did fall and hit her shin and in seconds it swelled up huge, like nothing she'd ever seen.
"It was like something was in me," she said. "Like an alien."
Despite the pain and swelling, she still showed the house, but rushed to the emergency room afterward. It would be another three months before she would enjoy a non-hospital setting, as the fight for her life began.
"But I sold the house," she said, with a fighter's smile.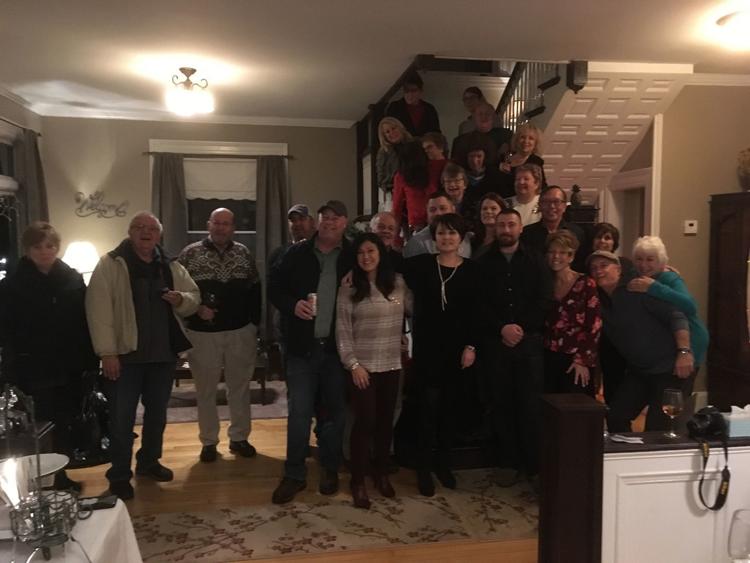 Her knight
Buehler is an unassuming guy who is a single parent of five kids ranging in age from 3 to 9. He said he's retired from the military.
When he was contacted by letter in 2016 about being a donor match for Vogel, he said he had "completely forgotten" he'd ever checked a box to become a donor.
"I had signed up in 2008 and here it was 2016," he said. "It was almost a decade later."
Then he had to decide whether to follow through.
Donating marrow would mean traveling to Oklahoma from Oregon and finding care for his five kids. Plus, he said, he had learned it's an invasive procedure, requiring sedation.
He was still thinking about it after arriving in Oklahoma and said he even walked a mile to the hospital that morning to clear his head and make sure it was the right thing to do.
"Basically, it was 'If I don't do this' — and at that point I didn't know if I'd ever meet the person it was going to — but to have the opportunity and not do it, I felt I'd have to live with that for the rest of my life," he said.
That decision was validated the night of the party at the Glens Falls Inn, seeing how many friends were there to celebrate with Vogel, he said.
"It felt like hundreds of people here," he said. "Without seeing this, I don't think I ever could have understood what she means to so many other people. Seeing everybody else it would have affected wasn't even something I thought about. Family yes, but seeing all the people that she's found around here that she's made an impact on, she obviously more than deserved it."
"Thank you," she said softly from a nearby couch while wiping a tear.
Vogel told how she had orchestrated his visit. After a year, she said, a recipient is allowed to reach out to the donor. She texted and waited for a response.
"I must have read it like 56 times," she said with a laugh before telling of a part of his text that said, 'It's the best Christmas present I was able to give.' "Finally, finally! My family and I were waiting for this. We were hoping he would reach back because a lot of times we were told donors don't."
She tried for months to get him here, but logistics prohibited it. But when she asked about him coming for her second "birthday," he said he could.
"It was really last-minute. We picked him up on the (anniversary of the) day the marrow was taken and we had the celebration on the day of the transplant," she said. "I'm glad he couldn't make it on the first and second time I asked him!"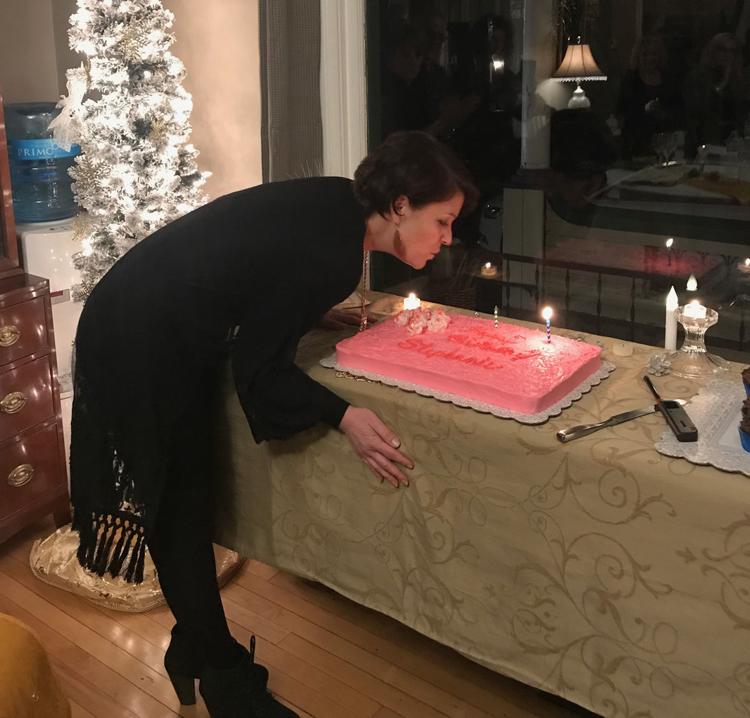 Clawing her way back
Vogel is a strikingly pretty 38-year-old native of France who moved here in 2006. She speaks slowly and her accent is still evident. She sat quietly in the inn a day after the party and bowed her head as Buehler spoke about how glad he was to be able to help her.
She dabbed at tears as he spoke.
And though she is in a better place than during the chemo and radiation days following the transplant, she said she has been left with a ravaged "90-year-old body."
Unlike treatment for breast cancer or other tumor-related cancers where radiation is targeted, blood cancers require full-body radiation. She also needed chemotherapy. The treatments killed her immune system and forced her into seclusion first at Mount Sinai Hospital, then at The Hope Lodge, where cancer patients remain while undergoing treatment.
She praised both places, and the staff at Glens Falls Hospital's oncology center where she continues treatment.
And while she spoke of progress, she teared up when talking about what the disease took away — including her children, who ended up moving in with her former husband, over an hour away, during her lengthy hospital and after-care stay in New York City.
It has been tough on her and her kids, she said, as she reminisced about how, during some hospital visits, they would kiss her chemo ports.
"This has taken my children away, I became infertile, I went through menopause. Everything has been taken away from me with this and it was really hard," she said. "But little by little, it's coming back together. It was hard to keep strong — but getting there."
Her message
In the entire United States, there were two donors who matched her marrow type and could help her. The other one was a woman, but Vogel said doctors prefer male donors for non-family member females because there are fewer hormone complications.
In agreeing to talk about her private hell, she stressed she's doing it to thank those who helped her and also to inspire at least one person to become a marrow donor.
Someone in her neighborhood already has signed up to be a donor as a result of her story, she said, but she'd like more.
As for her Coldwell Banker family, the praise was constant over the hour-long interview.
She said Ken Raymond, who owns the company, paid out of his own pocket to have her parents flown in from France to be with her.
Raymond, who recently lost a daughter to cancer, said he never intended for his help to be made public, but he didn't want Vogel going through her ordeal without family.
"I felt her father should be here," he said, adding that he has been inspired by his employees who have done even more to help Vogel.
She talked about Michelle Jones, who, along with Mike Greenwood, operates Glens Falls Inn and put Buehler up for the week for free.
She told how others, led by Coldwell Banker managing partner Tina Foglietta, held a fundraiser that prevented her from losing her home. They would do household chores inside and out and pay her bills for her.
She credits Buehler for biologically saving her, but said even that wouldn't have worked without the support of close friends connected to her through her job.
They'd take turns visiting her in New York City. Colleague Ron Pisano drove her to the marrow transplant at Mount Sinai Hospital and snapped a photo of her hugging the life-saving bag of plasma Buehler had donated, before it was administered. He visited her frequently, called her "effervescent" and said "people just adore her."
Colleague Carol Herbert, asked why they all did so much, just kept repeating "because we all love her. That's really it."
"When she became ill, our hearts broke and we wanted to do anything and everything to help," she said.
The staff rallied for Vogel, Foglietta said, just like they did for her when her son died last year.
"That's what they do. We all take care of each other," she said. "It's not just a real estate office."
Vogel spoke of one visit from Steve Connell, her close friend and a local building inspector and de facto member of the Coldwell family. Vogel had lost her hair, had ports everywhere and felt horrible. They went to a restaurant, and she demanded he eat oysters and drink wine because, although she couldn't join in, she wanted to soak up the possibilities of doing so again.
"It was sad to see her go from this powerful woman to skin and bones, but I also saw the strength in her," he said. "But just to see her smile made the whole trip worthwhile. She just wanted a piece of normalcy. Her whole life was turned upside-down."
Vogel these days is getting stronger and is still fighting. She's smiling more. She's trying to get back to pre-cancer life. She's hopeful. But one last time, before the interview was over, she stressed her message of promoting marrow donors and giving thanks to Buehler.
"If people like Ben weren't around, I would be …" she said, pausing for a moment. "Ashes."